Szczesny: 'Roma making me a better goalkeeper, but I want Arsenal number one shirt!'
The on-loan Gunners shot stopper discusses his spell with the Giallorossi, Poland's Euro 2016 hopes and his aspirations for the future…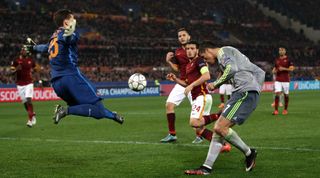 You spent your entire professional career with Arsenal before moving to Roma on loan. Was it a big challenge for you or a refreshing change?
It was a challenge, because after spending so many years in London I've grown attached to it. I have an apartment there and most of my friends are there so it was tough at the beginning.
But I'm not a kid and certainly don't act like one, so I also took is as a great opportunity to develop and learn something. After a difficult last season it was a chance for a fresh start - I definitely needed to rebuild my career.
I also went to Rome to become a better goalkeeper, so that when I go back to Arsenal, I can compete for the number one jersey and win it back.
You were quoted by media at the end of April saying that you hope to 'stay in Rome for longer'. Is that your goal?
I didn't mean it as a permanent transfer, but another one-year loan - sure. That would be probably the best option for both sides.
I'm not sure if that's what the clubs are discussing at the moment, but it makes perfect sense. I definitely like to be on the pitch every week, have that continuity of games played throughout the season. Roma is a good fit for me.
Is the life of a keeper much different in Serie A compared to the Premier League?
It is. In some aspects it's easier, but it's also difficult from a different standpoint. It's easier to play in front of the goal as keepers are practically untouchable and protected in that area. When you go to get the ball any knock or push on you is called a foul, so it's easier to make that decision.
Serie A is more difficult by being more tactical. There is more pressure on every player to execute a tactical plan. That also includes the keeper and how he needs to direct his defensive formation, keeping them organised in a specific way.
For me it's a very positive change, because it has helped me grow and learn a lot. I'm definitely a more versatile and complete player then I was a year ago.
Do you fancy Rome as your new town?
The weather is much better here and people seem to smile a lot more. But London is London – it's my town and I will always love it.
It looks like you'll finish second or third in the league and you made it to the last 16 of the Champions League. Would you call this season a success for your club?
I would say it's justified and a fair result. Not great, but also not bad. We weren't ready for the championship title yet. With Juventus winning 24 out of their last 25 games, it's hard to compete with that. In that perspective we've hardly have a chance.
I believe we have very good organisation within the club and a strong enough squad to compete next year. There's definitely ambition among the Roma players to try to win it all.
It looks like one of your biggest stars, Radja Naiggolan, is set to move to Chelsea this summer. Do you think he would be a good fit in the Premier League?
Is that official? I hope not! He's definitely a fantastic fit for English football – he's very strong, physical and tough.
He's not afraid of anyone and he will fight for 90 minutes in every game. Combine that with very advanced technical skills and you have a complete player. If I was Chelsea manager, I'd buy him in a heartbeat. But I hope it's not the case and that he'll stay with us.
How difficult was it to watch Arsenal's season from another country for the first time?
It was tough, as I still talk to many players, support the club and want them to win every game. I watched Arsenal on TV all the time. Nobody expected Leicester to win the title this season.
You were quoted saying 'I want Leicester to win' which some people didn't like much!
I said that with Leicester being top of the table with five games to go and a 10 point advantage over Arsenal, so my club didn't have a chance at the time.
And of course – I'd rather see Leicester winning the title than Tottenham. Do I have to explain that? Of course I had my fingers crossed for the Gunners every time they went out on the pitch. I was very nervous in front of TV supporting them!
But if they couldn't win it at the end… I mean - Leicester is such a fabulous story. It's a 'one in a million,' it could possibly never happen. It's like a fairytale. And you know the most beautiful thing about it? They deserved it. They played great football for the entire season.
They've had three fantastic players who came out of nowhere with (N'Golo) Kante, (Riyadh) Mahrez and (Jamie) Vardy. I envy them, but applaud them at the same time.
Why didn't it work out for Arsenal again?
I felt like this was the season for Arsenal to win it, but we've drawn too many games which we should've won. Losing against Swansea at home was a tough blow. There is quality within the team - we've had some of the best players in the league in their positions.
Also Petr Cech was a great buy for Arsenal, he's strengthened the squad. They didn't play bad football, they just lacked consistency and focus in certain moments which proved costly.
Let's not forget – it's a big club which always plays in the Champions League and finishes in the top four. They're not a failure, far from it. And I'm pretty sure Arsenal will win the league soon.
You'll soon go to Euro 2016 with Poland and many see you as a dark horse. Do you feel this is the best Poland squad in many years?
I do believe in this team, but I want to put the brakes on for a minute. We all remember the pressure from Euro 2012 and how it all ended, so we want to take it easy.
I'm sure we will be prepared. Our coach Adam Nawalka and his staff are very good at scouting and analysing each and every opponent.
When we go onto the pitch we know everything about who we're playing against. So I'm sure we'll be ready for the challenge when the time comes.
Why didn't things work out four years ago?
Because of too much hype and too much talk, which built pressure. It got to us and in the end we didn't win a single game. It was a nightmare experience for the team and for me personally (Szczesny received a red card in opening game against Greece, ending his tournament- ed). We failed big time.
That's why we have a completely different mindset now. Players should think about their next pass, tackle and what's happening on the pitch within the next 10 seconds.
Not if we'll advance to the quarter-finals or further, or if a club from a bigger league will buy them. We didn't achieve anything at Euro 2012.
RECOMMENDED
10 big-name players at risk of missing Euro 2016
The Week In Arsenal: Welbeck partially wakes up Wenger's men from slump
Why Roma's Nainggolan should be Antonio Conte's Chelsea priority
Do you feel like you are more ready as a team for this tournament?
We're definitely more experienced because of what happened four years ago and better prepared to deal with it. Our major players have also improved.
In 2012 Robert Lewandowski was already a very good striker, but now he's one of the best in the world. Grzegorz Krychowiak didn't even go to last Euros and now he's one of the best players in his position.
Same with Arkadiusz Milik – he's a top forward, a big talent. Our best players are at better clubs and play more important roles there. So yes, it looks like we have what it takes to win, but we need to stay humble and focused. It's easy to fall into a trap of thinking too much ahead of time.
It's only the next game that matters. I'm sure Nawalka and his staff will get us in top shape, so let's hope it works out this time.
Thank you for reading 5 articles this month* Join now for unlimited access
Enjoy your first month for just £1 / $1 / €1
*Read 5 free articles per month without a subscription
Join now for unlimited access
Try first month for just £1 / $1 / €1