Why I love… Troy Deeney
Ahead of a momentous FA Cup final for Watford, Arty Pritchard pens his love letter to the Hornets' hulking centre-forward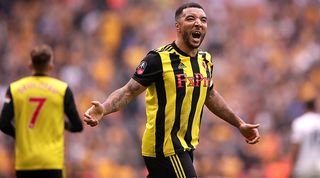 Troy Deeney is the sort of bloke you could see turning up a minute before kick-off on a Sunday morning, fag in mouth, mug of tea in hand, with the smell of stale booze emanating from every pour like cold air evaporating off a hot head.
No warm-up would be needed as Jagermeister coursed through his veins and his digestive system went to war with a full English. He'd trudge around the pitch, barely able to keep the bile at bay – but with the ball at his feet he'd a class apart, banging in five goals to win the match.
After the game he'd be at the bar ordering a pint of Guinness and 10 packets of crisps for the table. Legend has it, he had a trial at Manchester United but loved the birds and booze too much to focus. Semi-pro clubs can't convince him to commit to train twice a week, so he sticks to tear-ups on a Saturday night.
Is this the real life?
This fictional depiction of Deeney as a lost talent wasting away in pub football isn't too far from what was once his reality, which adds to his charm.
Thirteen years ago he was working as a bricklayer and playing for non-league Chelmsley Town when he was spotted by Walsall scout Mick Halsall. He scored goals for the League One club and in the summer of 2010, Watford paid £500,000 for him.
Two years later, Deeney was sentenced to 10 months in prison for kicking a man in the head during a brawl. He was released after serving almost three months of his term and came out to turn his life around.
While this episode is deeply disturbing, Deeney's reaction to it is admirable. He's spoken candidly about this incident a number of times, showing an openness and honesty matched by few footballers. Out on the pitch he plays with the rawness of a player forged in the muck and nettles of non-league football.
I enjoy watching players with elegance and class; who glide around the pitch with the ball at their feet, bypassing opponents and team-mates who collide with one another like bumper cars.
But I also appreciate the beauty of a brutish striker throwing his weight around like a working-class boxer punching a slab of meat in a butcher's freezer.
One of us
While Deeney has developed into an accomplished Premier League footballer, he has continued to use the attributes that helped him climb from the basement of English football to the top table. Strength, physicality and simmering anger terrorise the manufactured graduates of academy football.
And don't make the mistake of casting him as nothing more than a battering ram - he's scored 123 goals for Watford, 37 of them in the Premier League.
Deeney plays like one us and he looks like one of us. He's the lad in the team who boasts the physique of a regular gym-goer, but won't shy away from a post-match pint.
He's also at his most endearing when he talks from the heart. In 2017 he accused Arsenal of lacking guts and courage after scoring in a 2-1 win over the Gunners at Vicarage Road. The Watford striker said they were missing "cojones" and that he'll "whack the first one and see who wants it". This angered most Arsenal fans. Not me. He was just speaking the truth.
Reality check
More truth flowed from his mouth during a post-match interview after his last-gasp penalty in the FA Cup semi-final against Wolves - a goal that helped them reach Saturday's final against Manchester City.
"Twelve years ago I was paying £10 a week to play football and now I'm going to be in the FA Cup final," he reflected.
"It's not just this game, I'm going to go a little bit deeper – it's just life in general," he continued. "There's always going to be setbacks. Don't believe in Instagram when people go, 'Oh it's all real life, everything's easy'. Everyone's got bills, everyone's got heartache, and everyone's got problems."
He also took the opportunity to troll Wolves striker Raul Jimenez for wearing a mask after scoring his goal. "I didn't see the mask thing, so I'm quite happy I only saw it now because I probably would have lost my head," he said. "I'm glad he put that mask on – now he can wear it out now he's a loser." We were all thinking it.
This brashness isn't for everyone. Football hipsters, wearing their 1992 Denmark shirts while sipping a pale ale, might turn their noses up at the likes of Deeney. But Troy, you'll do for me.
Then read...
SUMMER Three transfer priorities for EVERY Premier League club this summer
QUIZ! Can you name all 59 players to win three or more Premier League titles?
Thank you for reading 5 articles this month* Join now for unlimited access
Enjoy your first month for just £1 / $1 / €1
*Read 5 free articles per month without a subscription
Join now for unlimited access
Try first month for just £1 / $1 / €1
Quizzes, features and footballing fun
Get daily World Cup 2022 news, updates and other football frolics to your inbox
Quizzes, features and footballing fun
Get daily World Cup 2022 news, updates and other football frolics to your inbox
Thank you for signing up to Four Four Two. You will receive a verification email shortly.
There was a problem. Please refresh the page and try again.