Three transfer priorities for EVERY Premier League club this summer
This is where every team in the top flight needs to strengthen this summer. Spoiler: there's a lot of centre-forwards...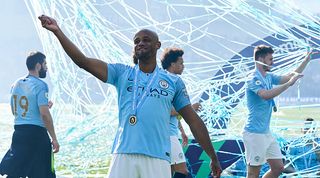 Arsenal
A central midfielder
Lucas Torreira started well but has tailed off a little, Matteo Guendouzi started well but has tailed off a little more, Granit Xhaka is the most frustrating midfielder in the Premier League bar none, and Aaron Ramsey has escaped. Oh, and we almost forgot about Mohamed Elneny – which says all you need to know there.
Arsenal won't get anywhere until they have a reliable passing central midfielder. Adrien Rabiot might just be the answer, if they can get him.
A central defender
Arsenal fans will scream until they're sick if they have to watch Shkodran Mustafi make any more calamitous mistakes, only to be staunchly defended by Unai Emery. The Gunners have the quantity (Mustafi, Koscielny, Sokratis, Mavropanos, Holding) but there are fitness doubts about two of them and general doubts about the rest.
Clearing out the deadwood
If Emery is really only going to have a £40m transfer budget plus any cash raised from player sales, he's going to have to get busy rolling his fringe players in glitter. Potential candidates for a summer exit include Danny Welbeck, Henrikh Mkhitaryan, Calum Chambers, Xhaka, Mustafi, Elneny and Lichtsteiner. But would they even get £60m for the lot?
NOW READ 6 players Arsenal could realistically sign to improve them this summer
Bournemouth
Only losing one
Bournemouth can ask Southampton about the dangers of developing players only to see them depart for clubs higher up the Premier League, but it should be a sign of strength rather than weakness. One of the two keys to success is losing only one of your crown jewels each summer. If Ryan Fraser is to be sold for big money then so be it, but keep Callum Wilson and David Brooks sweet.
More Football League shopping
The other key is intelligently reinvesting part of your proceeds on scouted transfer targets who you believe have the potential to be as valuable as the star player you've just sold (and this is where Southampton eventually went wrong). Rather than taking cast-offs from the big clubs or looking abroad, Bournemouth should make themselves a natural stepping stone for the best Football League talent.
A central midfielder
Lewis Cook may well come back stronger after a difficult 2018/19, but 35 Premier League starts between Andrew Surman and Dan Gosling just isn't good enough for a team with top-half ambitions. Both have been excellent servants and deputised superbly when called upon, but must be made fringe squad players next season.
Brighton
Assessing the summer 2018 crop
Brighton signed 13 players on permanent deals last summer; only one of those (Martin Montoya) has started more than half of their league games. Chris Hughton's replacement needs to separate the wheat from the chaff before bringing in more players this summer. Some must kick on in their second seasons.
Glenn Murray's replacement
Murray has been an extraordinary success in the top flight, scoring 24 Premier League goals since the beginning of last season. But he turns 36 in September and has spent the last months of 2018/19 staggering around the final third. Neither Florin Andone nor Jurgen Locadia replicate his role, and Percy Tau is still very raw, so someone else is going to have to. And strikers aren't easy to find.
Finding more creativity
Pascal Gross was superb in his debut season, but his form has tailed off in 2018/19. That reflects an unfair pressure upon the German to create everything in this Brighton team, with neither Anthony Knockaert nor Ali Jahanbakhsh contributing enough. Since the start of last season, Gross has created 134 chances in the Premier League. Second on the list for Brighton has 65, and that just won't do.
NOW READ Brighton may live to regret sacking Chris Hughton – but this move is just a sign of the board's ambition
Burnley
Sorting the goalkeeper question
Burnley are not a club run on big budgets or with big names, so it seems a little unnecessary to have three England international goalkeepers. Joe Hart was the last in and so deserves to be first out, particularly having lost his starting spot. But Nick Pope is hardly likely to be happy as a No.2 next season, so there's a fair chance Burnley sell two goalkeepers and buy one.
Reducing the average age
Fifteen players have started 10 or more league games for Burnley this season. This is a small squad in which keeping players fit and firing is of paramount importance. But nine of those 15 are aged between 29 and 33, and that's clearly not tenable. When you consider the positive impact made by Dwight McNeil in 2019, it has to be worth trying to inject more youth.
Buying British?
"There's a bit of a myth that you pre-suppose every European player is better than every English player," said Dyche last week. "Our club don't want to take a gamble, so they don't want to sign a £15 million French player who's never played in the Premier League, who's 21, and then that ends up being a £4 million French player going back the other way." Fair enough, but it's tough to find good British players on the cheap as our youth players improve in quality. Are Dyche and Burnley going to have to search further afield?
Chelsea
MORE CHELSEA
FOURFOURTWO LONG READ Chelsea, Eden Hazard and the unfamiliar pain of letting greatness go
Appealing the transfer ban
Chelsea failing to get their ban overturned by FIFA's Appeal Committee was no surprise, but they will now head to the Court of Arbitration for Sport and lodge an appeal there. In all likelihood, that should delay their ban and thus allow them to conduct transfer business this summer. Fail to delay the ban, and they really are in trouble.
Sorting the Hazard situation
Eden Hazard has been less and less subtle with his suggestions that he quite fancies a move to Real Madrid, and you absolutely cannot blame him. He has carried Chelsea for half a decade and Madrid are crying out for a new hero. But Chelsea must dig in and extract the highest possible fee if they're to sell, and crucially not wait until early August, thus leaving them 10 days to plan for the next two years. The transfer ban hangs over them.
Sorting the Hudson-Odoi situation
Nobody wants a young player to get injured; particularly not one with Hudson-Odoi's potential. But his ligament problems do make a move to Bayern Munich far less likely than previously thought. If Chelsea can spend the summer sweet-talking Hudson-Odoi into signing a new contract, he can be the star of a new Chelsea. Right now, the relationship needs work.
NOW READ Why Chelsea's transfer ban might actually be the best thing that could happen to them
Crystal Palace
Keeping Aaron Wan-Bissaka
Zaha didn't hold back when admitting his ambitions to play Champions League football and, like Hazard, he can hardly be castigated. His ability merits Europe's biggest stage, and Crystal Palace are never going to make it. The best result for them would be to sell Zaha for huge money and reinvest across their squad. That sale will allow them to rebuff all offers for Wan-Bissaka, who could genuinely be worth £70 million this time next year.
A centre-forward
Christian Benteke has scored so infrequently over the last three years that we have to assume he is permanently broken, while Michy Batshuayi's loan move hasn't worked out well enough to provoke an expensive permanent move. Another answer might be Birmingham City striker Che Adams, prolific this season and available for around £15 million.
A wide player
If Zaha is indeed going to be sold, Palace desperately need some more creativity. Andros Townsend is passable but no longer enthralling, while on the left neither Jeffrey Schlupp nor Max Meyer have quite performed as Roy Hodgson might have hoped. Any new centre-forward will rely upon service. Without Zaha, that will be a huge problem – particularly at Selhurst Park when Palace cannot play as easily on the counter.
Everton
A centre-forward
It's incredibly unfair on Dominic Calvert-Lewin, who has done absolutely nothing wrong and fully deserves his current starting spot over Cenk Tosun and Theo Walcott. But you do suspect that Marco Silva's vision for breaking into the top six doesn't rely upon a 20-goal centre forward. Everton have never replaced Romelu Lukaku. Calvert-Lewin will become the fill-in option, and shouldn't be deflated by that.
Letting the old guard leave
One of the most impressive things about Silva's reign is that he has transformed Everton from the oldest Premier League team under Sam Allardyce into one of the youngest in the space of 12 months. Clearly Everton's investment in the transfer market has made that possible, but that only reinforces the need to move on those who now look out of place. That means Walcott, Leighton Baines and Phil Jagielka.
Making decisions on the loanees
Kurt Zouma and Andre Gomes have slotted so neatly into Everton's first team that it's easy to forget both will leave Goodison this summer. But it need only be a temporary loss. If Barcelona were happy to let Gomes go for an entire campaign they would presumably be open to selling him permanently, while Zouma must be delighted to have found regular football in the Premier League's top half. As long as the asking prices aren't silly, get it done.
ON THE NEXT PAGE… The champions, the challengers, and Manchester United
Leicester
Signing Youri Tielemans
It really is that simple. Quite how Monaco managed to alienate Tielemans to such an extent that a mid-table Premier League were the best club to come in for him is unclear. But Leicester are in danger of having used Tielemans too well, thus alerting clubs across Europe of his potential use. It's no exaggeration to say that making the loan deal permanent would be the signing of the summer.
Helping Jamie Vardy
Vardy continues to astound against the top six and his energy levels show no sign of dropping, but it would be nice to give him a little help. Kelechi Iheanacho no longer justifies Leicester's patience, Shinji Okazaki is leaving and Islam Slimani's return from a loan spell at Fenerbahce is unlikely to end with a return to the team. Get rid of all three and buy two.
Keeping Ben Chilwell
As Sky Sports' cameras entered the field following Manchester City's 1-0 victory over Leicester, they picked up Pep Guardiola congratulating Ben Chilwell for his performance and the thought struck. Guardiola targeted Chilwell last summer but Leicester rejected all interest. They may well be forced to attempt the same strategy between now and August.
Liverpool
Depth for the front three
Divock Origi could currently hold out realistic hope of winning the majority vote if he stood to be Mayor of Liverpool, given his goals against Barcelona. But Jurgen Klopp knows that he has been fortunate to call upon each of his front three for most big games this season. Mohamed Salah, Roberto Firmino and Sadio Mané have appeared in 106 of a possible 111 league games this season, and Klopp cannot bank on a repeat next season. Sell Daniel Sturridge and buy another high-class forward.
Replacing fringe players
There isn't much surgery required on a squad that has improved beyond all expectation and recognition in 2018/19, but that improvement highlights those who have been left behind. Alberto Moreno, Loris Karius, Sturridge and Adam Lallana could all feasibly be sold and replaced with two or three players who are more likely to push for starting spots.
A central defender?
We're stretching now. Virgil van Dijk has been named PFA Player of the Year, Joel Matip has been sensational since the turn of the year and Joe Gomez is one of England's brightest young stars. But Dejan Lovren turns 30 this summer and has endured infamous form issues at Anfield. If Liverpool had the chance to sign an excellent young prospect (*Matthijs de Ligt klaxon sounds*), surely they would be foolish not to do it.
NOW READ Farewell, Daniel Sturridge? How the true one-season wonder became a distant relic at Liverpool
Manchester City
A central midfielder
Fernandinho has been majestic during Guardiola's reign, but he turned 34 last week and the high-intensity pressing will surely soon take its toll. With Ilkay Gundogan still reportedly determined to leave for a club where he is guaranteed to start every week, City will buy a central midfielder this summer. Ante Palaversa is on loan back at Hajduk Split, but he is one for the long-term. Declan Rice, anyone?
Deciding Vincent Kompany's future
If we assumed that John Stones and Aymeric Laporte would be Manchester City's omnipresent central defensive pairing, Guardiola changed tack in 2019. Kompany made eight of his 12 league starts after Christmas and four of them in April and May. With the riches at City's disposal, surely it makes sense to keep him for another year even as a non-playing leader?
A left-back
Benjamin Mendy has wasted his chance. It's uncomfortable to tell footballers how they should behave, but Guardiola has given the Frenchman plenty of chances to indicate that he is taking it seriously. If there's one thing Guardiola demands, it's total commitment to your craft. As mentioned in the Leicester section above, Chilwell strikes as the perfect replacement.
Manchester United
A sporting director
Manchester United's problems won't be solved by a sporting director, but it will at least ease the pressure on expert-businessman-but-amateur-football-decision-maker Ed Woodward. United need a figurehead to face their footballing matters and work alongside the head coach to create a long-term plan for United's team, rather than reactively throwing money on individuals.
Clearing out the deadwood
Far easier said than done, given that Manchester United have always been high payers and so hardly motivate underperforming or ageing players to yearn for pastures new. But if United had their way, Ashley Young, Antonio Valencia, Marcos Rojo, Matteo Darmian, Juan Mata and Alexis Sanchez would all leave this summer. That would free up a ridiculous £890,000 per week in wages.
A central defender
A tale of woe. Phil Jones has been given a long-term new contract despite nobody really being convinced that he's the answer. Chris Smalling hasn't been good enough for a club of this stature for years. Eric Bailly seems to have fallen completely out of favour after a series of injuries and patchy form.
Victor Lindelof has come good, but still isn't as proficient as Liverpool, Manchester City, Chelsea or Tottenham's best central defender. Toby Alderweireld strikes as the obvious answer, but United certainly need a flagship defensive leader.
NOW READ 7 players Manchester United could sign to improve their fortunes this summer
Newcastle
Keeping Rafa Benitez
We could easily have just written the manager's name three times here, because this club's ability to move forward over the summer depends entirely on keeping their best manager since Bobby Robson. If Benitez was allowed to depart, the goodwill that has carefully been accrued between manager and fans would be destroyed. There's already too much mutiny elsewhere.
A new owner
The nuclear option, but this summer provides the best possible chance of an interested party making a formal offer to Mike Ashley, and Ashley accepting it. The last 12 months have generated rumours and deliberate PR leaks that only grind Newcastle further into the ground. With Premier League safety secured again, supporters will desperately hope that the end of Ashley's reign is in sight.
A defensive midfielder
On the pitch, there are priorities galore. Salomon Rondon's move must be made permanent, Miguel Almiron's creativity should be supplemented by another winger, while there are fringe players who have to be moved on. But with Ki Sung-yueng failing to have much of an impact, Isaac Hayden wanting to move city and Sean Longstaff battling back from a long-term injury, another central midfielder is a must.
ON THE NEXT PAGE… The promoted hopefuls – and the Champions League finalists
Norwich City
Keeping sight of their recruitment
Norwich's promotion campaign merits recognition as one of the standout achievements of the last decade. Having been forced to sell their best young players to balance the books, the Canaries embarked on a period of European scouting and analysis to hunt Europe for bargains. Now the key is to continue with that same strategy, rather than being hoodwinked into thinking big names are the answer.
Holding onto the best young players
A promoted club would usually be guaranteed a stay of execution; a full season in the Premier League before the vultures started circling. But Norwich have a crop of young players who will already be on the radar of those established in the top flight. Jamal Lewis, Max Aarons, Emi Buendia and Ben Godfrey must all be kept if Norwich are to have a chance of sustaining their buoyant mood and securing consolidation.
A centre-forward
The most astonishing aspects of Teemu Pukki's season is just how consistent his performance and goalscoring level remained throughout. Any injury would surely have derailed their title challenge. The only other player who started as a centre-forward in the league was Jordan Rhodes, and his loan ends later this month. Norwich need to provide support and backup to Pukki. Goalscoring will be far harder next season.
Sheffield United
A striker
Nobody wants to pour cold water on an extraordinary success story, and Sheffield United must be allowed to celebrate their promotion long into May. But the planning will already have started, and that means tough decisions. Billy Sharp and David McGoldrick have scored 38 league goals this season between them, but there must be doubts about them in the Premier League. With Gary Madine and Scott Hogan returning to parent clubs, a new striker is a must.
A central defender
Chris Wilder's use of three central stoppers this season has been a masterstroke, but he has also been fortunate that Chris Basham, Jack O'Connell and John Egan have been almost ever-present. The trio have played 126 of a possible 138 league games. Backup will be needed to ensure the Blades can cope with an extended absence of one or more of them. Richard Stearman and Martin Cranie are not of the quality required to step in.
Keeping Dean Henderson
A revelation in the Championship at 22 years old, Henderson has has played every minute of Sheffield United's league season on loan from Manchester United. With David de Gea and Sergio Romero ahead of him, he is unlikely to get a chance at Old Trafford – but the Blades must make sure they're in the driving seat to re-sign the goalkeeper for next season. A permanent move would be some coup.
Southampton
Moving on the old guard
Ralph Hasenhuttl has done a spectacular job since taking over, but the greatest mark of his progress has been in giving academy graduates a chance to shine in the first team. That strategy has left a number of players firmly of the fringes of Southampton's squad. It's a group thin on experience, but Fraser Forster, Charlie Austin and Mayo Yoshida could all be sold to fund new purchases.
A centre-forward
Shane Long's late-season surge probably does just enough to merit keeping him, and Danny Ings may improve again after a full pre-season. But if Austin is sold, Southampton could really do with a regular goalscorer. In the last three years, no Saint has reached double figures for league goals. Which is shocking.
A central defender
If Yoshida is also sold (and thanked for his service), a towering central defender must arrive to fill the impossible void left by Virgil van Dijk's sale. Jannik Vestergaard and Jan Bednarek both have bags of potential, but could do with someone between them to guide, monitor and lead them. Hasenhuttl may well raid the Bundesliga.
Tottenham
Keeping their stars
It isn't quite as simple as 'sign no players, reach the Champions League final', but the book Soccernomics posed a theory that keeping players and paying them higher wages was a far more effective strategy than selling players and buying new ones. But that relies upon Tottenham keeping their best players, and there looks set to be a fight for Christian Eriksen and Toby Alderweireld this summer. Were they not sated by the miracle of Amsterdam?
Buying young
But Tottenham really must buy this summer; not because we're constantly told it's the done thing, but because their squad needs added depth and competition for places to solve the problems of late-season fatigue that have blighted them this season. If they don't have the vast spending power of those who will finish above and just below them (and they don't), Mauricio Pochettino must look for under-23 players who have the hunger to keep Tottenham at the top of their game.
A right-back
One of those players will be a right-back, because Serge Aurier is unreliable and Kieran Trippier has declined so very badly. Aaron Wan-Bissaka would be the perfect choice, but Max Aarons of Norwich is another option. We're assuming that Pochettino just doesn't like Kyle Walker-Peters by now.
NOW READ How Mauricio Pochettino and Tottenham showed up a transfer-obsessed nation
Watford
Selling players (at the right price)
Watford have enjoyed a magnificent season, but they know that success only brings interest from bigger and richer clubs. That's fine: part of the key to running a non-elite Premier League club is knowing the right time to sell for the best price. So if Paris Saint-Germain really do want Abdoulaye Doucoure, for example, getting a great fee for him and reinvesting the proceeds makes sense. Don't be afraid to let players leave if you believe it can be part of the bigger journey.
A centre-forward
Troy Deeney clearly has his uses when not using his elbows, but Andre Gray and Isaac Success really haven't worked out for the money spent and there is a suspicion that Gerard Deulofeu may angle after a move abroad this summer. Watford's top scorer this season has nine in the league, and Javi Gracia will want that to change next season.
A new Jose Holebas
Holebas has been a wonderful signing for Watford; probably the best entertainment value of any Premier League player, as proven by his 19 league goals/assists and 33 yellow cards in three seasons. But he turns 35 this summer, and can't continue to stream back and forward on the left flank forever. Replacing his energy and enthusiasm won't be easy, but Watford might have to try.
West Ham
Moving out the laboured
Fun fact! West Ham have used 10 outfield players this season aged 30 and above. West Ham have to lower the average age. Aaron Cresswell and Andriy Yarmolenko will also turn 30 this year.
Another fun fact! That isn't sustainable. That list includes Andy Carroll, Javier Hernandez, Lucas Perez, Carlos Sanchez and Pablo Zabaleta. If all left the club this summer, it would be no cause for regret.
A centre-forward
With Carroll, Perez and Hernandez departing (and the first two look more likely than the latter), West Ham suddenly have space to rebuild their attack and give Felipe Anderson, Yarmolenko and Antonio someone to create for. Do you know who the last West Ham player was to score more than 16 goals in a top-flight league season? Tony Cottee in 1986/87, that's who. Madness.
A centre midfielder
West Ham have a pretty wonderful crop of attacking midfielders: Anderson, Yarmolenko, Antonio, Manuel Lanzini, Samir Nasri, Robert Snodgrass. They need no more options there. But even if they persuade Declan Rice to stay for one more season, Jack Wilshere is perma-crocked and Mark Noble has just turned 32. One more would be nice.
Wolves
Keeping the stars
Wolves are a highly ambitious club that retain serious hope of breaking into the Premier League's top six. Those ambitions will hardly have been dented by the floundering of Chelsea, Arsenal and Manchester United at various points of this season. But with success comes a potential problem. Is Jorge Mendes's influence enough to keep Ruben Neves, Rui Patricio and Diogo Jota at the club? And will Premier League clubs be sniffing around Matt Doherty and Conor Coady this summer?
Impact striker
Nuno Espirito Santo's change from a 3-4-2-1 to a more regulation 3-5-2 gave Wolves's season a boost at the best possible time, bringing Jota centrally and immediately improving his output. But playing with two strikers logically dictates that Wolves need effective backup options in case Raul Jimenez or Jota are unavailable, and there is likely a Europa League campaign to come. They have the numbers (Leo Bonatini, Ivan Cavaleiro, Adama Traore), but the quality?
A central defender
Wolves's three-man central defence has been extremely successful in both gaining promotion and keeping them in the top flight, but Nuno has been fortunate that all have been available for almost every game (perhaps fortune might not be the word; Wolves have suffered fewer long-term injuries than any other club in England over the last two years). Romain Saiss or Leander Dendoncker could probably fill in, but Wolves could do with a fourth specialist to deal with the added workload.
While you're here, why not take advantage of our brilliant new subscribers' offer? Get 5 copies of the world's greatest football magazine for just £5 (opens in new tab) – the game's greatest stories and finest journalism direct to your door for less than the cost of a London pint. Cheers!
THEN TRY…
FourFourTwo Podcast, Episode #5: Comeback Special (opens in new tab)
Quiz! Can you name the most-used XI from every Premier League team in 2018/19?
Thank you for reading 5 articles this month* Join now for unlimited access
Enjoy your first month for just £1 / $1 / €1
*Read 5 free articles per month without a subscription
Join now for unlimited access
Try first month for just £1 / $1 / €1
Get the best features, fun and footballing quizzes, straight to your inbox every week.
Get the best features, fun and footballing quizzes, straight to your inbox every week.
Thank you for signing up to Four Four Two. You will receive a verification email shortly.
There was a problem. Please refresh the page and try again.