UEFA Nations League explained: Everything you need to know about the tournament
published
It's international football's newest tournament - but how does the Nations League actually work?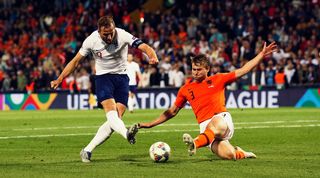 Everybody's third favourite international tournament involving UEFA member associations is back - that's right, the UEFA Nations League is nearing its season finale.
The Nations League were considered a success last time around. Portugal reigned supreme after defeating the Netherlands in their backyard - but it was still a good tournament for England, who finished ahead of Spain and Croatia to qualify for the semi-finals.
The format has been tweaked slightly now. There's still relegation and promotion - who doesn't enjoy the prospect of Germany getting relegated? - but UEFA have made reforms to address some of the issues that the inaugural tournament presented.
Already confused? Here's our recap of how it all worked from the first time around.
What were the groups?
So we've already played the groups - and now we've got the play-offs to play.
Group winners are in bold, while teams relegated are in italics.
League A
Group 1: Poland, Bosnia-Herzegovina, Italy, Netherlands
Group 2: Iceland, Denmark, Belgium, England
Group 3: Croatia, Sweden, France, Portugal
Group 4: Germany, Ukraine, Spain, Switzerland
League B
Group 1: Romania, Northern Ireland, Norway, Austria
Group 2: Israel, Slovakia, Scotland, Czech Republic
Group 3: Hungary, Turkey, Serbia, Russia
Group 4: Bulgaria, Republic of Ireland, Finland, Wales
League C
Group 1: Azerbaijan, Luxembourg, Cyprus, Montenegro
Group 2: Armenia, Estonia, North Macedonia, Georgia
Group 3: Moldova, Slovenia, Kosovo, Greece
Group 4: Kazakhstan, Lithuania, Belarus, Albania
League D
Group 1: Malta, Andorra, Latvia, Faroe Islands
Group 2: San Marino, Liechtenstein, Gibraltar
When are the UEFA Nations League Finals begin?
The play-offs for the UEFA Nations League 2020/21 are this week, with Italy v Spain in Milan on Wednesday 6 October and Belgium v France in Turin on Thursday 7 October.
The 2021 UEFA Nations League Final will be held on 10 October 2021 at the San Siro in Milan, Italy.
How does the UEFA Nations League work?
There are 55 member states in UEFA, following Kosovo's membership being accepted in 2016.
The UEFA Nations League splits these nations into four leagues: A, B, C and D. For the original format, these divisions contained countries based on their coefficient score - so the best teams in Group A, right down to the lowest-ranked in Group D.
Within each league, there are four smaller groups of three or four teams; so League A has smaller groups, A1, A2, A3 and A4, for example.
The winner of each of League A's groups goes on to play knockout fixtures to determine the UEFA Nations League champion. Below that, however, relegation and promotion come into play.
The bottom-placed team in each group gets relegated to the league below, whilst the top-placed team gets promoted to the league above.
Due to the UEFA Nations League expanding its groups for this edition though, no one was relegated last time around. The teams that were promoted do, however, get to jump up a league.
What are the changes to the UEFA Nations League?
Originally, there were 12 teams in League A, 12 in League B, 15 in League C and 16 in League D. This meant there were four groups of three nations in League A and League B. There was a group of three and three group of four in League C and four groups of four nations in League D. Still following?
Since groups of three were a little awkward, that was tweaked slightly.
League A, B and C all consist of 16 teams. That's an even four groups of four. The four group winners in League A play in the UEFA Nations League finals - with Italy chosen from the four group winners as the host for the occasion.
The four teams who finished bottom of League A have now been relegated to League B, with the group winners from League B replacing them in League A. The same happens with League B and C.
The four teams who finish bottom of League C will play in relegation play-outs. The two losers will be replaced by the two group winners of League D.
League D will have just seven teams: that's one group of four and a group of three, with one promotion place on offer to both.
Subscribe to FourFourTwo today and get three issues delivered for just £3 (opens in new tab). The offer ends October 17, 2021.
Restock your kit bag with the best deals for footballers on Amazon right now (opens in new tab)
READ NEXT
IN THE MAG Cristiano Ronaldo special! PLUS the 100 greatest grounds in Britain, inside the new Milan, Sol Campbell, Fernandinho, Manics and more
RANKED! Every Premier League kit this season from worst to best
GUIDE FIFA 22 news: Pre-order now – plus release date, cover, trailer and everything else we know so far
Thank you for reading 5 articles this month* Join now for unlimited access
Enjoy your first month for just £1 / $1 / €1
*Read 5 free articles per month without a subscription
Join now for unlimited access
Try first month for just £1 / $1 / €1
Quizzes, features and footballing fun
Get the best features, fun and footballing frolics straight to your inbox every week.
Thank you for signing up to Four Four Two. You will receive a verification email shortly.
There was a problem. Please refresh the page and try again.