We were there: the Miracle of Istanbul, as told by the Liverpool and Milan fans who saw it
You've heard the players discuss the 2005 Champions League Final, but what about the fans? Supporters from both sides regale that incredible night in Turkey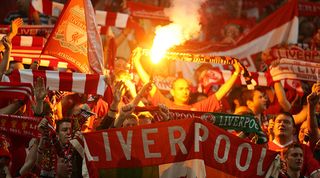 Liverpool get another crack at Champions League glory against Tottenham Hotspur in Madrid on Saturday, after falling to Real Madrid in last season's final.
Inevitably, those of us with longer memories will use the occasion to let our thoughts drift back to that famous night in Istanbul 14 years ago. In one of the greatest European finals of all time, the Anfield side found themselves 3-0 down to a star-studded Milan side at half-time, only to fight back to 3-3 after the break before triumphing on penalties.
We gathered together supporters from both clubs to share their recollections of one of football's craziest nights.
The Liverpool fans
Frank McGinn A season-ticket holder at Anfield since 1987. Was once in the players' lounge with John Barnes. Didn't talk to him, though.
Ryan Herman His first Liverpool match was at West Ham in 1978. Once shared a few drinks with Derek B, who co-wrote the Anfield Rap.
Les Lawson Says he hasn't missed a Liverpool home game since the 1976/77 season. Chairman of the Merseyside branch of the Liverpool Supporters' Club.
John Green Anfield season-ticket holder since 1974. Even more impressively, he represented the club in 1977's It's a Cup Final Knockout.
Chris Hughes A Liverpool fan since 1982. Reds success aside, his greatest memory is playing a one-two with Ian Rush in a coaching session in 1983.
Mark Radley A Liverpool native and lifelong Red who had to fork out for a family holiday to Malta in order for his wife to let him go to Istanbul.
The Milan fans
Alessandro Ciotti A fan who stayed loyal even through the dark days – being Milanista is a long-standing family tradition.
Fabio Conte A former Milan season-ticket holder who could be found at every Rossoneri game, home and away, between 1985 and 2008.
Oscar Poma One of the main members of Fossa dei Leoni, an ultras group founded in 1968 and dissolved a few months after the Istanbul final.
Elio Cascone A Milan season-ticket holder for 15 years, even though he lives some 500 miles away in the southern Italian city of Salerno.
Marco Pretti One of the new generation, born in Milan and named after club legend Marco van Basten. His first San Siro game was in 2001.
Fabio Disingrini Says that despite no longer being a San Siro season ticket holder, he still "can't imagine" missing matches against Inter or Juventus.
The rush for tickets
FM (Liverpool): It was all arse-about-face. After the semi they were giving out leaflets about Istanbul charters, but it took ages to find out if you had a match ticket first. You were watching the price of flights soaring, but you needed a ticket number to book – it was a nightmare.
RH (Liverpool): People struggled with travel because flights were limited. You had to shell out £600, or take a week off work and go via somewhere like Bulgaria. Some people gave up, and then tickets became available. I met a bloke at London Bridge to get one. It was so precious, I was terrified about having it in my pocket.
A manic day in Istanbul
AC (Milan): For me, the final was a one-day trip: we were supposed to leave Milan at 7am, but the flight didn't take off until 2pm. I was terrified I was going to miss kick-off! I'd been in Istanbul for Galatasaray vs Milan a few years earlier and there were just 15 Milan supporters there. This time it was completely different!
MR (Liverpool): I ended up getting a pair of tickets through a woman who worked for Djibril Cisse in some capacity: one for myself, one for my father-in-law. He was actually working in Istanbul as an engineer and, unbeknown to me, had managed to get hold of a ticket as well, so we had a spare. This guy had one for himself, but needed one for his son. He offered to buy my pair at face value and give me his single. He had this young lad with him, looking at me with these puppy eyes, so I said, 'Fine, let's do it'.
OP (Milan): We had some concerns before leaving: the first was the Turkish hooligans; the second was the Liverpool fans. We arrived in Istanbul with these things on our mind, but we soon discovered that the police were very efficient, and that calmed us a lot. Also, the English fans were incredibly friendly. They offered us beers and we swapped scarves. It was a great atmosphere.
FD (Milan): I was staying on the Asian side of the Bosphorus, so we couldn't drink any alcohol the night before the match. We took a cab across to the European side, but every store and bar was closed, so we bought beers from some Liverpool fans instead. It was a really special night. People weren't even thinking about the game.
RH (Liverpool): The atmosphere around the city was fantastic. It was a sunny day and everyone was just delighted to be there. We knew our team wasn't great, but somehow we'd made it, and there was a generation of supporters there who'd never been to a European Cup final. We certainly made the most of it!
FM (Liverpool): It was chaos in Taksim Square. My mate was so drunk by 1pm that the police had a word. Luckily he'd bought a massive Turkish flag, so they liked him. Another bought two bottles of cheap brandy to take home. I told him he wouldn't get them into the ground, so they got necked.
EC (Milan): Before the game, I was quite relaxed – mainly because in the morning I took a Turkish bath! You might think my biggest fear was Steven Gerrard, but it was actually the Pope. We were better than Liverpool, but the Pope had passed away recently and the last time a Pope had died, Liverpool won the European Cup. [In theory, Elio needn't have worried – Pope John Paul I actually died four months after the Reds' 1978 triumph against Club Brugge at Wembley.]
Getting to the Ataturk Stadium
JG (Liverpool): Getting to the stadium was mayhem. We got a taxi, but the motorway was like Wacky Races. When we arrived, it was like they'd stuck a stadium on Pendle Moor – there were goats wandering around everywhere!
FM (Liverpool): We got two taxis, driven by brothers, who were racing at ridiculous speed. We got dropped off and were told the stadium was over the hill. But over the hill was another hill... and then another. A mate went to relieve himself behind a bush and found a police sniper in there!
FD (Milan): At the stadium, it was actually much colder than in the city. Before entering the stadium, a group of us played football with some local kids. It was very relaxed.
RH (Liverpool): There was rubble everywhere left over by builders. It felt like a nuclear holocaust and all that was left in the world were Scousers.
FC (Milan): I always remember that on the way to the Ataturk, there was a thunderstorm. It was like some kind of forewarning of the tragedy that awaited us.
OP (Milan): I had to get to the stadium at 4pm to put more than 10,000 pieces of cardboard on each seat in the Milan end, so it was empty when I arrived. But when it started to fill up, we realised the other three-quarters of the stadium were all red. We were outnumbered. And they were loud.
RH (Liverpool): There was nothing to eat or drink and you could walk freely between the upper and lower tiers. I found myself sitting next to boxer Amir Khan by complete chance. He's a Bolton fan but was there with five Liverpool-supporting mates.
Pre-match nerves
CH (Liverpool): I didn't harbour high hopes. Milan were world class from one to 11. I also felt that, as a side, you have a finite pot of luck and we'd used all of ours up against Chelsea in the semi-final.
AC (Milan): I was surrounded by so many Liverpool supporters that my legs were shaking! I was quite confident, though. It was one of the strongest teams I've seen in black and red – I thought Liverpool had no chance.
LL (Liverpool): It was weird, because for years I went to Liverpool finals and we'd be favourites. We were definitely underdogs that day. It took the pressure off, but you still believe it can be done.
Milan score in the first minute
MR (Liverpool): My father-in-law was sat in another part of the ground with his original ticket, but the one I'd ended up with was way up in the gods, so it was like looking down at ants on the pitch. I sat down, the game kicked off and within no time we were behind. I felt terrible.
LL (Liverpool): [Paolo] Maldini scoring in the first minute was probably the most horrible moment. You'd built up to it all day and then bang – the bubble bursts. [Harry] Kewell got his usual injury and [Rafael] Benitez brought on Vladimir Smicer.
FM (Liverpool): After Kewell went off, I thought: "Don't let this be too embarrassing. Let's keep the score down and go home." Nobody thought we'd turn it around.
RH (Liverpool): At 1-0 down you hope you can make a fist of it, but that wore off. Kaka hit an incredible ball to [Hernan] Crespo, and I thought: "They're a different class to us." There were Milan fans around me and there was a lot of fist-pumping and posturing. It was awful.
AC (Milan): When you start like that, with a defender scoring, you think that with such amazing strikers everything will be easy, and for the first half it was. We could have scored even more than three goals.
Crespo strikes, twice
FC (Milan): It was incredible – a pure spectacle. Kaka, [Andriy] Shevchenko and Crespo were all on deadly form. Everything was going right for us. We were all ecstatic – even if, like all good Milan fans, there was a bit of caution in there as well. Nobody could believe what they were seeing.
LL (Liverpool): Nobody could understand why Benitez didn't put [Dietmar] Hamann on, because Milan were cutting through us. The second and third goals were just terrible.
EC (Milan): By the time we scored the third goal, I'd completely lost my voice! I've never been so calm at half-time, even though the Liverpool fans were so loud. I think the Reds took up almost 70 per cent of the stadium. Amazing.
CH (Liverpool): In a way, that third Milan goal did Liverpool a favour. At 2-0 down at half-time, you're caught between defending and going for it. At 3-0 down, there is no route other than all-out attack.
A welcome break
AC (Milan): At half-time, one of our fans was already on his phone looking for flights to Japan for the FIFA Club World Cup! He wanted to get in first so the prices hadn't gone up too high.
CH (Liverpool): There was a sense of 'Shit, everyone is watching this – imagine the mockery we'll get back home'. My inner geek was trying to remember the worst ever final defeat.
LL (Liverpool): It was a nightmare. My son Jamie was in floods of tears. I'd seen victory and defeat as a fan, but that was too much for a young lad to take. A couple of guys in the next row tried to comfort him, but they ended up crying too.
MP (Milan): My brother started taking pictures of himself and the stadium billboard. I was waiting for us to score again to make it another 4-0, just like against Barcelona [in the 1994 final]. My mother wasn't calm at all. It was like she knew something bad was coming. When the Liverpool fans started singing You'll Never Walk Alone, I thought: "What are they doing? In 45 minutes, we will be singing and celebrating." They had nothing to sing about!
LL (Liverpool):You'll Never Walk Alone started quietly, but became incredibly loud. It was one of the best renditions I've ever heard. Jamie started singing. It was a statement: 'We are Liverpool'.
OP (Milan): We couldn't celebrate because the Ataturk became a loudspeaker for Liverpool's anthem. We were hypnotised. We were three up and it was their fans who were celebrating.
MR (Liverpool): I started wandering around the ground, trying to get a drink, but there was no booze on sale. I headed back to my seat but took a wrong turn. I had a bit of a nose around and saw this guy in a bow tie with a tray of drinks. There were these two big doormen blocking the way, but I noticed a bit of a gap and managed to sneak myself into the hospitality area. The drinks guy walked past and said, 'Champagne, sir?' and I thought: "Don't mind if I do!" I was standing there in my Liverpool shirt, a pair of combat shorts and trainers, but no one said a thing to me.
Suddenly the players were coming back out onto the pitch. People started to return to their seats, and I was walking with them. I realised that everyone was speaking Italian. I looked at the seats behind me, trying to see if there was an empty one. The two doormen were there again, looking at me. Just in front of them, there was this short, dark-haired, perma-tanned Don Corleone type with an empty seat next to him. I cheekily pointed at it and he gave me the thumbs up. Everyone looked at me as I sat down. He tapped me on the shoulder and made this '3-0' gesture and smirked. I was thinking: "This guy's getting on my wick already…"
The turnaround
LL (Liverpool): When Gerrard scored the first goal, the celebrations were muted. We were relieved, but it felt like a consolation.
FM (Liverpool): I'd found my mate, and when we scored he jumped up and fell forward five rows. He scraped the skin off his shins; he was bleeding everywhere. But things changed so fast that I can't remember when my mind switched from 'it isn't going to be embarrassing' to 'we have actually got a chance'.
OP (Milan): Gerrard lifted his team up onto his shoulders. "It's just one goal – don't worry," we all said to each other. After the second goal, we all suddenly started demanding that Carlo Ancelotti make changes. We were all managers at that moment, wanting Crespo off and a midfielder on.
MP (Milan): I saw the linesman flagging Milan Baros offside, but the match went on and Smicer scored to make it 3-2.
CH (Liverpool): The ball came to Smicer. Every Liverpool fan thought: "Don't shoot, Vladi" – but it went in. Suddenly, there's belief. My brain was mashed up.
LL (Liverpool): Before it could all sink in, we got a penalty. Gerrard had been having a poor season with pens, so Xabi Alonso took it. The celebrations after that were genuine pandemonium. You were kissing strangers.
EC (Milan): When Alonso scored, I was certain we would lose in 90 minutes. Any team that concedes three goals in six minutes is going to keep collapsing. It was like being under a train. It was a mental problem. I felt the same in 1973 when we lost the Scudetto in the last game of the season at Verona, but at least I was just listening to the radio back then.
MR (Liverpool): When the third went in, I was jumping up and down, screaming red murder. The perma-tanned guy was seriously upset and started yelling in Italian. It turned out the two doormen were actually bodyguards; they came racing over and marched me away before turning me over to these Turkish stewards. I was worried they'd boot me out, but all they said was: "You can't upset our important guest." It turns out it was Silvio Berlusconi.
The second hour
OP (Milan): The red choir was the soundtrack to our horror movie. We were waiting for the fourth, but suddenly Milan reacted. We came back from hell and started to play football again.
CH (Liverpool): You could see it was weird for the players. Liverpool didn't want to lose after clawing it back, and Milan were looking at real humiliation if they lost. It got cagey. I remember Jamie Carragher being treated for cramp but still barking orders at the defence as he lay on the floor.
FM (Liverpool): People forget that Milan had several chances in that second half. Then Djibril Cisse got through one-on-one – and hit it straight at the keeper. And of course Jerzy Dudek made that double save from Shevchenko.
FC (Milan): I actually thought Shevchenko had scored. You know what it's like in a final – the adrenalin gets to you.
FD (Milan): Shevchenko had the chance to score, but Dudek was perfect. I think Sheva was the one player most affected by that game; he wasn't the same again after that.
EC (Milan): When Dudek made that save, I was sure we would lose on penalties. I think even Albert Einstein would struggle to understand how the ball didn't go in!
The shootout
MP (Milan): I thought back to winning on penalties [in the final against Juventus] in 2003 and I knew we weren't going to win. To win two Champions Leagues on penalties in three years you have to be lucky, and we weren't in that match. This time we dominated for 114 of 120 minutes and hadn't won. Unbelievable.
FC (Milan): When it went to penalties, it was like we'd already lost. The fans, the players – you could see from their demeanour that the game was over. We were resigned to defeat before the first penalty had even been taken.
LL (Liverpool): Hamann went up to take the first one and my heart sunk. He'd missed one in the League Cup final [against Birmingham in 2001] and I couldn't understand why he was up. But he scored, and then Cisse scored too. It was a dream start.
RH (Liverpool): The only penalty I couldn't watch was [John Arne] Riise's, which he missed, and it put them back in it. Kaka scored the next one, so there was pressure on Smicer, but he did so well.
FM (Liverpool): Some people could hardly follow what was going on. I turned to the bloke next to me and said: "You know if they miss, we've won?" He replied: "Are you sure?"
LL (Liverpool): Suddenly it's Dudek against Shevchenko. He was the best forward around and you'd have bet on him scoring, but Jerzy had his number. After that save, it went crazy. I've never seen celebrations like it.
JG (Liverpool): When the final save was made, it took five seconds for everything to click. We'd won. It was almost too overwhelming to take in. The scenes were just ridiculous.
MR (Liverpool): The stewards were great. They put this little wristband on me and showed me through to this other room, which was full of ex-Liverpool players: there was Michael Thomas; there was John Aldridge. Suddenly, we've won on pens and I'm there celebrating in the Liverpool hospitality area with all these former players.
RH (Liverpool): I turned to Amir Khan and said: "You don't see that every week at the Reebok Stadium."
The aftermath
FM (Liverpool): Leaving the ground, it was pitch black. I lost everyone. One of the group was mugged. Another lost his camera and passport. I waited by the exit and flagged down a coach. Later in the hotel, I had a call from my mate ranting about being stranded. I had to put the concierge on the phone with his taxi driver to get him back. And at the airport it was mad. Flights left like buses. Mine landed in Bristol. I wasn't bothered. I just hopped on a train to Liverpool.
FC (Milan): We just went straight back onto the bus when the last penalty went in – heads down, no one saying a word. Incredible. Sitting on the bus, some were blaming the players, some Ancelotti. One fan blamed Dida, but just the one. I sat there in silence. Total silence.
JG (Liverpool): In the airport they'd erected this disco in a tent. It was ridiculous. Everyone was getting extremely brassed off about the delays, but whenever people got vocal, the DJ put You'll Never Walk Alone on and they all started singing instead.
OP (Milan): The situation at Ataturk Airport was chaotic. In the end, our plane took off nine hours late. During the delay, the team passed through – all of them with their tracksuit jacket hoods over their faces. The Rossoneri fans, tired and sad, started to insult them: "Go to work!"; "Shame on you!" One shouted: "I put myself into debt to get here" – and Paolo Maldini replied: "You'd better stay at home, then." That was the end of a love affair. Paolo discovered as much after his last match [in 2009], when the Curva Sud booed him loudly.
RH (Liverpool): Everyone was spent at the airport. They weren't even getting drunk. Some were smoking hookah pipes. The flights were all over the shop and nobody on the customer service desk spoke English. In the end we got on a plane, and the thing that lives with me is the smell – as Alan Partridge once said, "the smell of men together". Alcohol and BO. Awful.
Final thoughts
LL (Liverpool): In all my time as a Liverpool fan, absolutely nothing has come close. It still gives me goosebumps. It was perfect.
OP (Milan): The legend in Milan is that after the match none of the Rossoneri players would exchange shirts with the Liverpool players, because they had put t-shirts on at half-time celebrating their 'win'.
JG (Liverpool): I've been to many finals, from Rome 1977 onwards, and nothing topped this in terms of drama. It was ridiculous. It still seems surreal.
AC (Milan): When the next season started, we weren't allowed to forget what happened. At the first derby, many Inter fans showed up to the stadium with Liverpool flags and scarves.
FC (Milan): A year later, on May 25 exactly, Inter fans arranged a big party to celebrate the anniversary at my local pub in Milan. Some Liverpool fans were there and they knew that I'd been at Istanbul. They knew what it meant to me and they came over to embrace me.
MR (Liverpool): A local writer heard about my story and adapted it as a stage play. It's been on tour in the UK and Ireland, and it's been shown across Scandinavia too. Now they're going to stage it in Italy. They've asked me to go over there for the premiere, but I'm not sure if I'll go. I'd be expecting to wake up and find a horse's head in my bed…
Read more...
FEATURE How to win the Champions League – by the men who've done it (opens in new tab)
ANALYSIS 5 things we've learned about Liverpool in 2018/19 (opens in new tab)
Thank you for reading 5 articles this month* Join now for unlimited access
Enjoy your first month for just £1 / $1 / €1
*Read 5 free articles per month without a subscription
Join now for unlimited access
Try first month for just £1 / $1 / €1
Quizzes, features and footballing fun
Get daily World Cup 2022 news, updates and other football frolics to your inbox
Quizzes, features and footballing fun
Get daily World Cup 2022 news, updates and other football frolics to your inbox
Thank you for signing up to Four Four Two. You will receive a verification email shortly.
There was a problem. Please refresh the page and try again.