Wenger at Nagoya Grampus Eight: how Arsene rediscovered his greatest love in Japan
Before Arsenal and the Premier League, there was Nagoya and the J.League. John Duerden remembers Wenger's halcyon days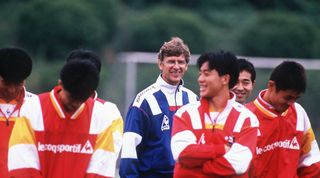 If Arsenal fans were none too excited about the arrival of Arsene Wenger in 1996, the same could be said of Nagoya Grampus supporters in January 1995.
The Frenchman succeeded Bruce Rioch in north London, and followed another ex-Wigan Athletic boss in Gordon Milne to his new post in central Japan. Milne - once signed by Bill Shankly for Liverpool - had excellent overseas experience after leading Besiktas to three Turkish league titles, but struggled in Nagoya. The 1994 season ended with the team finishing bottom-but-one of the overall standings in a league that was split into two sections, with the winners of each playing off for the title.
After a similar story in the first J.League season of 1993, expectations were not high as 1995 dawned – and the identity of the new coach did little to excite.
"No one trusted Wenger at first," said defender Tetsuo Nakanishi. "They all said 'here comes another foreigner'."
Not just 'another foreigner'
They were wrong. Wenger's time in Japan was fairly short but it ended up being very sweet. There was no sense of this Frenchman outstaying his welcome – quite the opposite. By the time that he said goodbye to fans at the Mizuho Athletic Stadium in September 1996 (and to a nation watching on television), there was barely a dry eye in the house.
Shintaro Kano of Kyodo News remembers it well.
"He wasn't around long enough to leave a legacy," Kano tells FourFourTwo, "but the brevity of his time in Japan only heightened the fantasy of what he could have built had he been around longer – like a kick-ass teaser to a summer blockbuster film."
Wenger had been fired by Monaco in September 1994 – a team he'd led to the French title in 1988 – after a poor start to the season. Only months earlier they'd reached the semi-finals of the Champions League, losing out to eventual winners Milan, who hammered Barcelona 4-0 in the final.
Wenger was ready for a new challenge and Nagoya, whose big-money outlay on Gary Lineker and Dragan Stojkovic had not brought expected results, needed something new too.
The club had started life as Toyota's company team before becoming fully professional with the new J.League in 1993, and their officials had heard the Frenchman speak at a 1994 conference. They were impressed. Negotiations soon started, and Wenger headed to the industrial city to take in a game late in the 1994 season – Lineker's last ever professional appearance.
In December, Wenger agreed to sign and take charge for the upcoming third season.
NEXT: A whole new world...
Brave new world
The J.League was only two years old in January 1995. In terms of popularity, the competition was still riding the crest of a wave that was to last for another couple of years. Big stars like Zico, Dunga and Toto Schillaci were helping to draw the crowds and television cameras.
Despite the new man, Nagoya's third season started in familiar fashion. The first three leagues games ended in defeat, and the team took just three points from their first eight games.
It took time to get the message across. Stories abound in Tokyo expat bars of Western bosses visiting Japanese offices to ask staff what they need to be able to work more effectively in order to reach their goals – questions traditionally met with confused silence. That may be changing in these globalising times, but certainly back in the mid-90s, newly-professional football players in Japan expected to be told in minute detail what to do off the pitch - which suited Wenger - but on it too.
"There was a wall between me and the Grampus players," Wenger recalled. "The know-how I had developed in Europe was of no use with this wall. They wanted specific instructions from me... but the player with the ball should be in charge of the game. I had to teach them to think for themselves."
Yet the communication issues were not always negative. "I couldn't understand what people were saying to me or what they were writing in the newspapers, so I didn't have that to worry me," noted the Frenchman. "I realised that football was what I enjoyed. The rest is just people's opinion."
The one positive was that there was no relegation to worry about in those early days, with the league still finding its feet. It gave some much-needed breathing space and time to find his way.
"Wenger brought a modern managing style to Nagoya," says journalist Kano. "He had autonomy the way he did at Arsenal for more than two decades, meticulously controlling the club at various levels. Wenger's style fit well with the mentality of the Japanese, who are accustomed to being micromanaged and disciplined."
Coupled with being in Japan, where it is especially easy for foreigners to cut out the background noise and focus entirely on their jobs, Wenger's single-mindedness and sheer hard work started to have an effect. Unlike some coaches who have headed east, the fact that he never talked down local football was appreciated. His Japanese staff spoke in awe of the sheer number of football matches he watched on video until all hours of the morning, and realised that they were working with a man who saw the game not as a job but as his life.
Former Tottenham man Steve Perryman arrived in Japan in 1999 to take over Shimizu S-Pulse, and argued in 2001 that the environment there was perfect for a person like Wenger, who had become disillusioned with the game after the Marseille match-fixing scandal. "You've got thinking time in Japan," said Perryman. "I read somewhere that Wenger said Japan gave him back his faith in soccer and I know what he means by that."

Japan is a conservative country in many ways, but that wasn't the case in the early days of the J.League – a competition looking to catch up, not least with a World Cup bid under way. As such, there was an eagerness to improve and learn that wasn't so apparent in England.
"They gave you their eyes and ears"
Arsenal players sang for their Mars bars in the early days, but those in Japan wanted pen and paper to take notes during team talks and after training.

"They gave you their eyes and ears," said Perryman. "I don't think the English professional puts in too much overtime or too much of his own thought. It was easier to bring in something because professionalism was still young. Here in England, you have more than a hundred years of history. Any time you want to change something, you must convince everybody because of the history."
Even in the early days of the J.League, however, sooner or later you needed to get results. "He took over a struggling team, lifted it all up," said Perryman. "Stojkovic was underperforming and he got him playing again, to everyone's delight."

After arriving during the 1994 season, Stojkovic had picked up more yellow cards than man-of-the-match awards, but soon responded to the new coach. The Serbian reflected on Wenger during his own spell as head coach of the club in 2010.
"Arsene Wenger changed everything at the club and he showed the players that they could enjoy playing football, enjoy training," said Stojkovic. "It wasn't just a job but that they could express themselves. It took time but the players started to respond."
After the slow start, Nagoya climbed to finish fourth out of 14 teams in the first stage. Then the team took second place in the second, just missing out on the championship play-off final. Wenger was awarded the coach of the year award in 1995. It was quite the turnaround, but got even better when he delivered the Emperor's Cup the following year.
SEE ALSO
FEATURE Where EVERY current Premier League manager was upon Arsene Wenger's arrival in 1996 (opens in new tab)
QUIZ! How many of the 67 teams Arsene Wenger has managed against at least six times can you name? (opens in new tab)
"It was a really enjoyable time for me to have Wenger as a manager," Stokjovic added. "In 1995, I was the league's MVP and he was the best coach. We worked very well together. What I understood from him and what I learned from him was what modern football is."
Given the Frenchman's reputation in Europe, his stay in Japan was always destined to be short. In the autumn of 1996, he said goodbye to Nagoya and headed to England – but this was not the same Arsene Wenger.
The man who was about to change English football had been changed by Japan. "I learned there how to take hold of something by letting go," said Wenger. "That's beneficial at any level. When I got back I was much more lucid, more detached, more serene."
Thank you for reading 5 articles this month* Join now for unlimited access
Enjoy your first month for just £1 / $1 / €1
*Read 5 free articles per month without a subscription
Join now for unlimited access
Try first month for just £1 / $1 / €1
Get the FourFourTwo Newsletter
The best features, fun and footballing quizzes, straight to your inbox every week.