West Brom players trying to get arrested to avoid playing for West Brom, police realise
Members of Alan Pardew's squad are inviting incarceration on a daily basis, Back of the Net reports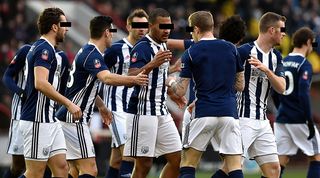 A recent crime wave in the West Midlands has been entirely attributed to West Bromwich Albion footballers trying to get out of having to play for West Bromwich Albion, local police have confirmed.
After allegations that Gareth Barry, Jonny Evans, Boaz Myhill and Jake Livermore stole a taxi in Barcelona, West Midlands Police began to notice that almost all their unsolved crimes had been committed by men wearing West Brom club tracksuits.
"When we started to really dig down into the details of over 1,000 open cases, we found that a logo of a song thrush kept appearing," a spokesperson for West Midlands Police told FourFourTwo.
"At first we presumed it was some kind of gang symbol, and when that lead went cold we arrested Bill Oddie, but now we've been told that this mysterious insignia is the emblem of a football club of sorts, albeit not one that any of us had heard of.
"Looking over thousands of hours of CCTV footage it's now very clear that all of our suspects belong to this football club and appear to be wearing their initials on their clothing, which may well aid our investigations."
Deeper analysis
Police are under pressure to explain how West Brom's crime ring have managed to evade capture as long as they have, especially given their apparent desire to be brought to justice.
"On deeper analysis we found that the suspects had made great pains to ensure that their identity was glaringly obvious, whether that's wearing personalised clothing in a pub brawl or bellowing a chant containing their own name while robbing a bank," the spokesman continued.
"And, come to think of it, Salomon Rondon's been in reception at West Bromwich Police Station every day of the last month trying to get us to believe he's on the FBI's Most Wanted list and asking about how he can begin the extradition process."
Social stigma
When asked to comment on the rumours, West Brom's players were surprisingly candid, with one squad member openly confessing to a series of crimes ranging from breaking and entering through to money laundering.
"At first we tried injuring ourselves, but that only gets you out of so many games," the player explained to FourFourTwo.
"I'm under contract here until June 2019, so you have to think there are loads of crimes that would come with a shorter sentence than that.
"Of course there's the stain on your reputation and the social stigma my whole family would have to endure, but that's not really a vast difference to my current situation.
"Sadly at the moment the only clean sheet I seem to be able to keep is my police record."
At the time of publication, Craig Dawson was lethargically punching FourFourTwo's reporter and asking plaintively whether he would consider reporting it as assault.
Please note: This fictional story is not real. But you already know that, and certainly haven't already angrily tweeted about it without reading it first.
Quizzes, features and footballing fun
Get the best features, fun and footballing frolics straight to your inbox every week.
Thank you for signing up to Four Four Two. You will receive a verification email shortly.
There was a problem. Please refresh the page and try again.