Western Union thrilled about association with Liverpool's sleeves
The multinational financial corporation are looking forward to just about being linked to the Reds, Back of the Net reports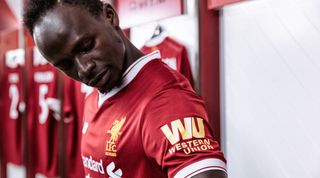 Western Union and Liverpool have completed a deal that will see the financial services company become the main sponsor of the very edge of Liverpool's shirts for quite a while.
The American company has spoken of its excitement at being associated with the sleeves of Liverpool's players – sleeves which have been sort-of involved in some of the most iconic moments of football history.
"Here at Western Union, we feel proud that when people think of the sleeves of Liverpool's players they will very briefly also think of Western Union," a spokesman announced to FourFourTwo.
"These are the sleeves that will be tugged by defenders, the sleeves that will contain the arms that gesticulate in frustration when Liverpool concede a goal, the sleeves that will be used for wiping away the tears after a defeat to Chelsea confirms Liverpool's failure to qualify for the Champions League.
"Frankly, we're not that concerned how the rest of the players get on, we're mostly just focused on an excellent campaign for the sleeve region."
Pure pride
"I think I speak for all Liverpool fans when I say that I won't be able to sleep tonight for thinking about this deal," season ticket holder Ryan Harris told FourFourTwo.
"It's hard to compare, but I think this may have overtaken that night in Istanbul as my proudest Liverpool moment.
"I can't wait to transfer some money via Western Union in addition to grooming myself with Nivea products, the official grooming partner of Liverpool FC, and drinking some Tibet Water from our Official Worldwide Water Partner, which I'm having imported because there's nothing like the flavour of the spoils of oppression to make you proud of your club."
The deal is worth £5 million over five years, but Liverpool officials have been warned that they will have to collect the money from the Western Union at Albemarle Bond Pawnbrokers on Prescot Road, meaning they must bring photo ID and pay a withdrawal fee of around £4.5 million.
"We see a real brand match between the resigned desperation of the average Western Union customer and the beaten-down weariness of Liverpool FC's fans," a Liverpool statement read.
"Plus it'll be really convenient because that agent in Nigeria has told us to transfer the money for Virgil Van Dijk via Western Union to Abuja. Well, actually he said 'Vurgil Vin Dik', but I'm sure he's on the level – he's using Western Union after all."
Please note: This satirical news story is not real. Like, obviously.

More funny stuff • New features you'd love on FourFourTwo.com
Quizzes, features and footballing fun
Get the best features, fun and footballing frolics straight to your inbox every week.
Thank you for signing up to Four Four Two. You will receive a verification email shortly.
There was a problem. Please refresh the page and try again.