Jesus makes £200m from Neymar sell-on clause
PSG's new star has been left rueing his '100% Jesus' attire, Back of the Net can reveal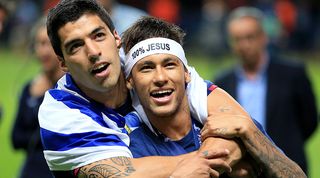 Leaked documents have revealed that Neymar's record-breaking move to PSG has greatly benefited Jesus Christ Our Lord and Saviour, who stands to net £200 million from his sell-on clause.
The Brazilian star's transfer from Barcelona to PSG caused hysteria at the French club's shop, but perhaps the greatest celebrations took place in the Kingdom of Heaven, thanks to Neymar's ill-advised public declaration that he is '100% Jesus'.
While Neymar's father and representative, Neymar Santos Snr., has attempted to pass off Neymar's donning of '100% Jesus' attire as figurative, lawyers have pointed out that Neymar Jr. also penned a rudimentary 100-year contract with The Holy Trinity which contains a sell-on clause of 100% and also gives the Lord God access to Neymar's soul in perpetuity and for selected, agreed media appearances.
"We're disappointed and we're going to fight this all the way to the top," Neymar Santos Snr. told FourFourTwo.
"My son informs me that he wanted to wear a headband that read '25% Jesus in the event that my next transfer is of at least £50 million, activated in instalments of £10 million and dependent on making at least 25 league appearances in the first calendar year', but it was hard to get hold of one of those.
"I'm close to agreeing some kind of compromise where Barcelona's starting XI get beatified, and maybe they get John the Baptist on loan for the season or something."
God's gifts
However, reports suggest that the Heavenly Host have already started to use their war chest to create the souls of several gifted youth players who will descend from on high to play for Ajax.
"These clauses are in place to protect the people, or in this case celestial forces, that toiled away to create the player Neymar ultimately became. It's simply a fair recognition of the contribution the Creator has had in Neymar's goal-filled brilliance at Barcelona," a statement from a messenger angel to FourFourTwo reads.
"Surely we don't have to remind you that the Earth was without form or void when God came in and he created the heavens and Earth, but you need a budget to do that."
Meanwhile, reports suggest that the Devil is attempting to engineer a move for Diego Costa in order to benefit from his sell-on clause agreed when the striker was granted eternal life as a 45-year-old man back in 1880.
Please note: This satirical news story is not real. Like, obviously.
Quizzes, features and footballing fun
Get the best features, fun and footballing frolics straight to your inbox every week.
Thank you for signing up to Four Four Two. You will receive a verification email shortly.
There was a problem. Please refresh the page and try again.