What the heck is going on with Mesut Ozil at Arsenal?
A combination of curious injuries and 'tactical reasons' mean the Premier League's second-highest-paid player is struggling to get a kick in N5. How did it come to this?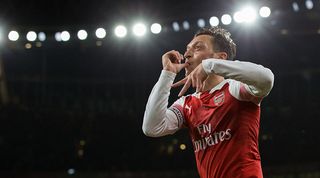 NEWS Ozil, Koscielny and Monreal return as Arsenal's injury problems lessen
Given his £350,000-per-week pay packet, it's often asked whether Mesut Ozil is worth all the money. But, nearly five years into his polarising Arsenal tenure, perhaps the real question is whether he is worth all the conversation.
Has there ever been a more divisive and discussed player than the German? He has split opinion from the day he arrived in north London. Some Arsenal fans welcomed him as a game-changing acquisition, potentially on par with the arrival of Dennis Bergkamp. Others pointed out gingerly that a mercurial playmaker was the one type of player the squad did not require more of.
As Ozil helped the Gunners end their trophy drought with three FA Cups in four years – and even when he lifted the World Cup with Germany – he continued to polarise fans and analysts alike. His detractors claimed that he neither worked hard enough nor created enough. They said his body language wasn't sufficiently passionate.
His admirers argued that his contributions were significant but perhaps sometimes too subtly delivered for everyone to notice. They said you don't buy an Ozil to ask him to track back. Both sides brandished data to 'back up' their point of view. Few listened to one another and few changed their minds. The discussions quickly became as ubiquitous and exhausting as the Brexit debate.
But Brexit is – supposedly – going to be finally resolved one way or another in the coming months. But as his situation at the Emirates becomes ever more complex, is there any sign of the great Ozil debate coming to any sort of conclusion?
The German's lot has been an incredibly unhappy one this season. He has failed to nail down a regular starting slot under Unai Emery, missing matches due to a series of peculiar injuries, including back spasms and catarrh. The new boss admits that some of Ozil's absences have been for "tactical reasons".
There were reports of the German storming out of the training ground after being told he wouldn't make the starting line up against West Ham. Then Emery was believed to have been annoyed by Ozil's performance away to Crystal Palace, a match in which the German reacted angrily to being substituted in the 68th minute.
He sometimes stars – as against Leicester in October – and sometimes flops. One week he is so surplus to requirements that he doesn't even make the bench; the next he is in the starting line-up and wearing the captain's armband. This is one of the biggest names in world football. What's cracking?
Timing is everything
The seeds for all this were sown during the closing years of the Wenger era.
Ozil's peak period for the Gunners came between 2013 and 2015. Then the mysterious absences began, particularly during the winter. He often looked more fed up than usual, visibly sulking when things didn't go his way. He seemed to be losing his focus, and the feeling was that Wenger was being too indulgent.
OZIL IN 2018/19
Appearances: 16 (13 starts)
Goals: 4
Assists: 2
Then Ozil's representatives played a blinder by hitting the club for lucrative new deal in the wake of Alexis Sanchez's exit last January. With Arsenal terrified of losing both star players in one window, they capitulated to his agent's demand for £350,000 a week. His admirers were relieved, while his doubters remained… doubtful.
No one could accuse Emery of indulging Ozil, but many are wondering what's going on between the Gunners manager and the club's star player. Is the Spaniard roughing him up in an attempt to exorcise those demons from his relationship with a certain Brazilian at PSG?
Emery's authority in the French capital was shattered by Neymar's world record move from Barcelona. After leaving the French giants, he said: "I know when I'm the principal person in the group and when I am not. At PSG, the leader is Neymar. At Manchester City, it's Pep Guardiola." Perhaps Emery is trying to remind Ozil who the leader is at Arsenal.
While Ozil's mercurial style would appear to be at odds with Emery's tactical vision, stark financial reality is also at play. The Premier League's new cost control measures, which came into force in 2017, restrict how much a wage bill can increase year on year. Those rules, combined with Stan Kroenke's tight hand on the tiller, means Emery simply cannot afford an expensive player who doesn't fit 100 per cent into his plans, especially if he wants accomplished new faces.
For Ozil, all of this is a very sad state of affairs. Shocking, in fact: a player who pinged assists to Cristiano Ronaldo at the Bernabeu and lifted the World Cup is now approaching misfit status at a fifth-placed Premier League side, having retired from international football. His shrewdly-built brand remains relatively unsullied for now, but the 30-year-old cannot be happy.
Staying put
Might he leave in the January window? Not according to his agent, who says Ozil is "100 per cent committed" to Arsenal and is, in fact, open to extending his existing contract which expires in 2021. The club has briefed that Emery is impressed by Ozil's commitment to fight for his place and that his future won't be reviewed until the summer.
Unless he cements his place in the Gunners line-up between now and then, what happens next might depend simply on Ozil finding a club willing to match or better his Emirates wages. He has reportedly turned down offers from Asia worth £1 million a week, but an offer from a cash-rich club in Turkey might tempt him. But what if no one will stump up the cash?
Ozil personifies some of the failings of the club's previous regime: the indulgence of comfort zones, contracts allowed to run down and fear-based financial decisions. His situation is Emery's most difficult, delicate dilemma. If the Spaniard can bring the great Ozil debate to a conclusion, that would be a fine feat.
Quizzes, features and footballing fun
Get the best features, fun and footballing frolics straight to your inbox every week.
Thank you for signing up to Four Four Two. You will receive a verification email shortly.
There was a problem. Please refresh the page and try again.