Where is the VAR based at the World Cup?
VAR made its controversial debut at the last tournament in Russia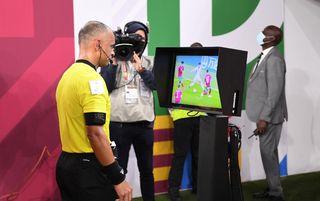 (Image credit: Getty)
VAR will be in operation again at the 2022 World Cup despite the controversy that surrounded its use in Russia four years ago.
Many pundits and spectators were critical of the way it disrupted the flow of the game and how long it took to reach big decisions.
The use of VAR was limited to four key incidents – awarding goals, penalty decisions, potential red cards and cases of mistaken identity.
The rise in the number of penalties awarded in Russia, which more than doubled compared to the 2014 World Cup, was partially attributed to the introduction of VAR.
Less obvious infringements, like shirt pulls or jostling at set pieces, were now picked up on and punished more readily.
On the tournament's third day, a remarkable five penalties were awarded across the course of just four games, leading sceptics to claim that VAR was having too much of an impact.
Regardless of these concerns, a more advanced form of VAR, featuring semi-automated offside technology, will be used in Qatar.
The new system, which was trialled at the Arab Cup and Club World Cup at the end of last year, aims to speed up the decision-making process while providing greater clarity to supporters.
It uses 12 dedicated tracking cameras to create three-dimensional models of a player's skeleton to determine whether any part of their body is in an offside position.
This 3D animation will be shown on the big screens in the stadium and be made available to FIFA's broadcast partners, such as the BBC and ITV, to be shown to fans watching at home.
There will also be a sensor positioned in the centre of each match ball, which will send data to the video operating room 500 times per second, pinpointing its exact location on the pitch.
A final roster of 24 video match officials, featuring none from the UK, was revealed in May. When on duty, they will be working from a centralised VAR room in Doha. According to FIFA, "all host broadcaster camera feeds from the eight stadiums are provided to the VOR through a fibre-optic network. The on-field referee at each stadium talks to the VAR team via a sophisticated fibre-linked radio system."
Thank you for reading 5 articles this month* Join now for unlimited access
Enjoy your first month for just £1 / $1 / €1
*Read 5 free articles per month without a subscription
Join now for unlimited access
Try first month for just £1 / $1 / €1