Why Arsenal should boycott the Europa League final
It could be a win, making for Champions League qualification and profit. Or, as Tristan Cross suggests, it could be a stand against the raging injustices of hosting a major final in a city that players can't even visit safely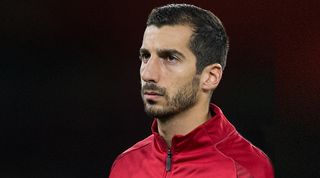 There's an oft-quoted passage in My Kind of Toon, Bobby Robson's book on Newcastle, which bears repeating once more:
"What is a club in any case? Not the buildings or the directors, or the people who are paid to represent it. It's not the television contracts, get-out clauses, marketing departments or executive boxes.
"It's the noise, the passion, the feeling of belonging, the pride in your city. It's a small boy clambering up stadium steps for the very first time, gripping his father's hand, gawping at that hallowed stretch of turf beneath him and, without being able to do a thing about it, falling in love."
It might be sentimental, but it's also something many of us hold to be dearly true; a wonderfully precise evocation of the game as mattering beyond its constituent parts. It's applicable to any passion fervently held in spite of its undeniable ensnarement in the grubby talons of capital.
Objective observers see us lose days, months, weeks and years of our lives to football. To playing, watching, consuming, fretting, hoping, praying, caring about what seems like a completely trivial sport which serves as a transparent facade for competing financial and commercial interests.
And we retort that it's a shallow eye which can't see beyond the corporatised grotesquery. That's not football, we scoff, and then rail off our own definitions: lines about agony, ecstasy, communality, about football having the capacity for transcendental experiences. And then events such as those surrounding this year's Europa League conspire to make our idealism look stupid, and force us to confront that football isn't what we hope and long it to be after all.
That Arsenal's Henrikh Mkhitaryan will not feature in the final is among the modern game's most unconscionable shames. As an Arsenal fan, I have something of a vested interest. Though it might be a somewhat contentious opinion in some quarters, I really rate Mkhitaryan, and believe we'll be far less competitive without him in what is a must-win game. But how this affects the 'footballing' side of proceedings is practically irrelevant here. A player has had to forfeit their right to compete in one of the grandest showpieces in club football due to his Armenian nationality and resulting fears for his safety, and the game will go ahead regardless. It shouldn't.
UEFA's awarding and subsequent handling of the final in Azerbaijan's capital Baku has been farcically rotten in several different ways. Even from a purely practical perspective, that it's being held in a city which would be beyond impractical for the majority of European fanbases to reach – let alone those of two clubs from a city with some of the best-connected airports in the world – without either spending obscene amounts of money or entire days travelling to, is absurd.
Arsenal and Chelsea supporters have been allocated just 6,000 tickets each for a match held in a nigh-on 70,000 seat capacity stadium, with the nonsensical official justification (opens in new tab) that Baku doesn't have the "logistical capacity" to deal with more than 15,000 of the two clubs' travelling supporters.
But it begs the questions: why hold the event in a city if it's unable to cope with being descended upon by two of the tournament favourites' fanbases in the first place? And if this were the case, how is it possible for the city to also cope with those who will fill the other 55,000 remaining seats? Are the guests of commercial hospitality somehow each a quarter of a strain on the city's infrastructure, or is it simply far more important to appease them?
These are rhetorical questions, underlined by the probability that both clubs are set to return around half of their already-paltry allocations. Two of the biggest clubs in the world will contest one of the biggest prizes in football, in front of a crowd majoritively comprised of onlookers who support neither, and – again – the game will go ahead regardless.
However, and also again, the explicit cheapening of a major final, of apparent significance to little more than a corporate jolly – a charge that could be increasingly levied at most elite-level football – pales in significance to the political context that involves holding an event in a country which has an effective ban on entry for the citizens and descendants of another.
It isn't beholden on UEFA to resolve the ongoing Nagorno-Karabakh conflict between Armenia and Azerbaijan which means such a ban is in place. It is, however, entirely within their jurisdiction to not award one of its major events to either country. After receiving a letter from Arsenal expressing concerns about the suitability of the host city, UEFA responded by pathetically doubling down, claiming (opens in new tab) this situation was unforeseeable when the decision was made to award the final to Baku two years ago, and that they "would consider it utterly unfair to exclude certain venues just based on their decentralised geographical position".
It's a preposterous grasp at some moral higher ground that reveals contemptible hypocrisy. The Armenian Premier League is part of the UEFA confederation, and their clubs are awarded Europa League qualifying spots accordingly. It would be a wild improbability that an Armenian team would ever reach the final, of course, but it should never exist as a hypothetical that in the event, a team would necessarily have to forfeit the result. Do UEFA consider it utterly 'fair' to exclude Armenian teams 'just based on their geographical position'? And fans of Armenian descent? And of course, Armenian players, like Henrikh Mkhitaryan?
Old friend of mine has been blocked from attending the Europa final by Azerbaijan government, seemingly due to his Armenian descent. Arsenal supporter for 35 years, had a ticket & travel booked. Am told club won't intervene or criticise the policy. Bravo @UEFA & @Arsenal— Gingers for Limpar (@Gingers4Limpar) May 16, 2019
There are already attempts to push Mkhitaryan's non-involvement entirely on the player. The Azerbaijan FA have released a statement calling the decision (opens in new tab) "unjustified and unwarranted", claiming that the player had requisite permission to compete. This comes mere days after the Azerbaijan ambassador's 'reassurances' amounted to (opens in new tab) what can only be read as a barely-veiled threat: "My message to Mkhitaryan would be: you're a footballer, you want to play football? Go to Baku, you are safe there. If you want to play the issue, then that's a different story."
It is ludicrous to expect an athlete to compete under such a sinister condition. Mkhitaryan is not only entirely justified in his decision, but never really had a 'decision' in the first place, given that his involvement in the game would risk the safety and security of himself, his family and – as others have pointed out – the entire Arsenal contingent.
The other thing to consider is that this safety/security issue isn't just about something happening to Mkhitaryan. His presence would have been viewed as putting the entire AFC contingent at risk. To have a final in a location where that's a consideration is wrong on every level— arseblog (@arseblog) May 21, 2019
If a host nation has to provide special dispensation for players to compete, irrespective of its ability to actually carry that out successfully, then it should be disqualified for consideration. It's getting increasingly difficult to ignore 'sportswashing' – a phrase coined (opens in new tab) by Amnesty International, referring to the means by which states and corporations seek to enhance their global reputation and gloss over their transgressions and oppressions by hosting lavish sporting events in exchange for vast sums of cash. Azerbaijan is an autocratic petrostate which UEFA has happily granted one of the most prestigious events in its calendar, prioritising the potential rewards of the occasion at the expense of competing clubs' actual fans and to the active detriment of Armenians.
This can be in no way considered to be a problem limited to Azerbaijan, or to the specific circumstances surrounding this game. It's endemic throughout football. Beyond Qatar's World Cup and Manchester City's alleged FFP contravention (opens in new tab), virtually every top-level club in world football is ethically compromised in some way, to varying degrees of severity, from the extremely dubious to the utterly inexcusable.
You could make a convincing argument that the entire structure which organises the game is fundamentally and systemically immoral. Arsenal are themselves a sponsored by a UAE (opens in new tab)-owned airline, are all of one year off having been part-owned by billionaire Alisher Usmanov (opens in new tab), and are now fully owned by Stan Kroenke, who donates millions of dollars to Donald Trump (opens in new tab). I was able to swallow and stomach all of this so far, so why does this final feel different? And why do I feel ashamed that the club I support, in spite of these things, has merely released a statement expressing (opens in new tab) "disappointment" at having to leave Mkhitaryan behind, rather than boycotting the game altogether?
The optics are far more apparent and significantly worse. It's one thing carrying a sports-washed shirt sponsor (which sponsors are 'good', after all?), but quite another acquiescing to an obviously-discriminatory situation due to financial incentives. We labour under the illusion that our clubs are symbolic of more than their shareholders, their millionaire representatives, their sponsors, their results and their individuals. Clubs are more than happy to maintain this themselves, with marketing teams dedicated to peddling notions that they function (and can only function) as a collective – an entity encompassing owners, managers, players and supporters together, in solidarity and of equal importance. It's impossible to summon the credulity to believe that such fanciful idealism would be even remotely true of Arsenal if they go ahead with this match.
I do understand the club's rationale behind playing. A Europa League win would gift us the Champions League spot we missed out on qualifying through the league this year, an achievement worth somewhere in the region of £40m to £100 million (opens in new tab). From a purely business perspective, unless we value Mkhitaryan at that price, it makes sense to sacrifice his playing time. Furthermore, UEFA have clear disciplinary procedures in place to dissuade any such forfeit, from significant financial penalties to further action.
In a climate where UEFA have already stated that it believes criticism of Baku's hosting to be morally 'unfair'; where the organisation draws constant (opens in new tab)criticism (opens in new tab)from (opens in new tab)players (opens in new tab) for its inadequate responses to explicit racism – usually paltry fines in the low thousands (opens in new tab); and where authorities fine clubs more for walking off the pitch in protest at racism than their opposition for committing it (opens in new tab), you can only imagine the severity of the sanctions they will impose on any club that boycotts a showpiece final they stand to make a tremendous amount of money from, and could embarrass them royally. The punishment could be anything from a monumental fine to permanent exclusion from European competition.
And yet I found myself infuriated that I was going through all of this rationalisation in my head. So what? I hate that I've been made to even care about the financial side of the game. This piddly little non-enjoyment of football spent fretting over 'net spend' and contract negotiations and what our projected performance over the next decade will look like. Fuck the lot of it.
It's wilfully deluded nonsense, for the most part, to believe that our clubs we (often irrationally) elect to support as children actually have any values or a specific ways that could lend our support more intrinsic worth than anyone else's. But we do believe these things. I'm guilty of reverse-engineering and extrapolating all sorts of fantastical romanticised rubbish about how growing up adoring Arsene Wenger's Arsenal instilled all sorts of things in me; configured my ways of seeing the world and reflected my values. This justified why I cared. The cold reality is far closer to simply spending decades following a massively successful football club win a lot for the purpose of profit, much like every other club.
Arsenal are doing exactly what every other club at our level would do in our situation. This is no excuse or comfort. The grim reality is that every other club is just as spineless. There are plenty of fans like me – who sit somewhere between the myopic loyalists who will follow their club regardless, impervious to any off-the-pitch activity, blind to the idea they could ever do any wrong – and the 'against modern football' abstainers; those who forgo their support in favour of their puritanical principles. Situations like the one we find ourselves in are deeply uncomfortable for us. They expose our cowardice. We bristle at things we read and learn about our club's behaviour, because we know that they won't be enough to stop us caring, even though they really ought to.
What worse advert can there be for modern football than this final? All those lofty, romanticised ideals we project onto the game – about passion, belonging, and pride; about its universal commonality as a boundaryless obsession; about its potential to facilitate escapism and to fulfil dreams, no matter who you are and where you're from – all of that rendered utterly meaningless.
Even if you have the elite-level talent to make it as one of the best-paid professional footballers, playing for one of the most reputable clubs, competing in one of the highest profile tournaments, you can still be precluded from your job as a result of where you were born, dehumanised at the behest of global capital. And there's nothing you can do and nothing anyone in power will do about it – not even your own club.
What a disgraceful, appalling and disempowering image. I understand the Arsenal fans who want us to win this trophy, particularly when Spurs are knocking at the door of a much bigger one – but what will it matter? It could go down on Wikipedia as a win, on our balance sheets as profit, and our memories as a match we weren't even really invited to watch.
If we stood with Mkhitaryan, refused to sanction such rank injustice committed against one of our own and boycotted the final, it would be one of the proudest moments in our history and would matter, far beyond football. What is the Europa League in any case?
Then read…
LIST 6 things we loved – and miss – about the Cup Winners' Cup
QUIZ! Can you name the 50 most recent Premier League managers?
While you're here, why not take advantage of our brilliant subscribers' offer? Get 5 copies of the world's greatest football magazine for just £5 (opens in new tab) – the game's greatest stories and finest journalism direct to your door for less than the cost of a London pint. Cheers!
Thank you for reading 5 articles this month* Join now for unlimited access
Enjoy your first month for just £1 / $1 / €1
*Read 5 free articles per month without a subscription
Join now for unlimited access
Try first month for just £1 / $1 / €1
Quizzes, features and footballing fun
Get daily World Cup 2022 news, updates and other football frolics to your inbox
Quizzes, features and footballing fun
Get daily World Cup 2022 news, updates and other football frolics to your inbox
Thank you for signing up to Four Four Two. You will receive a verification email shortly.
There was a problem. Please refresh the page and try again.