Why Cabella is actually very good - and where he's still going wrong
Touted as the new Cabaye, Remy Cabella has flattered to deceive Newcastle fans - but Adam Clery says the Frenchman isn't as bad as some say, and has a suggestion for what needs to be improved...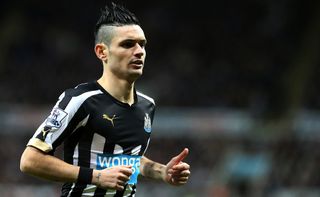 Way back in May of last year, with the World Cup a mere cause for salivating anticipation, Didier Deschamps' France welcomed the Norwegians to Paris for a 4-0 thumping.
More an exercise in cementing their strongest XI than a trial for fringe players, the game was of little symbolism to anybody other than the watching delegation from Newcastle United. On the 80-minute mark, with the game all but over, the Magpies' former linchpin Yohan Cabaye headed to the touchline to be replaced by Remy Cabella – the man for whom a move to Tyneside was already being plotted.
Having lost Cabaye to PSG some months previously, Newcastle had earmarked Cabella as an immediate replacement, only to have Montpellier owner Louis Nicollin block the deal and claim the player would be "bored shitless" should he move to the North East. The eccentric president felt that one of France's most exciting youth prospects, now all but on the plane to Brazil, deserved a more prestigious club.
FACT FILE
Born Ajaccio, Corsica, 8 Mar 1990
Height 5ft 7in
Games and goals
2009-2014 Montpellier 105 (24)
2010/11 Arles-Avignon (loan) 17 (3)
2014- Newcastle 22 (0)
2014- France 4 (0)
But to everyone bar Nicollin, including Cabella, there could have been no more fitting destination. Following Cabaye's departure Newcastle weren't so much treading water as thrashing around in the sea, missing an important limb, and haemorrhaging from the wound.
Teams of all sizes were smelling the blood and circling for 90 minutes as their season descended into parody and protest. Between January and June 2014 Newcastle won four games, Yohan Cabaye won three trophies.
Much like Cabaye, Cabella had risen through the ranks of an unfancied Ligue 1 side to become a pivotal cog in a machine that won a shock domestic championship. But where Cabaye had departed Lille almost immediately after leading them to glory, Cabella had hung around at Montpellier as the likes of Olivier Giroud, Younes Belhanda and Mapou Yanga-Mbiwa (remember him?) had secured their big money moves abroad.
The obvious threat to Cabella was stagnation, and considering how his compatriot had successfully developed his career at St James' Park, the chance to replace him made almost perfect sense.
Almost.
Shark-finned fancy-dan?
Fast forward to Newcastle's 3-3 draw at home to Burnley on New Year's Day, and Remy Cabella cuts the loneliest of figures in his giant Wonga-stickered duffle coat. With time ticking away and caretaker boss John Carver desperately seeking a winning goal, he has two remaining substitutions with which to change the game.
First he turns to Adam Armstrong, a 17-year-old with fewer than 300 senior minutes to his name, before finally sending on Massadio Haidara, a left-back. Tactical idiocy perhaps, but nonetheless a damning indictment of the £12 million Cabella's first few months on Tyneside.
Ask Newcastle fans for their early assessments of Cabella and you'll get words like "lightweight" and "fancy" thrown back at you. He's not showing enough end product for most supporters, and his tendency to get his feet muddled up or try one step-over too many in the final third has become a source of growing frustration.
Even when he attempts to keep things simple, defenders have learned to strong-arm him out of the game – and his tendency to sit on the ground in a huff after not getting a decision serves only to further irk those in the stands.
There's something of a local legend at Newcastle, which claims that Bobby Robson passed up the opportunity to sign Cristiano Ronaldo (opting instead for Hugo Viana) because he believed the supporters would never put up with the years of touchline prancing he'd need to develop his physicality.
There wouldn't be enough end product to justify the countless flicks and tricks he'd perform, and his reputation as a soft touch would see the fans demand a more solid presence in tighter games.
This is the image Cabella now finds himself labelled with. Covered in bad rock-star tattoos, swanning around the city centre in some of the most god-awful flash clothing you can imagine, and sporting an over-groomed solid shark's fin of a quiff that stays rigid even in the pouring rain, he now strikes fans as the sort of bloke who's only on Groupon for the occasional tooth-whitening bargain.
The sort of young lad who turns up in brand new gear at every five-a-side game to then take his ball home at the first sight of a chilly wind. Depending on your preferred turn of phrase, he's either a luxury player or a poncing liability.
Why Cabella is actually quite good
Of course, none of this would be a problem if Cabella was cutting open defences and scoring eye-catching goals on a weekly basis, but he's not. The combination of his image, price-tag and style of play means that fans need to see a tangible contribution that, so far, hasn't materialised. Zero goals and one assist doesn't make for pleasant reading – but looking beyond those two criteria does hint at something better.
Remy Cabella has made 10 starts for Newcastle, and a further nine as a substitute, giving him fewer than 1,000 minutes of Premier League pitch time. For comparison, Yoan Gouffran has logged over 1,400 minutes and Jack Colback is just shy of 1,800. Despite the limited run of games he's been afforded and the obvious difficulties he's having adapting to the physicality of the league, he's Newcastle's leading chance creator from open play this season. While one goal created looks poor on the face of it, he's managed to put a team-mate in a scoring position 24 times in 10 starts, which is quite the feat. That's more than Gouffran and Sammy Ameobi combined.
Alan Pardew's public assertion that Cabella's patchy selection was the result of his reluctance to work back for his team and recover the ball also falls away under examination. Per 90 minutes Cabella has been averaging 4.7 challenges, with 3.7 of those being successful.
That's a better ratio than Check Tiote, nearly twice that of Gouffran, and almost three times the defensive contribution of Moussa Sissoko. Likewise, his rate of pass completion is an impressive 87%, the second best in the team, and shows he's not as wasteful as perhaps thought.
The most visibly frustrating area of his game has been his dribbling, which has largely looked amateurish, lacking direction and evoked grumbling murmurs of the "headless chicken" variety. Tell that to Chelsea's Cesar Azpilicueta, forced off in last weekend's game with a groin injury sustained trying to prevent one of Cabella's 12 successful dribbles – a record in the league this season.
While many in the media claimed this was a "first glimpse" of what fans have been missing, the Frenchman already boasts an impressive 35 successful attempts to 25 failures, giving him a better ratio of completion than Ameobi, Ayoze Perez, Rolando Aarons, Daryl Janmaat and Newcastle's most impressive attacking player this season, Sissoko.
Where Cabella lets himself down
It's only in his possession losses, football's equivalent of the unforced error column, where Cabella lets himself down. His 16 failed touches, and the 27 times he's simply been robbed of the ball, are among Newcastle's worst, and demonstrate how dramatically the Premier League differs from Ligue 1 in the time and space afforded to players on the ball.
Cabella's doing the vast majority of things right on the pitch, but at crucial moments he's not alert enough to protect the ball, and these moments of indecision and panic are the ones understandably lingering in the minds of Newcastle fans.
But surely that's what the coaching staff is in place for. Some of the league's best players arrived from countries and divisions that afford players an extra second to think and act, but they've been coached to adapt their game for the quicker tempo.
Examined properly, Cabella statistically proves himself a player who can move the ball forward, connect with his team-mates and create a high number of chances; removing this dallying element from his game puts him a long way towards being worth the £12m price tag. There's not only more to him than we've seen, but more to him than he's being given credit for.
Stamford Bridge gave Cabella a chance to impress, which he's undoubtably taken, but his selection that afternoon didn't reflect Carver's current confidence in him so much as betray a lack of other attacking options. He'll likely keep his place for this weekend's visit of Southampton, but for all his positive contributions and future promise, he still needs to do something memorable with the ball at his feet.
He needs to give fans a lasting memory before his smile and self-belief become mistaken for delusion and arrogance. "As long as I'm kicking a ball around a pitch I'll be happy", he said in an interview he gave this summer. "I aim to put a smile on the faces of others."
There aren't many smiles on the faces of Newcastle fans at present, and the beaming grins that accompanied their extraordinary run of seven wins in nine games have now made way to pursed lips and a familiar foreboding for the second half of the season.
While stats and percentages aren't going to bring them back, being their highest chance creator despite starting fewer than 50% of the league games suggests that Cabella could soon offer a more tangible way to lift the mood at St James' Park. To do that though he needs to be in his own personal happy place – in possession, on the pitch.
Quizzes, features and footballing fun
Get the best features, fun and footballing frolics straight to your inbox every week.
Thank you for signing up to Four Four Two. You will receive a verification email shortly.
There was a problem. Please refresh the page and try again.