Why James Rodriguez to Manchester United just doesn't make enough sense
The Colombian ace is set to leave Real Madrid, but Thore Haugstad explains why the Premier League club at the front of the queue might not be the best fit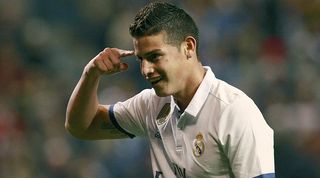 Let there be no doubt about it: James Rodriguez has the talent to become one of the finest players in the Premier League.
Even in tough times at Real Madrid, the Colombian playmaker has showcased his raw ability: the eagle-eyed vision, the crisp passing, that thunderous left foot. Only a club with the luxuries of Real Madrid could let such talent go unused, and the 25-year-old now looks a hit waiting to happen. That is, providing someone can accommodate him properly, both financially and tactically.
One club that appear to fancy the challenge are Manchester United, with Colombian outlet Radio Caracol saying a deal for Rodriguez will be confirmed imminently. Some betting sites have suspended play on the transfer (then hastily reopened their markets, to much chargrin). In Spain, reports say the move will be finalised once Madrid have played the Champions League final on June 3.
Such rumours raise the question of whether United would actually suit Rodriguez, and vice versa. The matter is a complicated one.
Sidelined by Zizou
What's clear is that Rodriguez has the capacity to become another Real Madrid or Barcelona reject-turned-hero elsewhere, like Alexis Sanchez or Gonzalo Higuain.
Right from the start, his quality was evident in Madrid. Having arrived from Monaco for £63 million after his heroics at the 2014 World Cup, he dazzled under Carlo Ancelotti, notching up 13 goals and 13 assists in his debut campaign. But a year later, Rafa Benitez took charge and marginalised him, a situation that has stayed unchanged since Zinedine Zidane arrived in January 2016.
Reasons for that may include attitude issues and a drop in form, which can always happen to stars placed on the bench. Yet his real downfall has in many ways been the emergence of ball-winner Casemiro, who has occupied the midfield spot next to undroppable duo Toni Kroos and Luka Modric since March last year.
Zidane has also used a 4-3-3 in which the 'BBC' forward trio of Bale, Benzema and Cristiano is untouchable. Both in terms of system and personnel, there's been no space for Rodriguez.
More recently, Zidane has rotated heavily, only for Isco and Marco Asensio to outshine the Colombian. He has still scored or created a goal every 83 minutes in La Liga this season, but Real Madrid are fine without him and would gain more by selling. Last Sunday, he appeared to say goodbye to the Santiago Bernabeu, turning to applaud all four corners of the stadium as he was subbed off.
The situation is unfortunate, but prospective buyers should have a fair chance of restoring the form he showed in 2014/15 – if they can give him a suitable role.
The Mourinho pattern
Can Manchester United offer that? Certainly at boardroom level, the deal makes sense. Rodriguez is a global star, an icon in Colombia, and would boost the thriving marketing department at Old Trafford. He also shares agent with Jose Mourinho; Jorge Mendes is a familiar face in the Bernabeu corridors, and has also done various deals with United's executive vice-chairman Ed Woodward.
Another matter entirely, however, is how Rodriguez would suit the squad.
One positive factor is that Mourinho has favoured similar playmakers in the past. In his early years, his best sides were solid and functional units in which the creative responsibility was left largely to one ingenious player. At Porto, everyone played for Deco, while Frank Lampard drove Chelsea forward and Wesley Sneijder powered Inter.
In this sense Rodriguez fits the bill: an elite playmaker in his mid-20s, capable of creating things out of nothing.
Where would he play?
The problem, however, is that Mourinho is trying to build a very different side to those in the past. The United project is his attempt at creating a stylish team in tune with the club's attacking traditions. That would ostensibly make Rodriguez an ideal signing, but Mourinho may conclude that he has acquired, as well as inherited, enough playmakers as it is.
There's simply no obvious opening for Rodriguez. He can play on the right wing, but Mourinho already has the expensive Juan Mata and the recently signed Henrikh Mkhitaryan. Like Rodriguez, they both like to cut inside. On the left, Mourinho has the options of Anthony Martial, Marcus Rashford, plus back-ups Jesse Lingard and Ashley Young.
Alternatively, Rodriguez can play centrally in a 4-3-3, but the use of an attacking playmaker in such a deep position would make United more fragile. It would also force Mourinho to break up the Paul Pogba-Ander Herrera partnership, which brings its own issues.
You cannot easily drop the world's most expensive player and, should Rodriguez partner Pogba, United would be using two adventurous midfielders who both love to storm forward and dictate play. They would hardly complement each other.
The best role for Rodriguez would surely be behind the striker in a 4-2-3-1, where he'd be protected by two central midfielders. Yet this would restrict Pogba to a deeper role.
Expensive silk
In other words, there's no straightforward solution. Another issue is that the squad is already the most top-heavy Mourinho has managed. This is a silkier bunch than the warrior-like crews he is used to, with strikers and playmakers used out wide and with Michael Carrick (sometimes) anchoring midfield, as opposed to a ball-winner such as Costinha, Claude Makelele or Esteban Cambiasso.
RECOMMENDED
Bargains! 11 of football's best free transfers EVER
10 players who really weren't liked by their team-mates
Quiz! Name these 20 players by their famous goal celebrations
Clearly, this is part of the purpose of the United project, but Rodriguez would make it even more extravagant at a time when Mourinho might have other priorities. An additional striker would lighten the burden on Zlatan Ibrahimovic (assuming he is even still at the club), as he turns 36 next season.
A ball-winner would come good in tougher games, and a new defender would not go amiss. United might also have to replace David de Gea should he be lured to Madrid.
The situation could change should Rodriguez arrive as part of a swap deal involving De Gea, or if other sales free up cash to buy other stars. But if not, a pricey deal for another playmaker seems unlikely to thrill Mourinho. Trust and regular playing time may bring out the best in the Colombian but, considering the squad United have, the move makes more sense commercially than tactically.
Thank you for reading 5 articles this month* Join now for unlimited access
Enjoy your first month for just £1 / $1 / €1
*Read 5 free articles per month without a subscription
Join now for unlimited access
Try first month for just £1 / $1 / €1