Why Ronaldo might actually be the best thing to happen to Bale at Real Madrid
Who cares if Cristiano's going to throw a strop when his team-mate scores? Thore Haugstad says Bale could do worse than follow his team-mate's lead...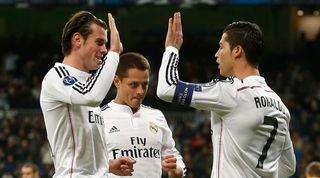 If Gareth Bale wants to endear himself to the Bernabéu, he may be wise to summon the qualities of a certain Portuguese colleague. Since joining Real Madrid in 2009, Cristiano Ronaldo has justified his astronomic price tag through a mentality of persistence, egocentricity and unconditional self-belief. With Madrid wobbling, his doggedness has come to be regarded by some as the source to Bale's problems. If anything, it points to the solution.
Timidity and indecision are not hallmarks of a Galáctico, but before the Levante brace, Bale's form was indicative of both. The seeds were planted during a January fixture against Espanyol, in which the Welshman was criticised for not passing to Ronaldo. In that match, which Real Madrid won 3-0, Bale's decision-making reflected a tenacious attitude: nearly every time he came close to goal, he let fly.
Two goals in three matches followed, and then another moment of perceived egoism. On January 31, in the first half at home to Real Sociedad, Bale intercepted a pass ahead of team-mate James Rodríguez and fired wide. It would be added to the Espanyol incident as additional evidence, as Bale must have known himself. In the second half, he appeared to increase his efforts at linking up with players in dangerous areas.
Bale's display in that half was lively – he recorded an assist – but the long-term outcome appeared to be less favourable. The match initiated a run of eight games without a goal or assist; a conspicuous underachievement for a player of his market value. It seemed like his mind had been affected.
Earlier this month, the Daily Mail noted that before facing Real Sociedad, Bale had fired one shot every 22.9 minutes. After it, the figure had risen to 37.5.
The Robben role
The act of overthinking is a crime among forwards reliant on instincts. Moments of doubt lead to ruinous hesitation. In some ways, Ronaldo and Bale are both in the midst of weak spells, but the former's frustrations centre on inaccuracy and flow rather than decision-making.
Those of Bale appear to come from worries over his persona. Their roles play a part in this. It is easier for Ronaldo to be decisive. The Ballon d'Or holder stopped being a classic winger long ago, evolving into a powerful forward whose starting position is out wide.
Forget about the stepovers. The 30-year-old Ronaldo combines with short, harmless passes close to the touchline, before ghosting into the area to convert crosses and cut-backs. When a chance appears, he rarely needs to think: it's all about firing home first time.
The situation is different for Bale because he carries the ball for longer, and has more time to ponder his options. Unlike Ronaldo, the Welshman's favoured scenario is when driving at defenders out wide. This sets up situations on the edge of the area in which Bale must choose to cross, shoot or pass.
Too much thinking
The ideal is clearly to find a balance between selfless and selfish play. Every situation contains a correct option. Players with flow and confidence tend to make these choices intuitively; the problems start when the thinking process switches to a conscious level.
During Bale's barren eight-game spell, in which he played 90 minutes on each occasion, situations transpired where he could have benefited from having Ronaldo's ruthlessness.
One was the 2-0 win at home to Deportivo La Coruña. Bale unleashed five shots, but also chose to pass when in positions where a goal-bound thunderbolt might have been more effective.
A similar tale unfolded a week later, away to Elche, where Real Madrid won 2-0. Bale tried his luck once, while attempting a handful of short passes from inside the area. Had Ronaldo been handed the same chances, the shot -count might have been higher.
Healthy narcissism
And so until Bale has regained full confidence and silenced the doubters, a touch of cold-blooded selfishness might be the answer. The recent brace against Levante tore a monkey off his back – as evident in the angry goal celebration – and the balance between shooting and passing appeared healthier, even if some close-range combinations did take place.
That brace was unwittingly set up by two Ronaldo attempts and, rather than joining in the celebrations, the Portuguese showed his frustration at not scoring.
The reaction was criticised by some as shameful egoism. One online survey by a British newspaper asked (somewhat leadingly): "Is Ronaldo Bale's biggest problem at Real Madrid?" As of Wednesday, 63% had replied yes.
But that would only be the case if Bale lets it happen. To expect Ronaldo's inner drive to stem from club loyalty is idealistic and naive; the energy behind his dedication and professionalism is drawn from pure narcissism, and Real Madrid is merely the best platform for self-realisation.
Such tantrums are the darker side of what has brought him three Ballon d'Ors and a goal ratio that is, as Tim Sherwood might put it, second to none.
Ronaldo's egocentricity was also lambasted in his early years at Manchester United, but his self-perception was never open to adjustment by others. Goals ensued, and nobody questions a goalscorer.
With the Levante double on his side, Bale now has a fine chance to dispel doubts in a similar way. It will not be a test of talent, but of resolve, focus and doggedness.
Barcelona vs Real Madrid LIVE ANALYSIS with Stats Zone
Quizzes, features and footballing fun
Get the best features, fun and footballing frolics straight to your inbox every week.
Thank you for signing up to Four Four Two. You will receive a verification email shortly.
There was a problem. Please refresh the page and try again.