World Cup Willie: The story of the 1966 mascot
The 1966 World Cup wasn't just about England's glory on the pitch – off it, a cartoon lion broke new ground in merchandising, and the badges, beer mats and bedspreads flew off the shelves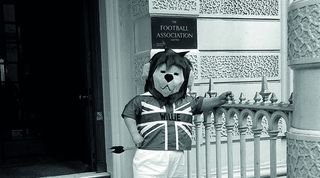 It only takes a second to score a goal. So ran one of Brian Clough's better-known maxims.
Reg Hoye needed around 300 times longer to accomplish his aim – four minutes, 59 seconds to be exact. However, the five minutes the illustrator spent on a rough sketch of the cartoon lion chosen as the face of the 1966 World Cup arguably ranks as one of football's seismic modern moments. A game-changer in its own way as significant as linesman Tofiq Bahramov's call to let Geoff Hurst's second goal in the final against West Germany stand.
A World Cup first
Once World Cup fever had gone into overdrive following England's triumph, World Cup Willie – Hoye's creation and the tournament's first mascot – was in the vanguard. This was an omnipresent figure licensed to appear on anything from beer mats and horse brasses to cufflinks, knitting patterns, toffees and even toy periscopes.
An eBay search for World Cup Willie on any given day still turns up anything from 80 to 100 pieces of memorabilia. Official tea tray, anyone? Yours for just £125. A nine-inch 'soft plush' toy? That will be £400, please. It might have been 50 years-plus of on-field hurt for England, but 1966's gift to the global game just keeps on giving. It's now a $2 billion business.
FIFA's retail and marketing web page features a picture of this year's World Cup mascot, Zabivaka the wolf (below), and boasts of licensed products and retail programmes that are "synchronised to accelerate awareness". Whatever that's supposed to mean.
And it all began with an unassuming, bespectacled illustrator from Marlow, who was paid only a one-off fee for his efforts. Reg Hoye was a freelancer with Walter Tuckwell & Associates when the FA's World Cup organising committee got in touch, requesting some designs to exploit the commercial opportunities offered by the tournament.
"My father and Walter Tuckwell were excited," Reg's son Leo explains to FourFourTwo. "Walter because he was a very shrewd businessman with an eye on the till; my dad because, at last, one of his artistic creations was coming to life.
"In addition to the fee, he got the odd perk, but I don't really think he wanted anything more than that. Like so many people of his era, he'd been through the war and was happy to be able to return home to his studies in Hackney, though he always regarded World Cup Willie as his proudest achievement."
PR for the Football Association
Hoye – summoned with fellow artist Richard Culley – had previously worked on illustrations for Enid Blyton's Noddy books, as well as the BBC's Dr Who and The Daleks. Given carte blanche, with just the image of the Jules Rimet Trophy to work with – the pair got busy. Initial sketches of a bulldog were shelved, as were those of individual figures donning bowler hat and cloth cap, partly because Hoye saw them as too class-conscious.
The sketch liked best by FA secretary Denis Follows – who later helped Reg's other son, actor Nicholas, bag parts in Dixon of Dock Green – was one of four submitted of lions "to show that we're not as clapped-out as people think we are", Hoye later admitted.
The first of these designs was based on Hoye's son Leo, although the one launched at a press conference in July 1965 bore an uncanny resemblance to the FA's rather square-shouldered chief administrative officer called EK Willson. Hence the nickname.
"A lion with a Beatle haircut, a Union Jack jersey and an address somewhere in Yogi Bear's Jellystone Park," quipped the Daily Mirror.
"Dad was very single-minded once he had captured the spirit of the character he wanted to bring to life," reveals Leo. "He wasn't immune to suggestion, but his conception on paper was final and subject to his revision only."
Growing popularity
Licensing a cartoon character as the 'face' of the tournament would, it was hoped, have some appeal, even to those who had no real interest in the football itself. As 1966 began, The Sunday Times reported that £4 million worth of goods, "all stamped with some sort of World Cup insignia would flood the market", with the FA expected to mop up more than £200,000 in royalties.
Initial interest in Willie was modest, but England's unexpected tournament triumph lit the touch-paper.
While Alf Ramsey's wingless wonders took off, so did all of the accompanying hoopla. Now everyone wanted a piece of a figure synonymous with the Three Lions' success. And as Hoye explained: "He allowed us to create a product with a sense of fun" – something for which an inward-looking FA had not previously been particularly famed.
Though he stops short of suggesting that World Cup Willie first marked the professionalisation of graphic design – and 'a visual aesthetic of world sport' – Robert Opie, consumer historian and founder of the Museum of Brands and Packaging, admits that England's win was a light-bulb moment.
"Characters had been around a very long time – cartoon strips, animations, Felix the Cat, Mickey Mouse and so on," he says. "These kind of things go way back, so World Cup Willie sits among these great cartoon and promotional characters. He was a big, very British, moment which made history."
Defeat to West Germany could have orphaned Willie, but victory gave him a thousand fathers.
"You can't really underestimate the change a win over a loss made," adds Opie. "If we had lost the final, we'd still be talking about it in a very dour sense – World Cup Willie would have just been another character without the fame."
Not that Leo knew the result. His dad was working in London, but the rest of the Hoyes were holidaying in Cornwall for Willie's showpiece moment.
"None of us, except dad, saw the final until later on," he reveals. "There was no TV. Radio? A few snatches amid terrible interference. The phone? Forget it. We had to wait until the following day and read about it in the newspapers."
In the wake of England's historic win, applications flew in for licences – more than 120 – from France, Germany, Italy, Denmark, Holland and, in particular, the Soviet Union. Within weeks, in excess of 10 million items were rolled out.
"We were so excited, as dad had hit the big time," chuckles Leo. "It was as if something new was coming out every week. I can remember being presented with a pink World Cup Willie candlewick bedspread and it was embroidered with the multicoloured motif of Willie. There were bathmats, too.
"However, the best thing was a green tracksuit which was emblazoned with the feisty wee lion. I was even allowed to wear this at school. I was only 12 and quite shy, but I was just swept up in the mid-60s mood of, 'Let's go for it'.
"I recall being immensely proud of my father. Everybody was. My schoolmates didn't rib me too much about it either, even though they all knew I was pretty hopeless at football."
With the demand for goods so high, World Cup Willie merchandise flew off the shelves almost quicker than they could be made. That often came at the expense of quality control. As there was no approved style guide to follow, poor Reg had to draw Willie to order.
A subsequent domestic attempt to piggy-back Willie's success floundered – 1967's League Cup Review suggested boosting the tournament with 'League Cup Les' – but it wasn't long before club mascots emerged. Birmingham's 'Beau Brummie' and Sheffield Wednesday's 'Ozzie the Owl' were just two examples. Hoye was later asked to mock up the first Red Devil mascot for Manchester United's badge.
Nowadays, 'merch' comes at you from all angles. In 2014, 850,000 packets of World Cup-themed condoms sold out in just 15 days – they were expected to take three months.
"I hope those were up to World Cup standard," laughs Leo. If they thought it was all over in 1966, it was only just the beginning. Nice one, Willie. Nice one, son.
The original version of this feature appeared in the June 2018 issue of FourFourTwo. Subscribe!
Thank you for reading 5 articles this month* Join now for unlimited access
Enjoy your first month for just £1 / $1 / €1
*Read 5 free articles per month without a subscription
Join now for unlimited access
Try first month for just £1 / $1 / €1