Ranked! The 10 most incredible World Cup own goals
We've seen a record 12 own goals at Russia 2018 – including one for poor Mario Mandzukic in the final - but are they as embarrassing as those of the past? Jon O'Brien counts down the tournament's 10 best (or worst?) own goals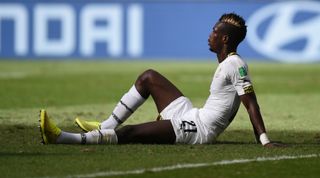 Own goals were once something of a rarity at the World Cup. Just 41 were scored in the history of the tournament, before this summer took the total up to 52. However undoubtedly the most spectacular have come in the previous 88 years. From diving headers to acrobatic volleys, here's a jaw-dropping countdown.
10. Daniel Agger (Denmark vs Netherlands, 2010)
Simon Poulsen produced one of the most remarkable defensive clearances of 2010 when he hooked Ibrahim Afellay's toe-poke off the line with an under the crossbar overhead kick. Unfortunately for the Dane, he was also responsible for the tournament's freakiest own goal in the same game.
The left-back, who was plying his trade with AZ Alkmaar at the time, had tried to head clear a Dutch cross, only to knock it onto the back of unsuspecting team-mate Daniel Agger and into the net. Despite not knowing anything about it, the unlucky Agger was later credited with the own goal by a harsh FIFA panel.
9. Noel Valladares (Honduras vs France, 2014)
Famous for sending an increasingly baffled Jonathan Pearce into near-meltdown, Noel Valladares' entirely avoidable own goal caused FIFA to rethink how their goalline technology worked. The BBC's most excitable commentator, and the Honduras players themselves, initially believed that a disputed French third had been disallowed when the system's big screen flashed 'no goal'.
But the message was referring to the first incident in which Karim Benzema's strike bounced off the post. A second message then revealed that the Honduras keeper had palmed the resulting deflection into his own net by at least an inch, and France rightfully went 3-0 ahead.
8. Colin Curran (Australia vs East Germany, 1974)
One of the few members of Australia's 1974 squad to have been born in the country, Colin Curran also holds the distinction of scoring his homeland's first ever World Cup goal. Unfortunately it just happened to be at the wrong end. The defender looked destined to become a national hero when he raced to clear East German Jurgen Sparwasser's deft strike off the line.
But instead, the ex-Manchester United youth player became the villain when he embarrassingly blasted the ball into the net. But Curran later atoned for his error, guiding Australia to their first World Cup point with a powerhouse display in a goalless draw against Chile.
7. Ernst Lortscher (Switzerland vs Germany, 1938)
(Own goal at 0:20)
Ernst Lortscher wasn't the first player to score an own goal at the World Cup – that dubious honour went to Mexico's Manuel Rosas against Chile eight years earlier. But unfortunately for the Switzerland international, he was the first to have his filmed for posterity.
The hapless midfielder virtually side-footed the ball into his own net while attempting to clear a well-struck German effort which had just hit the post. Thankfully for Lortscher, the blunder appeared to spur his side into action and the Swiss bounced back from 2-0 down to win the first-round replay 4-2.
6. Ivan Vutsov (Bulgaria vs Portugal, 1966)
Alongside Spain and Mexico, Bulgaria have scored more World Cup own goals than any other nation. Incredibly, two of their three came at the same tournament stage, 1966's Group 3, and both were pretty special in their own way.
Defender Ivan Vutsov was the first player to net at the wrong Old Trafford end when he flung himself at a relatively innocuous cross by Portuguese forward Jose Torres, resulting in the kind of spectacular diving header that Robin van Persie would be proud of.
Vutsov's ill-timed aerial prowess set Portugal on their way to a 3-1 win and ultimately a third-place finish, and practically ended Bulgaria's World Cup campaign by the seventh minute of their second game.
5. Ivan Davidov (Bulgaria vs Hungary, 1966)
Whereas Bulgaria's first own goal at 1966 was almost a thing of beauty, their second was pure comedy. Rudolf Vytlacil's men had given hot favourites Hungary a scare in their final group game when Georgi Asparuhov put them in front after in 15 minutes. But their joy proved to be short-lived when just before half-time a tenacious Hungarian attack produced a curious ball across the six-yard box.
Ivan Davidov and Ivan Vutsov (him again) almost bumped into each other as they attempted to clear it, before the former, under little pressure, instead curled the ball past bewildered keeper Simeon Simeonov.
4. Andranik Eskandarian (Iran vs Scotland, 1978)
After a disastrous opening defeat to Peru, the Scots were expected to bounce back easily against World Cup debutants Iran. Instead, they suffered what the press deemed the most humiliating result in their history. It could have been even worse, had the Iranians not gifted them with a farcical own goal shortly before the break.
Asa Hartford's speculative cross into the penalty area should have been handled comfortably by the Iranian defence, but the presence of Joe Jordan pressured keeper Nasser Hejazi and centre-back Andranik Eskandarian into a collision before the latter swung the ball wildly into his own net. However, Eskandarian soon made amends by masterminding Iran's comeback, and later even secured a deal with the legendary New York Cosmos.
3. Cristian Zaccardo (Italy vs USA, 2006)
Gianluigi Buffon conceded just one goal through open play during Italy's triumphant World Cup run in 2006, and that was from one of his own team-mates. Cristian Zaccardo was the guilty culprit, having spectacularly sliced a free-kick from the United States' Bobby Convey into the Italian net with his knee. Not that the centre-back is particularly cut up about it.
In a 2016 interview with Football Italia, Zaccardo admitted that he and Buffon used to enjoy some epic bants about the whole incident, and that he would happily continue scoring own goals if it meant he got to lift another major trophy.
2. John Boye (Ghana vs Portugal, 2014)
(Own goal at 0:52)
John Boye could have been auditioning for the Cirque du Soleil as he attempted to clear Miguel Veloso's teasing cross during Ghana's first-round encounter against Portugal. Indeed, the defender scored possibly the most acrobatic own goal in World Cup history when he somehow struck an overhead volley past helpless keeper Fatau Dauda.
Asamoah Gyan nearly spared his blushes with a Ghana equaliser but Cristiano Ronaldo ensured they soon returned with a late winner. Boye's theatrics came just days after he accidentally kicked USA's Clint Dempsey in the face, breaking his nose in the process.
1. Jeff Agoos (USA vs Portugal, 2002)
When it comes to breathtaking volleys at the wrong end of the pitch, USA's Jeff Agoos wins hands down. The unlucky defender gifted Portugal a lifeline in their opening 2002 encounter when he sent Pauleta's cross rocketing into the top left-hand corner, although his side did manage to hold onto a 3-2 victory in the end.
It was just another nightmare chapter in Agoos' World Cup career, having previously burned his shirt in protest at missing out at 1994 and spent the entirety of 1998 as a substitute, while a calf injury later caused him to miss USA's quarter-final against Germany.
Thank you for reading 5 articles this month* Join now for unlimited access
Enjoy your first month for just £1 / $1 / €1
*Read 5 free articles per month without a subscription
Join now for unlimited access
Try first month for just £1 / $1 / €1
Quizzes, features and footballing fun
Get daily World Cup 2022 news, updates and other football frolics to your inbox
Quizzes, features and footballing fun
Get daily World Cup 2022 news, updates and other football frolics to your inbox
Thank you for signing up to Four Four Two. You will receive a verification email shortly.
There was a problem. Please refresh the page and try again.