Worrying percentage of Wilshere held together by blu-tack, Arsenal confirm
Arsenal have been forced to admit that the talented midfielder's career is hanging by a stretchy blue thread, Back of the Net reports...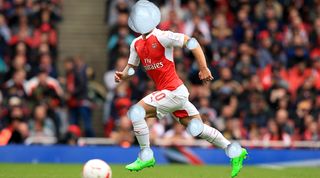 Jack Wilshere's injury-plagued career has been dealt another blow after club doctors discovered that a large percentage of the England international was being held together by notoriously flimsy adhesive blu-tack, not Sellotape as was widely assumed.
A series of scans revealed that all of Wilshere's limbs were, in fact, only balancing on other limbs and not connected in any meaningful sense, meaning they could be detached by a strong tackle, getting studs caught in the turf or a light autumn breeze.
"It came as something of a shock to discover that Jack's left leg is basically attached to his hip by a string of blu-tack," Arsenal medic Lucinda Downes told FFT. "And hardly any blu-tack at that. It really is just a modest blob; roughly the same amount you'd use to put up a poster on a student's bedroom wall, knowing full well it'll have to come down without a trace in a few months' time.
"While it's become commonplace to refer to 'Jack Wilshere', he's more a collection of independent parts who often act towards a common goal, much like the Holy Roman Empire."
The news of Wilshere's fragility may have shocked some fans but many more eagle-eyed Arsenal supporters spotted that the 23-year-old inadvertently detached his entire upper body from his torso while hoisting the FA Cup aloft during their open-top bus tour at the end of last season.
The resultant Vine became a viral hit on Twitter, but the club staunchly denied that the incident had taken place, insisting that the angle of the video had been misleading.
Arsenal are set to send Wilshere to the same team of specialists in Switzerland that dealt with Owen Hargreaves when it was discovered that the ex-Manchester United man was made of papier-mâché.
"Owen still managed to have a very creditable career," Downes insisted. "He just had to realise his limitations, such as not being able to head the ball, go in for hard tackles or play in the rain."
Thank you for reading 5 articles this month* Join now for unlimited access
Enjoy your first month for just £1 / $1 / €1
*Read 5 free articles per month without a subscription
Join now for unlimited access
Try first month for just £1 / $1 / €1
Get FourFourTwo Newsletter
The best features, fun and footballing quizzes, straight to your inbox every week.