Year Zero: The making of Neymar (Santos, 2010)
The world's most expensive footballer was once just one of many prospects in Brazil. That all changed in 2010. Jack Lang remembers a breakout campaign of tricks, trophies and tantrums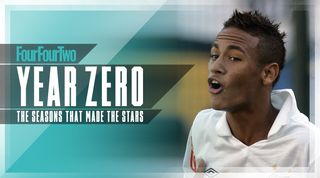 Had you asked a hundred Santos fans to identify the club's brightest star at the start of 2010, you wouldn't have received anything close to a unanimous response.
A good chunk of the vote would likely have gone to Paulo Henrique Ganso, the elegant playmaker with a topographer's mastery of space. Robinho, back at the Vila Belmiro on loan from Manchester City, would also have been a popular choice. A few contrary types might even have chosen Arouca or Wesley, the side's midfield dynamos, or arch goalhanger André.
Plenty would have plumped for Neymar, the wisp of a forward who had emerged from the hinterland of boy-wonderdom in 2009, scoring on his first start and generally looking far more assured than a 17-year-old should. Yet as one decade dissolved into the next, there was no consensus that he – rather than Ganso, say – would be the club's next big thing.
Twelve months later, though? Well, there wasn't much of an argument then.
In a fine state
Os Meninos da Vila, they called them – a starry-eyed reference to two previous groups of Santos kids who had come through the youth ranks together and shone for the senior side. In 1978, it was Juary, Pita and João Paulo who had captured hearts and minds. Diego, Elano and Robinho had followed in 2002. It was fitting, then, that the latter was knocking about in an unofficial Fairy Godfather role as Ganso, André and Neymar took responsibility in the São Paulo state championship.
Brazil's state leagues can be tedious at the best of times, but that 2010 edition of the Paulistão was a treat as Santos sliced through the field with juvenile abandon. The Peixe started with a 4-0 demolition of Rio Branco (Neymar and Ganso netted two beauties apiece) and rarely let up thereafter, clunking through the gears to finish the round-robin stage with 15 wins and 61 goals from 19 games.
Neymar, stationed on the left of the attack but granted licence to roam, took just four games to better his tally from the 2009 edition. By April 4, his cause furthered by a pair of Copa do Brasil walkovers ("A historic thrashing," was O Globo's verdict on the 10-0 victory over poor Naviraiense), the teenager had scored 14 times – as many as he managed in the entirety of the previous year. The shackles of inexperience were loosening fast.
Yet to focus on the quantity is to do a disservice to the quality. The majority of Neymar's goals in those hazy autumn months were stunning, showcasing the poise and sense of adventure that we now know to be synonymous with his play. Against Grêmio Barueri, he sat his marker down with a fiendish cut-back before finishing.
A week later, he danced past what seemed like a hundred generic Santo André henchmen and stroked the ball into the corner when he got bored. That strike earned him a nomination for the FIFA Puskás Award; his second against Naviraiense in March probably should probably been referred to Human Rights Watch.
Style and substance
If those goals went some way to endearing Neymar to the Santos faithful, it was his habit of winding up the seasiders' biggest rivals that sealed the deal. The kid from Mogi das Cruzes may have weighed about 50 kilos soaking wet – former coach Vanderlei Luxemburgo had memorably described him as a 'butterfly fillet' the previous season – but he was not afraid to make his presence felt.
In the first derby of the campaign, he befuddled legendary São Paulo goalkeeper Rogerio Ceni with the paradinha (little stop) penalty that would briefly become his trademark, theatrically pausing at the end of his run-up and rolling the ball into the unguarded side of the goal.
In the second, against Corinthians, he followed a crackerjack opener with some schoolyard horseplay, flicking the ball over the head of veteran defender Chicão after the referee had stopped play for a free-kick. A mass brawl ensued. "I couldn't resist," Neymar said afterwards. "I'll always try something different; you don't stand out by just doing the normal things."
Clássico number three brought another goal and the first red card of his career for what was, in truth, a fairly innocuous challenge on Palmeiras midfielder Pierre. Then, after a rare quiet day in the first leg of the Paulistão semi-final against São Paulo, he was back at it in the return match, scoring with his arm and subsequently beating an exasperated Ceni with another matador penalty as Santos sealed a 6-2 aggregate success. Across those five matches, a big-game player was born.
Seleção on the horizon
Neymar's first ever final did not start well, however. He was forced off in the first leg against Santo André, having somehow managed to poke himself in the eye after tumbling in the penalty area. Without their most potent attacking force, Santos went on to lose 3-2.
For a while, it looked as though the injury (don't laugh) would keep him out of the return leg, but he was eventually passed fit to play on the proviso that he wore a pair of snazzy swimming goggles for protection. He didn't seem especially keen to use them, though ("It started raining and they got all steamed up," he moaned in his pre-match press conference), and it was no surprise to see him cast them aside as the game began.
Those who feared he would still be troubled by blurred vision needn't have worried: Neymar was electric, polishing off two slick team moves to ensure the trophy headed back to the Vila. "He was the star of the afternoon," wrote André Avelar in the Estado de São Paulo. "With two goals, as well as a whole repertoire of dribbles and precise passes, the Santos forward only furthered his chances of making Brazil's World Cup squad. The chants of 'Neymar é Seleção' were even more intense than those celebrating the title."
World Cup dream on hold
Santos fans weren't the only ones making a case for him. "If I was the coach, I would take Neymar to the World Cup," said Pelé. "A lot of people are saying he's too young, but if the kid has talent, he should play."
Romario agreed, as did Ronaldo: "Pelé represented Brazil at the age of 17. I went to a World Cup at 17 as well. A call-up for him would continue the pattern, and he deserves it."
Dunga can't have failed to notice the clamour. At one point, a TV crew even pitched up outside his house to record a live show, putting forward the respective merits of Neymar, Ganso and Ronaldinho. Dunga, unimpressed, called the police. Not one of that alluring trio made the cut when the Sultan of Sulking finally announced his squad on May 11.
The sense of deflation was palpable, but with the benefit of hindsight, one could now argue that this was a blessing in disguise for Neymar. Brazil were wretched in South Africa and the intensity of the subsequent recriminations might have affected a player only 15 months into his senior career – even one as strong-minded as the forward.
When he did receive his first call-up, for the friendly against the USA in August, there was far more positivity around the squad. New coach Mano Menezes jettisoned the old guard, opting instead to surf a wave of youthful optimism that had its roots at the Vila Belmiro. Pointedly, Ganso, Alexandre Pato and Neymar all made the starting XI in New Jersey. The latter took just 27 minutes to open his account, planting a header into the far corner from an André Santos cross. A new era had begun.
No hurry
By that point, the Neymar secret was out. The European scouts had been alerted to his galavanting brilliance and Santos were fending off inquiries. The first concrete offer came from, yes, West Ham, whose £12m bid was rejected out of hand. (The Irons eventually settled for Freddie Piquionne – a sliding doors moment if ever there was one.)
Chelsea were reportedly willing to pay double that and were no doubt encouraged by the noises coming from the player's camp. "He wants to become the best player in the world," explained agent Wagner Ribeiro in what could have been a trailer for the 2017 summer transfer window. "The chances of him doing that in Brazil are zero."
Santos, though, held firm, eventually persuading the player and his father that a new contract – complete with a €45m buyout clause and a pay bump that made him the highest-paid player at the club – was the way forward. Rumour had it that a phone call from Pelé swung things in the Peixe's favour, but knowing what we now do about Neymar Sr, it was perhaps just the cold, hard cash that did it.
There was business to attend to on the pitch, too. Most clubs knuckled down and set about building a respectable Série A campaign after the break for the World Cup – but not Santos, whose attentions were focused on the final of the Copa do Brasil. The early rounds had been a breeze for Dorival Junior's side, who followed that shellacking of Naviraiense with a 4-0 win over Remo and an 8-1 victory against Guarani (just the five for Neymar in that one), before seeing off Atletico-MG and Gremio.
The final was against Vitoria and Neymar seemed keen to make amends for his first-leg no-show in the Paulistão decider: just 14 minutes had passed when he put Santos ahead at the Vila Belmiro, bundling the ball home with his chest at the far post.
A few minutes later, though, he was in the doghouse after an attempted Panenka penalty was plucked out of the night air by Vitoria goalkeeper Lee. Boos rang out and the youngster must have been relieved when Marquinhos gave the home side some breathing space late in the second half.
The two-goal advantage proved sufficient: Santos lost the return leg, as they had against Santo André, but Edu Dracena's goal – set up by You Know Who – secured the title. It was the Peixe's first Brazilian Cup victory in 98 years and there was little doubt that Neymar, with 11 goals in eight matches, had been the catalyst.
Busy boy
Even in 2010, his career just on the runway, Neymar was a media sensation. He was photogenic and expressive; his haircuts looked like those of manga characters; his boots had the words 'joy' and 'daring' stitched into them. In short, he was a marketing man's dream.
True, the wall-to-wall Neymania that you see in Brazil today was still a few years away. But the kid still got about: one moment he was making a cameo on a teen soap opera, the next he was dancing to Beyoncé in an advert for cold cuts. Talk show appearances began to stack up. "My life is more hectic off the pitch than on it," he admitted in an interview with the Folha de São Paulo.
Yet the growth of his celebrity was not to everyone's liking. Some felt that Neymar's ego, generously watered from all angles, was beginning to affect his game. He had always been an entertainer, but his critics saw in him a desire at humiliate defenders rather than just beat them. His paradinhas which would be outlawed by FIFA before the year's end, were grist to the mill, as was his tendency to roll around theatrically when fouled.
"Neymar's the biggest f***ing diver," complained Santo André goalkeeper Júlio César after the Paulista final, speaking for a sizeable lobby. Objectively, many of his tumbles were provoked by all-out assaults, but that was ignored by the haters, who also pointed to Neymar's disciplinary record as evidence of his moral indigence: the 18-year-old finished 2010 with 22 yellow cards to his name.
Creating a monster
Much of the backlash could be put down to simple conservative hand-wringing, but there was one episode that troubled even the most sanguine observers – one that Neymar would later describe as the worst of his career to date.
It came in mid-September, halfway through a national championship through which Santos, their place in the following year's Copa Libertadores already guaranteed thanks to their cup success, were happy to coast. The seasiders were 3-2 up at home to Atletico Goianiense when Neymar sashayed into the area and was hacked down for a penalty.
He jumped to his feet to take it, but Dorival Júnior had other ideas. The coach, possibly fed up of the starlet's hit-and-miss trick shots, ordered his senior players to give the ball to lumbering striker Marcel. At which point Neymar lost it. "F***! F***ing shove it up your ass," he shouted to left-back Léo, the unlucky messenger. "This guy is crazy, man. The f***er's not giving me the penalty? F*** off!"
Incident briefly shown at 3:50
Marcel scored, but Neymar wasn't done, swearing some more at Edu Dracena and making his way to the touchline to address Dorival directly. "Go f*** yourself," he told his boss before storming off in a huff.
The Vila Belmiro crowd took the coach's side, chanting his name when the final whistle sounded. And while Neymar quickly adopted a conciliatory tone on social media ("I respect Dorival. He's a person for whom I have a lot of admiration. Everything's fine. We're together, Professor! Hahahahaha"), there was a storm coming.
"I'm extremely disappointed," muttered experienced Atletico-GO boss René Simoes, who had been treated to a front-row view of the action. "I've been in football since I was a boy and it's not often I've seen someone so unsporting. I've never seen anything like it. What he did is unacceptable. Look at how much he dives [as well]. Someone needs to educate this kid. We're creating a monster in Brazilian football."
Dorival seemed to agree, dropping Neymar the following weekend. But just as he was preparing to double the dose by leaving the forward out of the derby against Corinthians, the Santos board intervened and sacked him. "This was not Dorival's decision to take," said director of football Pedro Luis Nunes Conceição, gnomically. "His behaviour changed and left us astonished."
It was a limp explanation that didn't obscure the obvious truth: that player power had won the day.
A transformative year
Forty-two goals in 60 appearances. Two trophies. Two games and a goal for Brazil. A bumper new contract. A place in Placar magazine's team of the season. Third place in the South American Footballer of the Year. One manager sacked to keep him sweet.
Yes, that last entry on the balance sheet jars a bit. Yet while Neymar clearly contributed to the mess with his impetuousness, he could hardly be blamed for the rampant sacking culture that allowed such a decision to be taken.
It does, though, neatly underline the elevated status attained by the player over the course of the year. He started 2010 as one of the gang but ended it a man apart, the team having taken on his image: Neymar was Santos, but over those 12 months Santos became Neymar, too. He was occasionally their monster, yes, but also their talisman; their leader; their home-brewed, highlight-reel prince of trickery.
In the seasons that followed, he would also become their global superstar and the great hope for Brazilian football as a whole. But this was the year that possibility – that nebulous, double-edged sword of potential – first transmuted into reality.
FourFourTwo presents Neymar: The Making of a Superstar - the epic story of his journey from the streets of Praia Grande, featuring interviews with the man himself
Liked this? More Year Zero...
David Beckham (Manchester United, 1996/97)
Thank you for reading 5 articles this month* Join now for unlimited access
Enjoy your first month for just £1 / $1 / €1
*Read 5 free articles per month without a subscription
Join now for unlimited access
Try first month for just £1 / $1 / €1