Year Zero: The making of Frank Lampard (Chelsea, 2004/05)
Three years after an £11m move from West Ham, Lampard was a fine midfielder but yet to prove himself a special one. Then a new gaffer swaggered into Chelsea...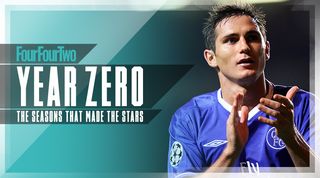 "I have never had a manager who, while I'm standing in the shower cleaning my balls, tells me I'm the best player in the world," Frank Lampard once recalled. "Jose Mourinho did that. I'll never forget it. So casual. 'You're the best player in the world, but you need to win titles.'"
It was the first season of Mourinho's epic reign as manager in west London; a season that would deliver Chelsea a first league crown in 50 years. He had not long before ripped a Champions League winners' medal from his neck with a look of dissatisfaction and disappeared down the tunnel at the Veltins-Arena in Gelsenkirchen, bowing out on his time as Porto manager.
Mourinho would soon resurface for public viewing at Stamford Bridge, being unveiled as Chelsea boss in the press room just a few metres from where Lampard was later showering. The Portuguese's words that day would echo throughout his own Chelsea career even more those he would later whisper to Lampard.
"I'm not one from the bottle, I'm a Special One," he told the English media. A legend was born in that moment. His arrogance; the temerity of the man to declare himself as such, carried the stench of success. In order to achieve all that impression demands, to back up the confidence, Mourinho knew he needed to breed that exact same characteristic in his players.
Talk about picking your moments, though. The shower? Really? We've heard that Mourinho can be unconventional, but that was pushing the boundaries, even by his own standards. Where was the sense of occasion to make this grand statement that would alter a player's career? Where was the glamour? The sense of prestige?
Still, so far as symbolism goes, the shower scene works on enough levels to satisfy. Perhaps that was Mourinho's motive all along, knowing that for years to come, the legend of this meeting would be regaled with the vision of a naked Lampard, listening to him preach. It cast Lampard as the mortal man; Mourinho the holy spirit, lurking in the shadows to preach his doctrine.
Mourinho was watching his midfielder wash away the failures and frustrations from the past, cleansing his soul for a new era at Chelsea. All that had passed before was going down the plughole.
A different player
"From that moment, the extra confidence was in me," Lampard said. "Not that I thought I was the best player in the world, but the manager who had just won the Champions League thought it. So I went out a different player."
In the same way Mourinho's words were laced with something resembling substance, Lampard's words carry a truth themselves. His Chelsea career changed dramatically under Mourinho. He did become that different player.
In 2004/05, while we were watching the dugouts wherever Chelsea played, anticipating Mourinho's next move, something very special was happening on the pitch. A club was beginning to restructure the landscape of English football; Lampard himself redefining what we expected from a midfielder. It wasn't enough to maraud box-to-box anymore – the demand on players in his position meant sharing the striker's duty. They had to score goals.
Chelsea weren't the plucky underdogs they had been at times in their history, and Lampard was no longer the son of a famous footballer. He was the famous footballer. From that impromptu shower meeting to the goals he scored on the pitch, this was a player taking his first steps to greatness.
From claret and blue to Blues
Chelsea had signed Lampard for £11m from West Ham three years before Mourinho's arrival. It was a fee that raised eyebrows; the Hammers had wrongly been laughing all the way to the 'iron tank', thinking they had robbed Chelsea blind.
A product of the east Londoners' youth system, Lampard's DNA was claret and blue, let alone his blood. He was in his comfort zone at Upton Park, the place where he had grown up, and departing when he did was the jolt his career needed.
Still, joining Chelsea didn't propel him forward as rapidly as Blues fans – and maybe he himself – would have hoped for. Lampard's transfer fee was significant for those times, and yet it took the No.8 until December 23 that season to open his Premier League account for his new club.
That was a run of 17 matches – 19 if we include League Cup appearances. He had scored a goal in the UEFA Cup earlier in the season, yet it didn't feel quite as significant. Week in, week out, on home soil, he didn't seem to be settling.
Lampard would finish the campaign with just five league goals to his name, which was hardly the impact £11m was supposed to bring. That lack of influence meant him missing out on a place in Sven-Goran Eriksson's squad for the 2002 World Cup with England as well.
An 89th-minute winner on the opening day of 2002/03 produced some faith that Lampard had something to offer. He arrived at the right moment to snatch three points to get Chelsea's campaign off to a flier against Charlton.
Indeed, given how Chelsea would squeeze into Champions League qualification at the end of that season (defeating Liverpool on the final day in a game that became a European play-off), the three points Lampard earned that day proved crucial.
Eight goals in all competitions was a gradual improvement, but still not eye-catching enough leading into the summer when Roman Abramovich arrived and showed no restraint in putting his hands into his deep pockets.
Lampard got the message in a roundabout way: with over £150m being spent on new players, his days were numbered if he didn't buck up his ideas. As he later reflected to FourFourTwo: "I was definitely concerned I would slip down the order. When Roman arrived, I looked round and thought 'the big boys are starting to arrive now'.
"There was Claude Makelele and Juan Sebastian Veron – it seemed like every day they were signing a new midfielder. I can remember sitting on the bench for our first Champions League game that season next to John [Terry] and Eidur [Gudjohnsen] and thinking, 'I'm not sure I like this Chelsea revolution...'"
But buck up his ideas he did in 2003/04, enjoying his best season in a Chelsea shirt and helping his team reach the Champions League semi-finals.
Mourinho's masterpiece
By the end of that third season, the player Chelsea had invested so heavily in was showing himself. Yet he needed Mourinho to arrive and sculpt the finished article, in what remains one of his finest achievements as a manager.
It's when the shower scene becomes so pivotal. It instilled the belief in Lampard that he could mix it with Europe's best and come out on top. That was the requirement now; Mourinho standing before him demanded that the rules change.
The manager symbolised the magic of that Chelsea side. He inherited so much from Claudio Ranieri when we consider the dressing room, but if the Italian had hung around for another season, would we have seen what was to come from Lampard? Would we have seen all 19 goals that rippled the back of the net?
Probably not, and Blues need only reflect on Lampard's record up to then to appreciate that fact.
His rise was very much a reflection of Mourinho's gradual influence. Lampard didn't blast his way out of the blocks in 2004/05 – it took time for him to discover his Midas touch. The Englishman scored just six times before January. Chelsea's goal threat was coming from Arjen Robben, Damien Duff and Didier Drogba. Lampard was the work in progress; there were a few more showers to be had before greatness could be achieved.
Train and gain
All season, though, Mourinho would be chipping away at his resolve. "His training sessions were to the dot," Lampard later explained, offering an insight into how hard Mourinho made his players work under his tutelage. "He was so organised. There was always a point to what he was doing and his man-management was the same."
It produced the epiphany; the phenomenon that cemented Lampard's place in Mourinho's and Chelsea's affections as those six goals in five months would eventually become 19 after nine. Post-Christmas, Lampard was unstoppable.
As the momentum gathered in Chelsea's season, so it did with Lampard's form and legacy. He bagged a brace in a 2-0 win against Tottenham at White Hart Lane in January. Later that month, he scored the opener at Old Trafford against Manchester United in the League Cup semi-final as the Blues barged their way into a final that they would win – Lampard's first major honour as a professional.
In the Champions League, where the barometer of greatness is always at its toughest setting, Lampard didn't let up. He scored in the 4-2 defeat of Barcelona – a game dubbed the greatest Stamford Bridge has ever seen – before finishing one of the finest bits of individual skill a Chelsea player has demonstrated on such a stage when he swivelled on the spot to launch a volley beyond Bayern Munich's Oliver Kahn in the quarters.
As the big moments arrived, Lampard was chalking them off with his influence. The player Mourinho had pontificated about was realiing the hype. His manager may have been the only one thinking it at one stage, but now the 26-year-old's performances were showing that Lampard believed in his own legend.
He stepped forward to embrace it at the Reebok Stadium later that April. No player in half a century had scored a goal to win Chelsea English football's finest honour, yet that all changed against Bolton as Lampard netted twice to seal the Premier League crown.
So much about what Chelsea have become since 2004/05 has pivoted on Mourinho's influence. The arrogance to not only win trophies, but sustain the triumphs enough to be England's most successful club in the 13 years since. The ambition and desire to not only break up an established elite, but help create a new one in the process.
Since then, Lampard became England's pre-eminent player. In 2004/05, for the player and for his club, everything changed.
Liked this? More from Year Zero...
Thank you for reading 5 articles this month* Join now for unlimited access
Enjoy your first month for just £1 / $1 / €1
*Read 5 free articles per month without a subscription
Join now for unlimited access
Try first month for just £1 / $1 / €1