Year Zero: The making of Dennis Bergkamp (Ajax, 1986/87)
Thirty years before last season's resurgence, Ajax had a similar renaissance thanks to a teenage schoolboy. Yet it was a late plane flight that made the non-flying Dutchman's career take off...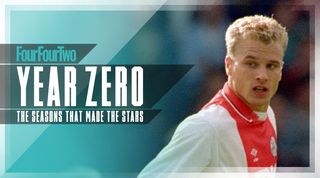 There is despair in his eyes, mixed with fear and hope. Hope that his manager can sense his silent cry for help. The half-time whistle is fast approaching, when Malmo defender Torbjorn Persson tries to lock eyes with his manager, Roy Hodgson. It's March 18, 1987, and the Swede has – quite frankly – had enough.
His side had been blown away by Ajax in the previous 44 minutes, but even that doesn't begin to describe what the 17-year-old Dennis Bergkamp had been doing to Persson during that first half. He can't say it out loud, but the experienced Sweden international hopes his look will tell his manager all he needs to know. "Please get me out of here, now."
The Ajax side that lost last season's Europa League final to Manchester United showed similarities with the side coached by Johan Cruyff in the late 1980s: young and unknown players, who surprised Europe with an attractive style of football. But where manager Peter Bosz fielded Ajax academy graduates such as Kasper Dolberg, Matthijs de Ligt and Justin Kluivert, in 1987 there was one young star-to-be who stood out head and shoulders above any of his young colleagues. Dennis Bergkamp.
Harakiri
Effectively, the story of Bergkamp's breakthrough finds its origin in the summer of 1985, with the arrival of Cruyff. Ajax wanted to appoint the club legend – who passed away in 2016 – as their manager, but he lacked the required diplomas. And, for the record: he wasn't going to put any effort into obtaining those.
As a trick, the Amsterdam club provided him with three assistants who did take the necessary exams, and made Cruyff a technical director who helped out at the training ground. He actually was, in effect, nothing less than the manager. The Dutch FA knew there wasn't much they could do to stop it, so simply decided to give him his diploma in January 1986.
Cruyff's initial results were average to say the least. His ultra-attacking style of football was at times described as 'harakiri'; a form of suicide. Ajax did win the Dutch Cup in Cruyff's first year at the helm, but had to leave the title to PSV.
Nevertheless, the attempt to attack and entertain was well received by the fans. Cruyff also impressed with his revolutionary way of thinking, letting defenders play as attackers – and vice versa – to give his players some insight into each other's ways of thinking. He even hired opera singers to help them with breathing exercises.
Most importantly, he made it a habit to give chances to young talents, with a motto that "good enough is old enough". Even though PSV clinched the title again a year later, the 1986/87 season turned out to be the beginning of an Ajax rebirth – not least because of a teenage schoolboy.
After winning the European Cup three times in a row in the early '70s, the well of success had started running dry in Amsterdam. There was a semi-final in the European Cup in 1980, but in the six years to follow, Ajax only managed to survive the first round of a European tournament twice.
With the same attacking, dominant style of total football - the way fans were historically used to seeing from Dutch teams - Ajax barged through round after round of the Cup Winners' Cup. First Bursaspor were beaten 5-0 and 2-0, then in the second round Olympiakos were driven to insanity. The players were so frustrated at half-time during their 4-0 battering in Amsterdam that a fight broke out in the Greek dressing room.
Shortly after, in the final days of 1986, Cruyff handed the 17-year-old Bergkamp his competitive debut in the Eredivisie, against Roda JC. Then in March of 1987, the youngster claimed his place in the hearts of Dutch fans forever.
A biology exam
The draw for the quarter-final of the Cup Winners' Cup pitted Ajax against Malmo, a Swedish side then managed by Englishman Roy Hodgson. It was a good draw for the Amsterdam club, everyone agreed. Despite not being the world force they once were, Ajax should have been able to beat Malmo and (finally) progress to the semi-finals.
On March 4, they travelled to Sweden for the first leg, only to find out the pitch was covered in snow. The game was cancelled at the last minute, and rescheduled for Saturday, March 14. The cancellation meant Bergkamp missed out on his European debut, so after the new date was decided, he immediately checked his agenda. He was disappointed. Why? The teenager had a year-and-a-half left at grammar school, and was determined to get his diploma.
The Ajax squad was supposed to travel to Sweden on the Thursday, but the youngster had an important biology exam scheduled for Friday. Cruyff respected that, but leaving his most talented youngster out of his squad was not an option. He set up an ingenious plan.
Schoolboy Bergkamp could take his exam on Friday, and then his parents would drive him to Schiphol Airport, where he got on a plane to Copenhagen with Dutch journalist Kees Jansma as his chaperone. From there, the duo were to reach Malmo by boat.
In those days, the Dutchman was not yet afraid of flying, which allowed him to make a 15-minute appearance in a surprise, 1-0 defeat in Sweden. Despite not standing out, Cruyff had absolutely no doubts about his new gem – and handed him a spot in the starting line-up for the return game just four days later.
Not for the first time, Cruyff surprised friends and enemies by fielding an unknown youngster in a big game. Ajax finally had the chance to reach European success, after all those years, and the manager was putting his faith in a kid who hadn't yet proved to be a asset. What was he thinking?
But the criticism would soon die down.
Horror night
Back to Persson's horror night. De Meer, the iconic former Ajax stadium, was packed with 25,000 fans who all wanted to see their team overturn the 1-0 defeat in Sweden.
The pitch was absolutely abysmal, but the Amsterdam technicians showed that they coped with the circumstances better than the Swedish with their kick-and-rush style. In his debut as a starter, Bergkamp played as a left winger, and surprised everybody by impressing with a scintillating display that put his marker in a spin.
Before the match, Cruyff told him: "That defender is an old fart, he's useless and slow – you're better than he is" – or so Bergkamp explains it in his autobiography. The youngster proved him right. Bergkamp's experienced team-mate Frank Rijkaard would later say: "Dennis toyed with the man, leaving him colourblind."
After Marco van Basten scored to make it 1-0, Aron Winter struck a second, before Van Basten sealed the deal with No.3. Hakan Lindman's goal to make it 3-1 came too late. But Bergkamp was the talk of the town. Cruyff, not one to pass around gifts for no reason, even granted him a substitution in the 87th minute.
Bergkamp left the field to a standing ovation, and everyone in Amsterdam knew; this was going to be the next great – something Cruyff had known all along.
Because Bergkamp was still in school at the time, he was forced to train with the reserves. But, Cruyff would explain later: "We weren't so much training the reserves, as using the reserves to train Dennis."
And as for Bergkamp's school diploma? He never got it. He passed the biology exam he took in March, advanced to the final year of grammar school, but then Cruyff intervened. He needed Bergkamp in his squad full-time, not just two days a week. And so he advised him to quit school, and start an education in physiotherapy.
Once more, Cruyff knew what he was talking about: Bergkamp continued his progression with the first team and ended the season playing a role in an Ajax cup double. The Dutch Cup was successfully defended, after Bergkamp came on as a substitute with Ajax 2-1 down to Den Haag to play his part in a 4-2 extra-time win for the Amsterdam club. He also came off the bench in the Cup Winners' Cup final; a 1-0 win against Lokomotive Leipzig (Van Basten, inevitably, scored the winner).
It was the first of many trophies in a career which took Bergkamp to Inter Milan in 1993, and then to glory at Arsenal – but which all started, improbably enough, with a late flight to Sweden.
More Year Zero...
Thank you for reading 5 articles this month* Join now for unlimited access
Enjoy your first month for just £1 / $1 / €1
*Read 5 free articles per month without a subscription
Join now for unlimited access
Try first month for just £1 / $1 / €1