Agger's incentive to Liverpool: free tattoos
By Gary Parkinson published
Liverpool defender Danny Agger has promised to tattoo the entire squad if the club can win the Premiership and secure its first league title in 19 years. The Danish international is a qualified tattoo artist with a number of illustrations across his own body, and has designs upon his team-mates if they can beat Manchester United and Chelsea to the Premiership crown. "He has a number of tattoos already and has a real flair for the art, but some of the older players aren't too sure," said a Liverpool source. "Danny has told a few of the lads he has a special design in mind." Agger's own tattoos include tribal symbols and a picture of a Viking with the Latin quote Memento mori – "Remember you will die". He also has the names of his brother and sister across his chest, and on his back another Latin inscription reads Mors certa hora incerta – "Death is certain, but the hour is uncertain". As well as being a qualified tattoo artist, Agger owns a pub in Denmark with his uncle. It's not known whether any victorious Liverpool squad might prefer free drinking, not free inking.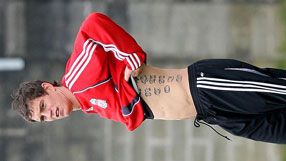 More players' secret vices
LIVERPOOL FANS! Check FourFourTwo.com's ever-expandinginterviews archivefor more stuff to read:
Web Exclusives Ian Rush, Craig Johnston
Q&A Steven Gerrard, Fernando Torres
One on One Michael Owen, Nicolas Anelka, Kevin Keegan
Boy's A Bit Special Danny Guthrie
Ask A Silly Question John Barnes, Peter Crouch, Luis Garcia, John Aldridge
Perfect XI Jamie Carragher
What Happened Next? Julian Dicks
And Another Thing Being a Big Four fan
Plus! Rate Liverpool players (and others) on Talentspotter (opens in new tab)
Thank you for reading 5 articles this month* Join now for unlimited access
Enjoy your first month for just £1 / $1 / €1
*Read 5 free articles per month without a subscription
Join now for unlimited access
Try first month for just £1 / $1 / €1
Gary Parkinson is a freelance writer, editor, trainer, muso, singer, actor and coach. He spent 14 years at FourFourTwo as the Global Digital Editor and continues to regularly contribute to the magazine and website, including major features on Euro 96, Subbuteo, Robert Maxwell and the inside story of Liverpool's 1990 title win. He is also a Bolton Wanderers fan.
Quizzes, features and footballing fun
Get the best features, fun and footballing frolics straight to your inbox every week.
Thank you for signing up to Four Four Two. You will receive a verification email shortly.
There was a problem. Please refresh the page and try again.