Angry India coach urges radical change
NEW DELHI - India needs to scrap "nonsensical" local tournaments and concentrate on building infrastructure if it wants to give the national team any chance of making progress, chief coach Bob Houghton said on Thursday.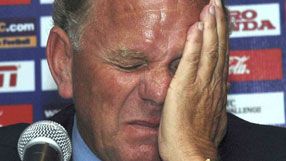 A seething Houghton blamed the federation, clubs and the government for doing almost nothing to develop football or help build a side that could take on leading Asian rivals.
"After three years of being here, I don't think the game has moved forward very quickly," he told a news conference.
"We don't see the whole picture, not just the AIFF (All India Football Federation) but the general footballing body, about the standard we need to achieve."
The well travelled and respected 61-year-old English manager was angered by the absence of facilities that forced a 10-day training camp starting next week to be moved to Dubai, ahead of an exposure trip to Spain.
World governing body FIFA and the Asian Football Confederation (AFC) have been pushing India to improve their organisation of the sport to cash in on a growing economy and take advantage of improving standards in the region.
India are former Asian Games champions but their national team are ranked 147 in the world. They are aiming for a turnaround after they won the AFC Challenge Cup last August to qualify for the 2011 Asian Cup in Qatar.
Houghton, who took charge in 2006, has been dismayed by a lack of support for his bid to build a strong team.
MINISTER'S TAUNT
In February, Sports Minister Manohar Singh Gill criticised the standard of the national soccer team, saying an Australian school team or members of the Indian side which came fourth in the 1956 Melbourne Olympics could beat the current side.
"Why doesn't he produce some facilities?" Houghton remarked of the minister's comments.
Houghton has also struggled to persuade clubs and state associations to play national squad members exclusively in I-League matches.
The Briton said he even considered quitting when the AFC Challenge Cup in Hyderabad was marred by heavy rain, until it was shifted to New Delhi and the hosts won the title.
"We're talking World Cup qualifiers against Japan, Korea," he said. "If you got to take it seriously, then you got to forget about these nonsensical, stupid tournaments."
"We're in India in 2009 and we can't find one training field. People don't believe you when you tell them."
He appealed the media to put his comments in perspective.
"Do you want to get a few headlines, cause a riot?" he said. "You must questioning what the hell is going on, after a 100 years of (Indian) football."
India can only improve if there are purpose-built stadiums, clubs are fully equipped and the national squad is run properly.
"(Otherwise) you can remove the coach and you can bring (leading managers) Guus Hiddink or Jose Mourinho tomorrow and you will still be (ranked) 140."
Thank you for reading 5 articles this month* Join now for unlimited access
Enjoy your first month for just £1 / $1 / €1
*Read 5 free articles per month without a subscription
Join now for unlimited access
Try first month for just £1 / $1 / €1