Barca offer Eto'o two-year extension
MADRID - Barcelona have offered Samuel Eto'o a two-year contract extension, the club confirmed on Tuesday, after the Cameroon striker's agent criticised them over their handling of the affair.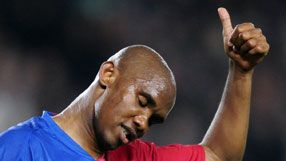 "Barcelona are waiting for a reply from Eto'o on an offer of an extension for two years on the same salary level as before," the European champions said in a statement on their website.
Eto'o has a contract until 2010 and if he accepts would be tied until 2012.
Earlier at a news conference, Eto'o's agent Jose Maria Mesalles said he had received the contract offer from Barca late on Monday after previously having been told coach Pep Guardiola did not want to keep the player.
"The player wants to stay and complete the last year of his contract," Mesalles said.
"If Barca don't want him they should say so, so we can pursue the player's future in a professional manner.
"The club said coach Pep Guardiola did not want him. Guardiola has not told the player he is not required."
He accused Barca of leaking stories to the media that cast Eto'o in a bad light and said that if the club had reached an agreement with Manchester City to sell him, Eto'o would be happy to negotiate.
"We haven't spoken to City but if Barca have reached an agreement it shouldn't be that difficult to reach a deal," Mesalles added.
Speculation over Eto'o's future escalated over the weekend when Barca president Joan Laporta said in a radio interview that Eto'o had received a 'stratospheric offer' from another club that would make him the best-paid player in the world.
Media have reported that Manchester City are offering Eto'o a five-year contract, and Barca a transfer fee of 25 million euros plus variables.
Eto'o was Barca's top scorer with 30 league goals last season as they won the Primera Liga, the King's Cup and the Champions League.
Thank you for reading 5 articles this month* Join now for unlimited access
Enjoy your first month for just £1 / $1 / €1
*Read 5 free articles per month without a subscription
Join now for unlimited access
Try first month for just £1 / $1 / €1