Bruce slams City over Palacios sale
Wigan Athletic manager Steve Bruce accused Manchester City of "disgusting behaviour" on Wednesday and blamed the Abu Dhabi-owned club for the sale of midfielder Wilson Palacios.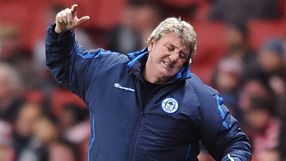 The Honduran midfielder joined Premier League rivals Tottenham Hotspur last week for a fee that British media reports put at 14 million pounds ($19.75 million) after City had made a big-money approach for the player.
Bruce believes City used Palacios as a bargaining tool in order to sign West Ham United striker Craig Bellamy, also a target for Tottenham.
"They (City) used the boy as a weapon and used our club as a vehicle to get Bellamy," Bruce told British media.
"I have to say Manchester City's behaviour was absolutely disgusting. If they had not come in a week last Friday and unsettled the boy he would have signed a contract for us.
"He was wobbling and wasn't sure about going to London. We had offered him a contract and he was on the verge of signing that contract. Then Manchester City ring him and it's a different ballgame.
"They have shown a lack of respect for this club and the player himself."
City rejected the suggestion they acted improperly.
"While Manchester City FC has the utmost respect for Steve Bruce and his views, the club wishes to make it absolutely clear the only inquiry made in relation to Wilson Palacios was by a private phone call to (Wigan chief executive) Brenda Spencer," a club statement read.
"The call was made to establish the potential availability of the player. No figures were discussed or any bids made."
CITY FANS! Check FourFourTwo.com's ever-expandinginterviews archivefor more stuff to read:
One on One Sven Goran Eriksson
Web Exclusives Joe Corrigan
Q&A Robinho
Boy's A Bit Special Michael Johnson
Ask A Silly Question Peter Reid, Alan Ball
What Happened Next? Jim Whitley, Tony Cunningham
Sing When You're Winning David Threlfall
Plus Joe Corrigan on Weekend Wonders and City on Talentspotter

WIGAN FANS! Check FourFourTwo.com's ever-expandinginterviews archivefor more stuff to read:
My Secret Vice Jimmy Bullard
Plus! Rate Wigan players (and others) on Talentspotter
Thank you for reading 5 articles this month* Join now for unlimited access
Enjoy your first month for just £1 / $1 / €1
*Read 5 free articles per month without a subscription
Join now for unlimited access
Try first month for just £1 / $1 / €1