Capello hails Neymar improvement
Neymar has improved leaps and bounds since joining Barcelona from Brazilian outfit Santos in 2013, according to Fabio Capello.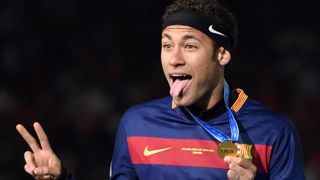 Former Real Madrid coach Fabio Capello has hailed the improvement of Barcelona star Neymar.
Neymar is the top-scorer in La Liga this season with 14 goals, one ahead of his Barca team-mate Luis Suarez.
The Brazilian is in the final-three of the 2015 Ballon d'Or, and Capello praised his development since he made the switch from Santos to European football with Barca in 2013.
"Another player who is improving a lot is Neymar," Capello said.
"When I saw him playing with Brazil, he was a good player but he played ten minutes and then disappeared. Now he runs a lot, fights a lot."
Neymar was an integral part of the Barca side that won four of five league games without Lionel Messi, with the 23-year-old scoring eight goals and contributing three assists.
"I think it was really important for Barcelona those two months without Messi," Capello continued.
"They understood they had to work a lot, run a lot. I saw that the players said 'We are really good without Messi, we are strong even without Messi and with Messi it's a plus'."
Barca are equal top of La Liga alongside Atletico Madrid on 35 points, two above third-place Real Madrid.
Thank you for reading 5 articles this month* Join now for unlimited access
Enjoy your first month for just £1 / $1 / €1
*Read 5 free articles per month without a subscription
Join now for unlimited access
Try first month for just £1 / $1 / €1