Fekir dreams of Barcelona move and Ballon d'Or
Nabil Fekir is unsure if he will be at Lyon next season and has outlined his ambition to represent Barcelona in the future.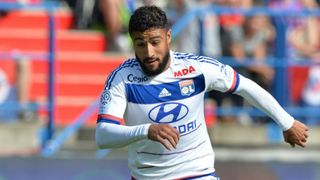 Lyon forward Nabil Fekir dreams of playing for Barcelona and winning the Ballon d'Or during his career.
The 22-year-old formed a formidable partnership with Alexandre Lacazette – totalling 40 goals between them – in his breakout season as Hubert Fournier's side finished second in Ligue 1 in 2014-15.
Fekir is determined to maintain his good form for Lyon, but admitted he has his eyes set on a transfer to Camp Nou in the future.
"In my head, I have many dreams. I will not talk about them all immediately," he said in an interview with L'Equipe.
"I want to do my best for Lyon and then join a big club – that's my goal.
"My favourite team is Barcelona, but I'm aware that much work is needed. To play for Barcelona one day is my dream.
"We will see [if I am at Lyon next season]. As I have not played much this season, logically, I should stay at Lyon for another campaign.
"Aside from that, if clubs present themselves, we will have to see."
The Lyon academy graduate, who has been sidelined since September with a knee ligament injury, disclosed he harbours an ambition to win the Ballon d'Or.
"It's not totally crazy, no. Hope keeps people alive," Fekir continued.
"I will not say that I am going to win the Ballon d'Or, but I have that in mind, even if that might seem absurd."
Thank you for reading 5 articles this month* Join now for unlimited access
Enjoy your first month for just £1 / $1 / €1
*Read 5 free articles per month without a subscription
Join now for unlimited access
Try first month for just £1 / $1 / €1