'I didn't see Barcelona pay a referee' – Pep Guardiola gives his take on Negreira scandal
The Manchester City boss says he will wait to form an opinion on the controversy surrounding his ex-club and 'let the justice decide'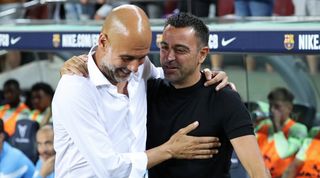 (Image credit: Getty Images)
Manchester City manager Pep Guardiola says the justice should decide whether Barcelona are guilty of any wrongdoing in the ongoing Negreira scandal, but insists his former club have won trophies by being 'better than the opponents'.
Barcelona are being investigated for alleged bribery and the Catalan club face corruption charges over payments made to the former vice-president of the country's referees' committee, Jose Maria Enriquez Negreira.
It is alleged that the payments of around £7.4 million between 2001 and 2018 were made in return for favourable refereeing decisions, but Guardiola has called for caution.
The City manager, who led Barcelona to 14 out of a possible 19 trophies between 2008 and 2012 in their most successful period, said: "Wait and see. Let the justice, the process [take its course].
"So far what I heard… I didn't see or read, because I'm out of that, but I didn't see Barcelona really, really, really, really pay a referee to take a benefit. I didn't see that, I didn't read it.
"That's why I want to wait before I have an opinion, because Barcelona is going to defend what they have to do, and we will see."
And he added: "What I'm pretty sure is when Barcelona won, it was because they were better than the opponents. That I'm pretty convinced about right now – in our day.
"We won because we were far better than our rivals. And when they were not, they don't win, they lose. But justice will decide what really happened."
More Barcelona stories
Barcelona have uncovered a new sensation in youngster Yamine Lamal. Read all about the teenage forward here.
Ansu Fati was supposed to be the Catalan club's heir to Lionel Messi, but the 20-year-old has signed for Brighton on loan. A look at the forward's fall from grace since he burst onto the scene as a 16-year-old in 2019.
What is it like to play with Messi? One of his former Barcelona team-mates explains...
Thank you for reading 5 articles this month* Join now for unlimited access
Enjoy your first month for just £1 / $1 / €1
*Read 5 free articles per month without a subscription
Join now for unlimited access
Try first month for just £1 / $1 / €1