Who is Lamine Yamal? Everything you need to know about the Barcelona wonderkid
Lamine Yamal has made a huge breakthrough at Barcelona at just 16-years-old - will he be able to emulate Lionel Messi during his career?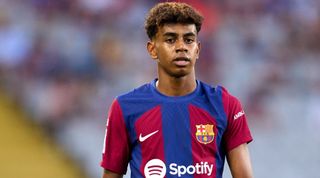 (Image credit: Getty Images)
Lamine Yamal is the latest footballer to enter the world stage with Barcelona after graduating from the ever-successful La Masia academy.
Lionel Messi is, of course, the most famous product from La Masia. Arguably the greatest footballer to have ever lived, Messi scored 709 goals in 836 games across his 17-year professional career at Barcelona, making him the club's top appearance maker and record goalscorer.
Now, Barcelona might have just uncovered someone who has the potential to have a career every bit as good as the Argentine's. Granted, it might be a stretch to suggest Messi's three Ballon d'Or honours, achieved at 24-years-old, will ever be matched, but La Masia is a fabled academy capable of producing the impossible. Aged just 16, Lamine Yamal is ready and raring to go - is he destined to be the next superstar to emerge at Barcelona?
Who is Lamine Yamal? Everything you need to know about the Barcelona wonderkid
A left-footed right-winger who is slight of stature and silky on the ball, Lamine Yamal became the youngest player to ever appear for Barcelona in La Liga when he made his debut for the Blaugrana in a 4-0 victory against Real Betis in April 2023. Yamal entered the fray with four minutes remaining in the game aged 15 years, nine months and 16 days old, and just a month later won his first La Liga title.
At the beginning of the 2023/24 campaign, Yamal made his first starts for Barcelona, against Cadiz and Villarreal, the latter of whom he grabbed two assists against. In doing so, he became the youngest player to supply an assist in a La Liga fixture - such was his impact, his performance earned him the Man of the Match award.
"He is extraordinary. He is surprising us all and continuing to grow," Xavi purred in his post-match press conference.
"The growth he showed today was impressive. He was given the start because we believe he is capable of making a difference. He is very humble, he works hard and he likes football. He is smart, and he makes good decisions.
"Lamine Yamal's decision-making is almost always correct and right. That's surprising for someone who just turned 16 years old. I hope he will be here for many years at Barça because I think he is a player who can define an era, but let's take it easy."
Barca manager Xavi had invited Yamal to train with the first team in September 2022, just a couple of months after his 15th birthday. Unperturbed at the prospect, Yamal impressed the Spanish boss and excelled against players such as Sergio Busquets, Robert Lewandowski and Pedri.
Due to the way Barcelona operate their youth sides, Yamal hadn't actually played 11-a-side football until after the COVID-19 pandemic had started, highlighting just how young and inexperienced he is within the footballing world. Regardless, that clearly hasn't hindered him so far, with the left-footed star adapting well to senior football.
Clearly excited at the talent and obvious potential of Yamal, Barcelona are working towards tying him down to a three-year deal - the maximum length of contract permitted in Spain for players under 18 - with Spanish outlet Sport even claiming that a €1bn release clause will be inserted into the contract.
Born and raised in Catalonia, Yamal's full name is actually Lamine Yamal Nasaraoui Ebana. While Yamal featured in Spain's youth teams throughout his fledgling career, there was potential for him to turn out for two other nations at senior level, with his parents from Moroccan and Equatorial Guinean descent.
That option ended, however, after he earned his first senior Spain call-up in September 2023. Handed his debut in a 7-1 win against Georgia during Euro 2024 qualifying, Yamal - of course - scored, before making his first start four days later during a 6-0 drubbing of Cyprus.
Barcelona need to be careful with Yamal, though. The club has been here before in recent years, most notably with Ansu Fati, and it hasn't quite worked out as expected. While Barca's No.10 still has plenty of time on his side at 20, he has failed to fulfil the once-astronomic expectations placed on him due to suffering injuries and form dips in the last few years.
Whatever happens with Yamal, though, it seems inevitable that he'll become one of the most-talked about players in the modern game over the coming years.
What position is Lamine Yamal?
Lamine Yamal is primarily a right winger who likes to cut inside on his stronger left foot. He has also proven he is adept at starting on his natural left side, though, while in Barcelona's youth teams he did operate on occasion through the middle as a centre-forward.
How old was Lamine Yamal when he made his Barcelona debut?
Coming on in the 83rd minute of a 4-0 win against Real Betis in La Liga on April 29, 2023, Yamal was just 15 years, nine months and 16 days old.
How much does Lamine Yamal get paid at Barcelona?
Spanish outlet Diario Sport estimate that Lamine Yamal earns between £11,500 and £16,000 per week, though those figures could vary depending on his appearances and goal contributions. He is expected to sign a long-term, better paid contract in the coming months that will tie him down to Barcelona for longer.
Who is Lamine Yamal's idol?
Despite coming through the same academy as Barcelona, Yamal's idol is actually former Real Madrid and current PSG forward Marco Asensio.
"There are many great players here, but I have been following Marco Asensio since he joined the national team for the first time," Yamal told AS prior to making his Spain debut in September.
Neymar is also an inspiration to the Barcelona youngster, with his style of play based off of the Brazilian, according to Mundo Deportivo.
Thank you for reading 5 articles this month* Join now for unlimited access
Enjoy your first month for just £1 / $1 / €1
*Read 5 free articles per month without a subscription
Join now for unlimited access
Try first month for just £1 / $1 / €1