JULES BREACH: Europa League gives Brighton fans the chance to dream big
The TNT Sports presenter is giddy as Brighton look to take Europe by storm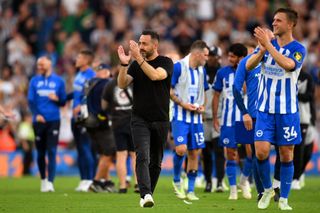 (Image credit: Getty Images)
Try telling Brighton fans that the Europa League doesn't matter. Gone are the days when Thursdays looked like a tough follow-up act to the Champions League. Now, the Europa League is truly deserving of its night in the football spotlight. It's a night for the dreamers, as anything can happen.
Yes, the Champions League is the elite. It comes with prestige and features some of the world's best players. It's still the trophy every club wants to win. But, in European football's younger sibling, you're guaranteed a more diverse draw, away days in towns you'd never think to travel to otherwise, and a few European giants to turn up the heat. It all makes for an entertaining, unpredictable cup competition.
For the last few years, I've had a front-row seat for the Europa League, presenting live matches around the continent, so I've seen first-hand how desperate teams are to win it. One of the quirks of the Thursday evening tournaments is that almost every side kicks off their campaign thinking they can go far.
Often, the teams involved believe bagging a European trophy trumps a higher finish in their division. Last term, West Ham focused so much on lifting their first major European silverware since 1965, they put themselves in a precarious position domestically. But ask any Hammers fan now, and they will tell you it was well worth 10 months of agony for that one night in Prague.
That's what makes it so much fun. It seems to mean more to these clubs not only to win, but also to compete, and I know exactly how that feels as a Brighton & Hove Albion fan.
The Seagulls are in Europe for the first time in their history. Roberto de Zerbi has his side playing the finest football Albion fans have ever witnessed, and the Europa League anthem will be blaring out at the Amex. My goosebumps have goosebumps just thinking about those Thursday nights under the lights.
It still feels unreal to supporters who have followed Brighton through thick and thin – from watching them almost fall out of the Football League in 1997, have to groundshare with Gillingham and play at the Withdean, to the here and now, going on a European tour.
The new ground opened back in 2011 when the club were in the Championship. In their first league game there they beat Doncaster, who now play their football in League Two. In 2017, Brighton secured promotion to the Premier League, and six seasons later, the stadium situated opposite the University of Sussex – where I studied and watched the Amex get built from over the road – will be welcoming Ajax, Marseille and AEK Athens in the group stage.
Visitors from the Netherlands, France and Greece can tuck into a Piglets Pantry pie on the concourse and neck a pint of Harvey's to wash it down. Amazing. The club's rise under Tony Bloom's ownership is simply staggering and has been duly recognised, with European football something to be celebrated.
The Europa League offers incentives worth fighting for, too – a trophy, a financial boost and, probably more importantly to several sides, a place in the Champions League group stage.
As it becomes increasingly tougher to finish in the Premier League's top four, fewer fans of the 'bigger clubs' will turn their nose up at the thought of taking it seriously, which also enhances the competition. Its growing reputation could mean the stigma associated with playing European football on Thursday nights may soon become a thing of the past. Jurgen Klopp has already stated emphatically that his Liverpool team "will make the Europa League their competition" this term.
Winning it is obviously the ultimate goal, but the journey, particularly for fans who are living it for the first time, is what it's all about. This year, you might be travelling anywhere from Gothenburg to Czestochowa (I had to Google them, too), not just Liverpool or Rome.
Sure, everybody wants a big knockout tie, but touring some of the most obscure cities almost becomes a more fascinating part of the experience. It's a chance to go on new adventures and create incredible memories with people who adore the game as much as you. And that's really why we all love football.
The final will be staged in Dublin on May 22. Call me a fantasist, but I can picture it now: teenager Evan Ferguson, born in Bettystown, less than 30 miles from the capital, hits the winner and delivers Albion's first European trophy. Maybe, maybe not, but for now I can keep dreaming. Watching the Seagulls play in Europe for the first time has ensured one dream has already come true.
More Brighton stories
Brighton & Hove Albion 'inspired' England's Rugby World Cup win against Japan after bizarre moment in game
The CRAZY stat that proves James Milner is Manchester United's WORST ever opponent
How Brighton game the loan market to aid their youth development
Thank you for reading 5 articles this month* Join now for unlimited access
Enjoy your first month for just £1 / $1 / €1
*Read 5 free articles per month without a subscription
Join now for unlimited access
Try first month for just £1 / $1 / €1