Klopp: I wouldn't spend £100m on one player
Jurgen Klopp insists he has no interest in spending £100million on one player for Liverpool, like Manchester United look set to do.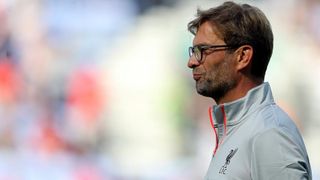 Liverpool manager Jurgen Klopp insists he is unfazed by his team's big-spending rivals, saying paying £100million for one player is the wrong approach.
The German has added the likes of Sadio Mane and Georginio Wijnaldum to his squad, but those transfers pale in comparison to the reported £100m fee Manchester United are set to pay for Juventus midfielder Paul Pogba.
However, Klopp said he had no interest in doing the same, worried about the risks of paying so much for one player.
"If you bring one player in for £100m and he gets injured, then it all goes through the chimney," he said.
"The day that this is football, I'm not in a job anymore, because the game is about playing together.
"That is how everybody in football understands it. You always want to have the best, but building the group is necessary to be successful.
"Other clubs can go out and spend more money and collect top players. I want to do it differently. I would even do it differently if I could spend that money.
"I don't know exactly how much money we could spend because nobody has told me, 'No, you can't do this'.
"If I spend money, it is because I am trying to build a team, a real team. Barcelona did it. You can win championships, you can win titles, but there is a manner in which you want it."
Klopp said he had no interest in being drawn into a competition with other clubs over the same signings.
The former Borussia Dortmund coach said he preferred to look at potential, and players who could add to his squad as a whole.
Klopp said: "If you all swim in the same pool, the pool is too small - you all go for the same players.
"There are a lot of players outside that pool - good players on to the next step in their career. We try to find them.
"The best player of the last season is good to know but it is more interesting trying to find out who will be the best next year.
"If you knew it now that would be a really cool transfer! It would be much cheaper too. That is what we work for.
"It is not about being creative because creative is cool or something. It is about finding the players who can make the next step with us."
Quizzes, features and footballing fun
Get the best features, fun and footballing frolics straight to your inbox every week.
Thank you for signing up to Four Four Two. You will receive a verification email shortly.
There was a problem. Please refresh the page and try again.