Martinez: Colombia have key to unlock Ivory Coast
Colombia striker Jackson Martinez believes his side have the quality to overcome FIFA World Cup rivals Ivory Coast on Thursday.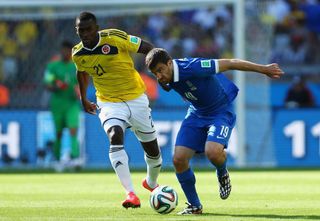 The two sides are set to meet in their second Group C fixture, having won their opening matches against Greece and Japan respectively.
And, while praising the African nation's defensive qualities, Martinez feels Colombia can make it two wins from two.
"They have a strong defence," he said. "But we have a virtue and it is the speed of our attack.
"You have to be smart when it comes to attacking them to have a better chance of scoring.
"Colombia has players to be able to make a difference."
Colombia's final match of the group stage will be against Japan on June 24.
Thank you for reading 5 articles this month* Join now for unlimited access
Enjoy your first month for just £1 / $1 / €1
*Read 5 free articles per month without a subscription
Join now for unlimited access
Try first month for just £1 / $1 / €1