Milan legend Paolo Maldini to quit professional tennis after one match
After getting thrashed with his tennis partner in their first ever professional match together, Maldini has decided to put his racket away.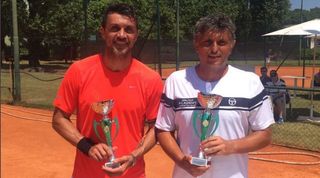 The former Italy and Milan captain lost 6-1, 6-1 with partner Stefano Landonio in the first round of the Aspria Tennis Cup in Milan – a Challenger Tour event – to Poland's Tomasz Bednarek and Dutchman David Pel.
"It was like writing a poem after studying years of maths," said the 49-year-old Maldini, who is also co-owner of NASL franchise Miami FC
"We tried to enjoy the moment, because I didn't expect I'd be able to experience something like this at the age of 49. Ironically, on the very first point of the match I pulled a muscle.
"It was a unique and unrepeatable experience, I have lived it as a game and there will be no other experience like this.
"We could have played better on a few points, but no problem. It could have ended 6-0, 6-3, [but] we lost 6-1 6-1 and that's fine."
Maldini, who only retired from football aged 41, says it's unlikely he will be making a return to professional tennis, and says he only really took part in the ITF event because he belongs to the tennis club that was hosting it, where he plays once a week.
"I would say no, especially because I don't train like an ex-professional," he added.
"I play once a week, I come from another sport, I have physical problems with my knees and a series of limitations due to the inevitable wear and tear caused by football. Also, I don't have much time available."
Thank you for reading 5 articles this month* Join now for unlimited access
Enjoy your first month for just £1 / $1 / €1
*Read 5 free articles per month without a subscription
Join now for unlimited access
Try first month for just £1 / $1 / €1