MLS Season Preview: Columbus Crew look to clear MLS Cup hurdle
Continuity has been the theme for Columbus this offseason, with the Crew returning all 11 starters from the team fell in the MLS Cup final.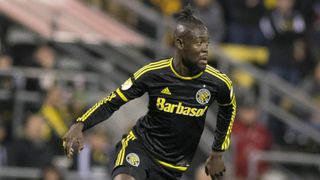 If 2015 provided vindication for Gregg Berhalter's project, the Columbus Crew hope 2016 brings satisfaction.
Berhalter has changed the club's culture since taking over as coach in November 2013, restructuring the roster and implementing an ambitious build-from-the-back philosophy. After marking his first season with a return to the playoffs, Berhalter oversaw a run to the MLS Cup final last year — only for Columbus to fall to the Portland Timbers on home turf.
"We fell short of the ultimate goal," goalkeeper Steve Clark told Goal USA. "But making a deep run like that just compounds that confidence in our team and our philosophy and how we want to play. There is definitely some bitterness and some hunger in our bellies for continued success for a job that wasn't completely finished."
When the Crew open their 2016 campaign against the Timbers on March 6, Berhalter will have the option of using the same starting lineup he leaned on throughout the playoffs. Having finished second in MLS with 58 goals scored last season, Columbus can again count on a loaded offensive unit — including winger Ethan Finlay, playmaker Federico Higuain and striker Kei Kamara, who tied for the league lead with 22 goals last season.
The Crew have diversified their options as well, recruiting Denmark international Emil Larsen to provide attacking midfield competition and Norway's Ola Kamara as depth up top.
"We have a playing model we're going to stick with," Berhalter said. "We represent a playing style and we think it's attractive to watch and creates goal-scoring opportunities. We're comfortable with that. This is going to be a better team. We added some new pieces that we feel add to the quality of the group, but then it's also the mentality of the group. Do we want more? Are we willing to push for more and try to be more successful?"
Although Columbus was just 15th in MLS with 53 goals conceded last year, the Crew grew stingier in the back following the midseason acquisitions of center back Gaston Sauro and right back Harrison Afful.
Those players join Michael Parkhurst and Waylon Francis in the defensive corps from day one this time around, allowing an already-imposing unit to enjoy its first preseason together.
"It's a good thing, but that's not to say that you're not going to have to make adjustments or things aren't going to change midseason," Berhalter said. "Soccer is unpredictable — you never know what happens. But we're certainly confident in guys like Gaston Sauro and Harrison Afful, and we feel we're a better team with them on the field obviously."
Perhaps the most critical player to Berhalter's system is holding midfielder Wil Trapp, who is healthy after missing 14 games last season because of concussion issues. The 23-year-old combined with Tony Tchani to comprise one of the league's top central midfield duos last season, and those players will be looking to up the ante in their third full season as a partnership.
As the on-the-field relationships continue to develop, the Crew hope continuity can yield the club's first major trophy since 2009.
"It's the design of the coaching staff to keep around a core group of players and the team that knows how we want to play, that knows our attitude and the way that we want to train and the way that we want to develop," Clark said. "We know everybody pretty well on this team and we're looking forward to taking our game to the next level."
---
COLUMBUS CREW SEASON PREVIEW
---
2015 FINISH: Second in Eastern Conference (15-11-8), lost in MLS Cup final
NOTABLE ADDITIONS: M Emil Larsen, F Ola Kamara, D Corey Ashe, F Conor Casey, D Amro Tarek
NOTABLE LOSSES: D Chris Klute, F Jack McInerney, D Emanuel Pogatetz, M Kevan George, M Kristinn Steindorsson
TOP NEWCOMER:Emil Larsen. The Crew already had a logjam at wide midfield, with Finlay, Justin Meram and Cedrick Mabwati battling for two slots. But Berhalter pushed the envelope by adding the 24-year-old winger, who also provides depth behind Higuain.
"He has fit really well into the group," Clark said. "He's a player that's very good in possession, has a clean touch and someone who gives a lot of depth. He's a great addition, and he's a good guy."
PLAYER TO WATCH:Wil Trapp. The Crew went an underwhelming 4-5-5 with Trapp out of the lineup last year but were 11-6-3 when the U.S. national team prospect saw the field. Although he's not much of a threat in the final third, Trapp boasts instincts and passing range from a deep-lying midfield role that make the Crew tick.
"Wil is very important to what we do," Berhalter said. "We ask him to do a lot, and this year he is going to have to do even more. Some of the things he can improve on we talked about. He's a guy who always wants to learn, always wants to take the extra step. I'm sure there is going to be improvement in his game this year. Hopefully we get some more assists, and maybe even a few goals."
2016 OUTLOOK
With sleeping giants Toronto FC, New York City FC and Orlando City making splashier moves in the East, one could argue the Crew didn't do enough to bolster their first XI. But that's a stretch.
Every starter from the MLS Cup runner-up is back, and the role players who left have arguably been replaced with upgrades. For the Crew, targeting the MLS Cup isn't enough — a team this balanced should be in contention for the Supporters' Shield, U.S. Open Cup and CONCACAF Champions League as well.
Quizzes, features and footballing fun
Get the best features, fun and footballing frolics straight to your inbox every week.
Thank you for signing up to Four Four Two. You will receive a verification email shortly.
There was a problem. Please refresh the page and try again.