Pulis: Fuller and Griffin have kissed and made up
Stoke City players Ricardo Fuller and Andy Griffin, involved in an on-pitch row that ended with Fuller being sent off, have "kissed and made up" after a team meeting, manager Tony Pulis said on Thursday.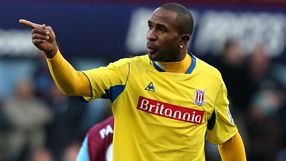 Jamaica striker Fuller was sent off after he slapped Griffin, the club captain, as they argued following the concession of an equaliser to West Ham United in last week's Premier League game, eventually won 2-1 by the Londoners.
On Wednesday Fuller said Griffin had been "very rude and disrespectful", but accepted that his actions had been worse.
Pulis said the whole squad had got together for a meeting on Wednesday and cleared the air.
"Ric and Griff had an argument and it has now been sorted. They have kissed and made up. They have apologised to one another and to the group as a whole. They have also been punished in-house and it's over and done with," Pulis told the BBC.
"The incident was disappointing in lots of respects and we can't deny that. But everyone makes mistakes and you have to learn from them and get on with life. They are both committed players with passion, but on this occasion the passion flowed over.
"Unfortunately, we also went on to lose a game we would probably have got at least a point from if we had kept 11 men on the field. To add to that, we will have to do without Ric, who has been suspended for the next three games." Pulis said it was "nonsense" to suggest Fuller would be sold because of the incident.
"Ric has two-and-a-half years left on his contract and he's going nowhere," he said. "All the talk about sacking him or selling him is a load of rubbish.
"I get on very well with Ric and he's a smashing lad. He has his moments, but so does everyone else. He's also a great talent and an important player at this football club."
Stoke visit Hartlepool in the third round of the FA Cup on Saturday.
Thank you for reading 5 articles this month* Join now for unlimited access
Enjoy your first month for just £1 / $1 / €1
*Read 5 free articles per month without a subscription
Join now for unlimited access
Try first month for just £1 / $1 / €1