Saudi Arabia manager Herve Renard insists he didn't take the national team role for the money even though the money is "very good"
The Frenchman has won two Africa Cup of Nations in his career with Zambia and Ivory Coast, and has similar ambitions with Saudi Arabia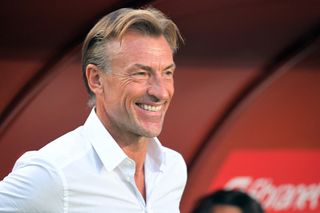 (Image credit: Getty)
Herve Renard took charge of Saudi Arabia in September 2019, leading the nation to a successive World Cup after topping a qualification group containing Australia and Japan.
However, while Renard recognises he is handsomely reimbursed for his time he spends as Saudi Arabia manager, his main ambition is to achieve success with the Asian nation.
Speaking to FourFourTwo in the latest issue available to order, Renard insists he didn't take the national team role for the money.
"From Europe, from my country France, it is always the same negative comments: 'Ah, you're going to Saudi Arabia to take the money'," he told FourFourTwo, shaking his head.
"Yes, I have very good [financial] conditions, but this is not what's important to me.
"If you have amazing conditions but don't win games and only stay for three months, what's the point? You go to a country because you think you can achieve something – that's what we've done and now we must keep it up and look forward, to always be positive and have confidence when we're in Qatar."
Indeed, the Frenchman is a successful international manager, having led Zambia to Africa Cup of Nations victory in 2012, beating Ivory Coast in the final. After a stint at Sochaux in his home country, Renard returned to Africa to manage Ivory Coast - winning AFCON with the nation in 2015, three years after his victory with Zambia.
Renard has also managed Morocco and Angola internationally, while at club level he has offered his services to Lille, the aforementioned Sochaux and Cherbourg, all in France. Curiously, Renard spent a spell at Cambridge United in 2004 as well.
In Saudi Arabia's five previous appearances at the World Cup, they have only managed to make it to the knockout stages on one occasion. That came in 1994 at the USA World Cup, and since then they have crashed out in the group stages each time.
In order to progress to the last-16 of World Cup 2022, Saudi Arabia will need to make it through a group containing Argentina, Mexico and Poland, making it a difficult but not insurmountable task to perhaps finish second and sneak through.
Thank you for reading 5 articles this month* Join now for unlimited access
Enjoy your first month for just £1 / $1 / €1
*Read 5 free articles per month without a subscription
Join now for unlimited access
Try first month for just £1 / $1 / €1