Van Persie: Feyenoord return a choice for continuity
Robin van Persie's decision to return to Feyenoord was partially motivated by a desire to provide a solid base for his family.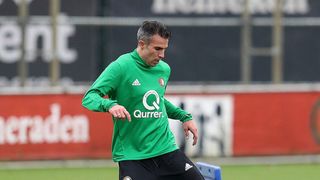 Returning to Feyenoord 14 years after departing was "a choice for continuity" for Netherlands international Robin van Persie.
Van Persie has re-joined the defending Eredivisie champions, having initially departed De Kuip in 2004 and taken in spells at Arsenal, Manchester United and Fenerbahce.
The 34-year-old, Netherlands' all-time leading goalscorer, made the move back to Feyenoord after agreeing a termination to his Fenerbahce contract – a decision fuelled by a desire to give his children a settled home.
"It feels fantastic to be back at Feyenoord after a 14-year journey abroad," Van Persie said in an interview with the club's official website.
"The fact I am back now is down to several things. Our two children, for example, also had a say.
"It was enriching for them to live abroad in recent years, but especially when children are in their teens, it is important they have a permanent place to live and go to school.
"The choice for Feyenoord is therefore also a choice for continuity, because we want to stay here in the coming years. That makes it a perfect match for everyone."
ContractondertekeningTrainingPerspresentatieJanuary 22, 2018
Van Persie made just two appearances in the Super Lig this season, having sustained a knee injury while on international duty in August.
The striker hopes to soon be ready to return to action for Feyenoord, who sit fifth in the Eredivisie after a 2-0 defeat to Ajax in Der Klassieker on Sunday.
"In the start of the season I played at Fenerbahce, but then that match came with Netherlands against France and I got an injury. As a result, I have been out of it longer than expected – unfortunately it was three months," said Van Persie.
"I have been working by myself for two weeks. I have trained hard, but individual training is not the same as training at a high level with the team.
"That's why I am happy to go on the pitch with the team now, so I hope to become match fit again soon."
Quizzes, features and footballing fun
Get the best features, fun and footballing frolics straight to your inbox every week.
Thank you for signing up to Four Four Two. You will receive a verification email shortly.
There was a problem. Please refresh the page and try again.