Wayne Rooney accuses authorities of treating footballers as "guinea pigs" amid coronavirus crisis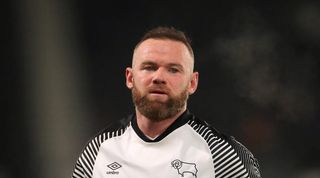 Wayne Rooney believes footballers have been treated like "guinea pigs" as the coronavirus continues to spread throughout Europe.
The Premier League and Football League were suspended until April 4 on Friday, an announcement that came much later than similar postponements across the continent.
And Rooney, England and Manchester United's all-time record goalscorer, believes people in his profession have not been treated correctly by the powers that be.
"After the emergency meeting, at last the right decision was made," the Derby player-coach told the Times. "Until then it almost felt like footballers in England were being treated like guinea pigs.
"The rest of sport - tennis, Formula One, rugby, golf, football in other countries - was closing down and we were being told to carry on.
"At Derby County, we sat at training on Thursday waiting for Boris Johnson to speak. People were anxious.
"Thankfully football made the right call in the end. We had to put the season on hold. Some people won't be happy but I just think, in this case, football has to come second. It's a sport. It's just a sport.
"If people's lives are at risk, that has to come first - regardless of whether you're going to win the league title, whether you're trying to get into Europe or whether you're going to get relegated or promoted.
"We're happy to play until September if the season extends to then, if that's how it has to be. That's our job. As long as we know we're safe to play and it's a safe environment for spectators, we'll play.
"The next World Cup is in November and December 2022, so you could actually use this situation as an opportunity and say we're going to finish the 2019/20 season later this year, then prepare for 2022 by having the next two seasons starting in winter."
READ MORE
COVID-19 coronavirus: How is it affecting football? Premier League, Champions League, Euro 2020 updates and more
Steven Gerrard is proving himself as a manager in Europe - so why aren't his Rangers side up to it domestically?
It's easy to want to hate RB Leipzig – but it's a plastic club that still treats its fans right
Quizzes, features and footballing fun
Get the best features, fun and footballing frolics straight to your inbox every week.
Thank you for signing up to Four Four Two. You will receive a verification email shortly.
There was a problem. Please refresh the page and try again.