How to make healthy pies
Tweak your crusty treats with help from Matt Lovell, nutrition advisor to Spurs and Man City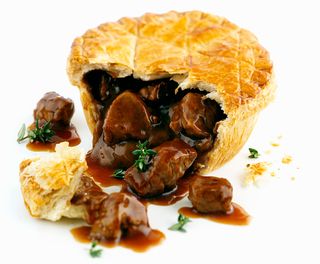 MUSCLE-BUILDING
Chicken & Mushroom

Ingredients
3 chicken breasts, 1 small onion, 1 garlic clove, 1 sweet potato, 2 tbsp olive oil, 2 tbsp plain flour, 1 egg (beaten), 500g ready-made shortcrust pastry, 150g button mushrooms, 115g celery, 50g carrots, 10g butter, 300ml skimmed milk, 200ml chicken stock, plus some grated nutmeg, chopped fresh parsley, white pepper and salt

Cooking method
• Preheat oven to 200C.
• Fry chicken, mushrooms and vegetables until the chicken is golden brown. Remove and set aside.
• Fry onion and garlic in the same pan for 2-3 mins. Remove and set aside.
• Melt butter in a saucepan, stir in flour and cook (3 mins) to form a paste. Mix milk and stock in a jug. Add nutmeg, white pepper and salt.
• Mix liquid and flour. Whisk and simmer, also stirring, for 5 mins until sauce thickens. Add parsley. Pour sauce over chicken. Spoon into dish.
• Roll out pastry to thickness of a pound coin. Brush edges of dish with egg, lay pastry on top, press down edges and trim. Brush with egg.
• Cut three vents in top of pie. Bake until golden brown.

(Per serving)
Calories 303
Protein 37g
Carbs 22.8g
Fat 4.9g
PRE-MATCH
Pumpkin & Cashew

Ingredients
220g pitted dates, 100g raw cashews, 2 tbsp unsweetened coconut flakes, 2 tbsp raw pumpkin seeds, 1 tbsp raw pumpkin seeds (for garnishing), 1 tsp ground cinnamon, ½ tsp pumpkin pie spice, 55g mashed or puréed pumpkin

Cooking method
• Mix all the ingredients in a food processor until smooth.
• Line a baking tray and add mix evenly, smoothing the top with the back of a spoon. Sprinkle with 1 tbsp of pumpkin seeds.
• Freeze until solid, and cut into 8 separate bars.

(Per serving)
Calories 203
Protein 7g
Carbs 27g
Fat 3g

RECOVERY
Beef & Mushroom

Ingredients
500g beef braising steak cut into chunks, 350g potatoes (peeled), 250g oyster mushrooms (sliced), 25g butter, 200ml hot beef stock, 1 tbsp olive oil, 1 tbsp tomato paste, 1 tbsp flour, 1 onion (roughly chopped)

Cooking method
• Heat oil, add beef and cook for 10 mins until browned all over, then remove from pan.
• Cook onion for 5 mins. Add mushrooms; cook for 3 mins.
• Stir in the tomato paste, flour and beef stock, and bring to a simmer.
• Add beef. Cook, uncovered, over a gentle heat for 2 hours until meat is tender. Top up with water if needed. Pour mixture into baking dish.
• Boil and then cook the potatoes until softening. Cool them under a tap, grate them and then sprinkle them over the beef, dotting with butter. Cook for 30 mins until the crust is crispy.

(Per serving)
Calories 386
Protein 30g
Carbs 21g
Fat 19g

Why you should eat these pies
"Making your own pies reduces fat, thereby reducing calories, along with salt and additives that feature heavily in processed pies," says Lovell. "This first pie is a traditional one, but adapted to provide protein nutrients needed to maintain healthy muscles. A pre-match pumpkin pie is high in carbs, lower in protein and fat – perfect when you need energy, not slow-digesting foods. The third pie's ingredients add to post-match muscle nourishment."
Quizzes, features and footballing fun
Get the best features, fun and footballing frolics straight to your inbox every week.
Thank you for signing up to Four Four Two. You will receive a verification email shortly.
There was a problem. Please refresh the page and try again.