Play like Spain: Master the 1 v 1
Jink away from your opponent every time, thanks to this drill from Alfred Galustian, co-founder of Coerver Coaching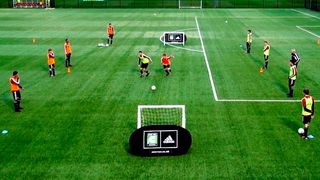 Why are Spain so accomplished in possession? Because every player wants the ball. They crave it. No sign of fear, just pure enjoyment.

Even when they're surrounded by would-be tacklers the Spanish players demand the ball.

Complete mastery of the sphere enables them to receive a pass under pressure and evade capture with a flash of technical brilliance.

Pundits salivate over their tika-taka passing game, but it's the individual's ability to beat an opponent in a 1 v 1 situation that often creates space for a pass.
Wouldn't it be great if you could learn these skills and take them into your games at the weekend? Now, FFT can't transform you into Andres Iniesta, but we can help you become a Sunday League version with the help of Coerver Coaching.

Ball mastery in 1 v 1 situations is at the core of Coerver's curriculum so we asked co-founder, Alfred Galustian, to come up with some simple drills for you to practise.

Hit play and let Galustian teach you match-winning tekkers.

The Stoke City Academy demonstrated the drills.

Coerver Coaching is the world's number one soccer skills teaching method. For more information visit www.playgreatsoccer.com. Follow co-founder of @CoerverCoaching, @coerveralf
For more football drills see:
Play like Spain: Fast combinations: Part one
Play like Spain: Fast combinations: Part two
Play like Spain: Pass under pressure
Play like Spain: Make the killer pass
Play like Spain: Fast finishing
Play like Spain: Training guides
Thank you for reading 5 articles this month* Join now for unlimited access
Enjoy your first month for just £1 / $1 / €1
*Read 5 free articles per month without a subscription
Join now for unlimited access
Try first month for just £1 / $1 / €1