Eat, train and focus like an Olympian
Five-time Olympic medalist Max Whitlock reveals his training and performance secrets, which you can use to stay fit, injury-free and focused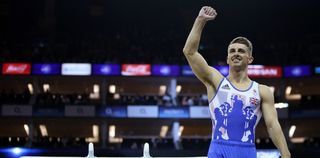 Don't overtrain
"I've always trained 35 hours a week, but I'm going to scale that back over the next two years," Whitlock tells FourFourTwo. "My aim is to slowly build up to 25 hours a week, which I think will help me avoid injury and fulfill my dream of competing for another eight years. I've had quite a few injuries and always feel like I'm performing with an ache or pain, so I want to reduce the risk of a setback."
FFT says: Training too much can be as bad as training too little. "After high intensity training, you can be looking at 48 hours of muscle soreness. If the pain goes on for longer than that then address it."
Stay light on your feet
"I've never lifted weights, because it doesn't translate to the strength I need to perform. Everything I do is bodyweight based and all my exercises are specific to the apparatus I use. For example, the pommel requires great movement ability, so I need total body strength. Staying nice and light all year round also helps. I have a small frame; I only weigh 61-62kg, so I like to stay at that weight, though I don't weigh myself all the time."
FFT says: Bodyweight workouts can be a great way of easing back into training after injury or a summer break. "TRX cable exercises provide vital resistance, which stimulates muscle growth," says strength and conditioning coach Chris Edmundson. "You can attach them to a door and easily do pull-ups, lunges and press-ups."
Eat smart
"During my training phase, I train so much that my diet isn't strict. That doesn't mean I eat rubbish, but I have a good balance of eating healthily and refueling and treating myself. It can be difficult to maintain a good diet when you're travelling to different countries to compete and you're unsure of the food that will be available. I try and stick to meat, fish and vegetables, while I also like a spaghetti bolognese."
FFT says: You need to live like a monk to avoid putting on weight and fuel your performance. Tottenham's nutritionist, Matt Lovell, advises making healthy versions of your favourite treats. "Sweet potato brownies contain ginger, which helps to relieve muscle soreness," he said. "The egg content also means they're high in protein."
Don't think – do
"Fifty-per cent of being successful is down to your mental performance and the ability to stay calm under pressure. At the Olympics, four years of work can be undone by one small mistake, so you need the ability to focus and stay in the zone. I try not to look around too much and think about other people's scores and how they can affect my performance. I just focus on myself. I use the same routine when I'm training at home as I would do at the Olympics, that way it's become second nature."
FFT says: Do you get nervous before a game? Don't worry, even the pros do. Derby County winger Tom Ince tells FFT: "If you spend too much time worrying about who is coming to watch you or how many fans there are, you get caught up in the moment. That's what I used to do, but now I'm mellower. Block out what's around you and focus on what you need to do with the ball and how you can help your team-mates."
Max Whitlock is an ambassador for Head & Shoulders (opens in new tab).
You can watch Max guide YouTuber ChrisMD through a training challenge HERE (opens in new tab) soon! #HeadAndShoulders
Thank you for reading 5 articles this month* Join now for unlimited access
Enjoy your first month for just £1 / $1 / €1
*Read 5 free articles per month without a subscription
Join now for unlimited access
Try first month for just £1 / $1 / €1
Get the FourFourTwo Newsletter
The best features, fun and footballing quizzes, straight to your inbox every week.