The training sessions behind Ajax's 1995 success
Ajax's Champions League-winning side of 1995 had an average age of 23 - Ronald de Boer reveals the training sessions behind their success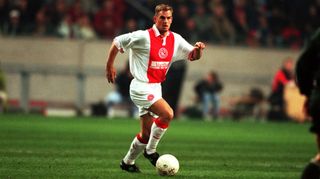 Ajax played a fast-paced, possession style of football - what did you do in training to hone that style of play?
"We worked a lot on basic exercises, which focused on passing balls to everyone's right foot at speed. We repeated those drills endlessly. It became a kind of challenge to move the ball from foot to foot as quickly as possible. We also did a lot of work on long distance passes over distances of 30 metres or more so we could switch play quickly. I remember after three months we mastered those exercises really well. I recall other sessions as well where we played six against three and then the team with six would only be allowed one or two touches. After a while those position games were executed at such a high level. When new players arrived, they would watch with open mouths.
"I also remember another training session which I really liked. It involved a game between the regular starters, where six midfielders/forwards played against five defenders plus a goalkeeper. It would start with the midfielders/forwards trying to score. But if the defenders conquered the ball, they could score from any distance into an empty goal. The thing you learned was that you had to switch immediately if you had lost the ball, so you couldn't linger on disappointment, because they could score with a long range shot. The best players would compete against each other. With those kind of training games, all the players were really tested."
Louis van Gaal had tactical demands for every shirt number - as a striker in the 1995 final, what were your specific duties?
"Yeah, Louis van Gaal attached quite a lot of importance to the squad numbers and their specific roles. As a number 2, for example, you had to know exactly what you had to do. Part of the reason in doing so, was to give a clear blueprint for players in the academy. Van Gaal wanted to make it clear for the youth players. For the final I can't recall if I got any special instructions, but in every match I had to do more or less the same as a typical striker, like trying to be creative, getting the wingers into play and foraging into the box myself."
The team used to do soccer aerobics to improve fitness - how did the players react to this new style of training?
"I thought it was quite fun. We did those step-ups for example, on different heights, which you also come across in gyms. Those exercises made you more flexible and quicker on your feet. It increased your overall reaction speed and helped with coordination as well. It all fitted in nicely with the technical stuff we were doing."

You played as a striker in the 1995 final but dropped into midfield for the 96 final - how important was versatility to Van Gaal's system?
"I think more important were the specific qualities of each individual player and it was incredible how the players anticipated one other - there was a great understanding between the players. In terms of my own position, I decided after the 1994 World Cup I wanted to play in midfield. I remember telling Louis van Gaal and he responded in a typical Van Gaal way, like: 'Really? And you are going to run behind players?' I explained him that I preferred to have two opponents in front of me, rather than opponents in my back in the penalty box all the time.
"Since then I played as a right-half, although I was occasionally asked to play as a striker, like in that 1995 Champions League final. Sometimes when new players arrived I was asked to play up front. In that way I became quite versatile, which has it pros and cons. Of course it's a good thing when you can be employed at several positions, but the danger is that when a team has many specialists for several positions, you might end up on the bench.
The bulk of that team left within 12-18 months of winning the Champions League - do you ever wonder what that side could've achieved had they stayed together?
"No doubt we only would have got better. I'm 100% sure we could've become even better if everyone had stayed. Because we had quality, but we were also getting more and more experienced. And after a while experience becomes a quality in itself as well.
"In a team you need specific qualities, and that's what we had. But it declined after some players left the club. In the 1996-1997 season we still reached the semi-final of the Champions League, but you could feel the level declined. We weren't so dominant anymore. Before, you could feel opponents thinking: 'wow, what's happening to us?' That feeling went away."
Thank you for reading 5 articles this month* Join now for unlimited access
Enjoy your first month for just £1 / $1 / €1
*Read 5 free articles per month without a subscription
Join now for unlimited access
Try first month for just £1 / $1 / €1
Get FourFourTwo Newsletter
The best features, fun and footballing quizzes, straight to your inbox every week.
Arthur Renard has been writing for FourFourTwo since 2013, when Ronald Koeman hosted him for a Readers interview in a small room in stadium De Kuip. Two years later Arthur moved to London, where he still lives and from where he covers English football, while he has also been travelling the world to cover events like the World Cup and Copa America.