Willian on speed, intelligence and curling free-kicks
Chelsea winger Willian shares his tips on playing at top speed, using your brain to beat your opponent and the art of taking the perfect free-kick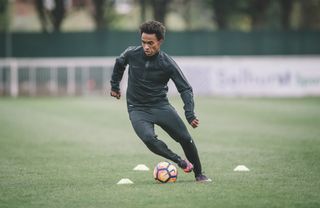 Need for speed
You need pace to be a modern winger. The fastest player I've faced is Theo Walcott at Arsenal and Eden Hazard is probably the fastest player at Chelsea. In England it's rare to find a slow winger. If you're slow, you'll be better off as a midfielder – maybe as a number 10. You need to be clever and use a change of pace to beat defenders.
Related story: Improve your speed of foot
Pitch perfect
The football in England is very fast. The pitches, atmosphere and players all contribute. Every team we play, we see fast, skilful players and this is really positive for England. The pitches are always perfect and they always water the grass before matches. If you use an artificial pitch, you can use the rain to your advantage and play a fast passing game.
Think fast
The Premier League is different to other leagues. Here it is faster and more competitive. Brazilian and Ukrainian football is slower, which gives you more time to decide what to do with the ball. Here, there is no time at all, so you need to know what you're going to do with the ball before you receive it.
Related story: Gareth Bale: Improve your speed
Watch your back
Playing at speed is all about fast thinking. As a child, I found playing futsal helped me a lot in terms of my anticipation before I received the ball. An important thing to do is to always check your back before the ball arrives at your feet to feel where your opponent is. This is very important.
Willian's free-kick tips
Power and placement
You need to find the right balance. Too much power could see the ball sail over the crossbar, but if you don't have enough you won't trouble the goalkeeper.
Use your instep
I like to use the bone in my instep of my foot to apply swerve to the ball. Using this part of the foot gives you more accuracy than if you use your laces.
Strike the outside of the ball
To take a curling free-kick you need to wrap your foot around the outside of the ball at pace. This will bend the ball away from the goalkeeper.
Thank you for reading 5 articles this month* Join now for unlimited access
Enjoy your first month for just £1 / $1 / €1
*Read 5 free articles per month without a subscription
Join now for unlimited access
Try first month for just £1 / $1 / €1
Get FourFourTwo Newsletter
The best features, fun and footballing quizzes, straight to your inbox every week.