10 reasons the whole of England has fallen in love with Gareth Southgate
In the course of three weeks, the country has become besotted with Gareth Southgate. Reaching a World Cup semi-final has helped his cause, but there are plenty more reasons England's gone ga-ga for Gareth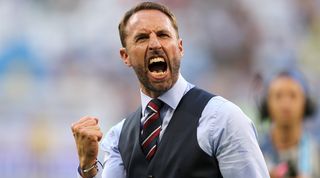 England are winning
World Cup opening act Robbie 'middle finger' Williams may not be a man of supreme intellect, but the title of his third studio album, Sing When You're Winning, is a notion that runs true of England so far under Southgate. England are winning, scoring goals aplenty and the fans are singing in the stands and in the streets.
The Three Lions enjoyed an unbeaten qualifying campaign, albeit in an uncompetitive group, and have continued their fine form in Russia, ending the 28-year wait for a place in the last four at a World Cup. It's simple, but a winning feeling that had almost completely gone missing over the past two decades is back courtesy of Southgate and his men.
The waistcoat
Southgate's attire of choice has become the unlikely fashion statement of the summer. Perfectly tailored trousers. Baby blue shirt, pressed to perfection. The tie; striped with red, white and blue. And of course, the waistcoat. So much has the nation enjoyed seeing Gareth dolled up, sales of navy waistcoats at Marks & Spencer have risen by an estimated 35% since the beginning of the tournament.
England is also expected to be taken by storm by 'Waistcoat Wednesday' this week after charity Bloodwise launched a campaign urging fans to don one for the game against Croatia, while also making a small donation to help fight blood cancer. Pleasing eyes and saving lives.
Humble pie
Men in fine suits often come with a fat wallet and similar-sized ego as well. Not Gareth, though. Southgate has proven himself to an all-around good guy in Russia. Off the pitch in his media appearances, the former Middlesbrough boss has been the epitome of a gentleman - friendly, funny and down to earth.
 
On the pitch, his humble nature was summed up perfectly following England's shootout defeat of Colombia. Southgate quickly walked over to Mateus Uribe, the man who had missed what proved to be the momentum-shifting spot-kick, to console him, among other opposition players. When asked about this in the wake of Colombia's poor sportsmanship on the day, Southgate played it down by saying: "It's easy to be magnanimous in victory, isn't it?"
Lion's roar
England's last five permanent managers, for all their qualities, weren't the most charismatic bunch. Sven was silent, McClaren was motionless. Capello was cold and Hodgson was hushed. Allardyce, of course, was axed before he became anything at all.
 
But Southgate? Spirited. Sprightly. Stentorian. It's refreshing to see an England manager animated on the touchline commanding his players, bellowing orders and roaring with delight when things go plan.
 
His almighty yell to the England fans following the victory over Colombia was of pure passion, and plucked at the heartstrings of the travelling supporters and viewers at home. Following the Sweden game, he conducted a chorus of fans to the tune of Three Lions. Not since Terry Venables has an England manager connected with the fans the way Southgate has.
Fun and games
While social media may not tell the full story, by the looks of things, the England squad are having fun in Russia (albeit not the kind that Teddy Sheringham, Gazza & co had before Euro '96). From inflatable unicorn races in the pool to Fortnite sessions, from cycling competitions to darts, Southgate's boys seem to be enjoying their time at their Repino base.
 
That sense of comradery within the camp has translated to the pitch. For the first time in a long time, England look like they want to be there and will play for one another. All work and no play makes England a very dull (and unsuccessful) national team, as we learned the hard way under Fabio Cappello. Southgate appears to have found the perfect balance between hard work and fun.
Father Figure
More than just a man with the plan, Southgate has become a father figure for many of the players in the camp. He defended Raheem Sterling eloquently after pre-tournament attacks by the tabloid press. Danny Rose opened up about his battle with depression prior to the tournament, and praised Southgate for being "one of the nicest men in football" in helping him through a difficult period.
 
Southgate also backed Fabian Delph's decision to return to England midway through the tournament with his wife was due to give birth, saying: "It's a bit of perspective in life. There's only one day in your life when your child is born."
From zero to hero
Southgate had the lowest moment of his career at Euro '96, when his missed shootout penalty in the semi-final against Germany saw England exit the tournament at the penultimate hurdle.
 
For years after, the defender was haunted by the miss. But rather than crumble, Southgate has instead used two decades of reflection to help those now under his wing to avoid the same fate, through what he describes as "owning the process" of taking a shootout penalty.
 
England's penalty shootout victory over Colombia in the last 16 was their first ever at a World Cup and it was masterminded by a man who knows the pain of failure all too well. As Eric Dier slotted home the winning spot-kick, Southgate's face was a joy, as if he'd just watched a younger version of himself redeem for his mistake 22 years ago. Who doesn't love a comeback story?
Bold calls
Going into the World Cup, Southgate made a bold call in naming the joint second-youngest team at the tournament. For a long time, England lived by the mantra 'experience is key', so seeing Southgate leave the likes of Jack Wilshere, Joe Hart, Chris Smalling and Theo Walcott - all of whom have prior experience of big tournaments - out of his 23-man squad, was a shock.
 
Yet his decision to leave the old guard behind has paid great dividends. England have looked sharper, hungrier, fitter and more inventive than they have done in years. The players who have come into the squad for their first major tournament - notably Harry Maguire, Kieran Trippier and Jordan Pickford - have been among the star performers. Good call.
He's one of our own
1.25 for The Gate's revelations
The English enjoy a beer. The UK economy has already had a huge boost thanks to the amount of alcohol consumed during the World Cup. Pubs nationwide are expected to pour as many as 18 million pints as England face Croatia in Moscow. Add to that all the beer that will be sold in supermarkets, and that's a lot of lager.
 
Gareth is most associated with another, even less exotic, drink. "In the week I just drink mostly water and stuff like that," said Southgate in a now-famous clip from his days as an Aston Villa youngster, before adding, "but you know, I enjoy a few beers at the weekend to unwind." We know how he feels.
An unlikely role model
Outside of the euphoric bubble of the World Cup, the increasingly crazy world around us goes on. But as politicians continue to bicker, Southgate has emerged as an unlikely role model for a generation that has grown more and more ostracised from the riotous shambles that is parliament.
His humility, kindness and dignity to those around him on world's biggest stage (including his players, fans, the opposition and the media) has been admirable. These are qualities that people desperately need to see in a time where such traits are not always transparent elsewhere.
 
"We're a team with our diversity and youth that represents modern England," said Southgate, "and in England we've spent a bit of time being lost as to what our modern identity is. I think as a team we represent that modern identity and hopefully people can connect with us... We have a chance to affect something bigger than ourselves."
Quizzes, features and footballing fun
Get the best features, fun and footballing frolics straight to your inbox every week.
Thank you for signing up to Four Four Two. You will receive a verification email shortly.
There was a problem. Please refresh the page and try again.