Allardyce refuses to rule out Barcelona approach
Crystal Palace manager can't help it if he's attractive to Barcelona, Back of the Net reports.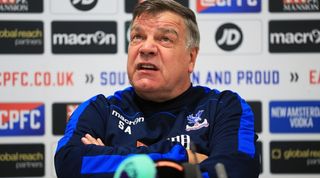 Sam Allardyce has stressed his frustration at being linked with the vacant Barcelona hot seat and attempted to play down links to the Camp Nou while loudly and repeatedly insisting those links do exist.
The Crystal Palace boss would seem an unlikely candidate for one of football's most sought-after posts given that he's never won a major trophy as a manager, is largely seen as a relegation escape artist and has openly admitted that he believes Spain to be fictitious.
However, at a press conference today Allardyce was adamant that, against his will, Barcelona would soon come calling and he would have to weigh up the possibility of coaching the likes of Lionel Messi and Luis Suarez.
Did someone say Barcelona?
"It's frustrating for me to be linked with the Barcelona job; it's a distraction that nobody needs," Allardyce told FourFourTwo.
"But all I keep hearing is 'Barça are coming for Big Sam' and 'Allardyce is the only man to sort out Barça's fragile internal politics and restore them to the pinnacle of world football'.
"I can see why I'd be an attractive option to Barcelona but to be honest I wish you'd all just stop talking about me joining Barcelona.
"I don't even know why we're still talking about the possibility I'll take over from Luis Enrique when my focus is just on the game against Celta Vig– sorry, West Brom."
Home-made
When journalists gently attempted to point out that it was Allardyce who'd called the impromptu press conference and that the 'copy of Sport' he'd produced linking him to the Barcelona job was ridden with basic grammatical errors and clearly in fact a Moonpig novelty card, Big Sam seemed unfazed.
"There can be no questioning my credentials, either as a man who led Notts County to the Third Division title back in the '90s, or as the world's best grandad," Allardyce bellowed, proudly displaying his mug filled with supermarket-brand sangria.
"Not just anyone could assemble a scrappy, pugnacious side capable of grinding out third-tier promotion any more than they could order their own novelty mug on Father's Day.
"Now would you all please shut up about me joining Barcelona."
When FourFourTwo asked Barcelona to comment on links with Allardyce, the club refused to comment until they were made aware of who or what Allardyce is.
Please note: This satirical news story is not real. Like, obviously.
More funny stuff • New features you'd love on FourFourTwo.com
Quizzes, features and footballing fun
Get the best features, fun and footballing frolics straight to your inbox every week.
Thank you for signing up to Four Four Two. You will receive a verification email shortly.
There was a problem. Please refresh the page and try again.