I moved to England for experiences like this, Pogba lies
The Manchester United star has gamely gone through the motions of being delighted, Back of the Net reports.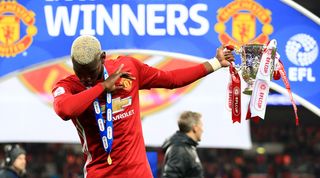 Paul Pogba has said that winning the EFL Cup is the pinnacle of his career, while keeping his fingers firmly crossed.
The Manchester United midfielder enthused to smirking journalists that he had always dreamed of winning whatever the EFL Cup used to be called when he was a child before trailing off, seemingly unable to even convince his own vocal cords.
"When I signed for Manchester United, I had a vision of what it would be like to lift [the EFL Cup]," Pogba told FourFourTwo.
"I could imagine my grandchildren asking me what was it like to win [the EFL Cup] and I'd say 'yeah, it was [great]'.
"Then it'd become clear they were mixing it up with the FA Cup, so I'd embark on a laborious attempt to explain the competition's existence. Eventually they'd pretend they were impressed but the mood would become awkward and strained after I said Rumbelows several times.
"That's the kind of thing any football-mad kid dreams of, isn't it?"
Man on the moon
As the assembled press corps kindly tried to suppress their chuckles, Pogba battled on, explaining that the EFL Cup was, in some ways, more important than his four Serie A titles.
"In a way I'd say that the EFL Cup is more important than the European Championship and, indeed, the World Cup," Pogba bravely continued to the sound of uproarious laughter.
Pogba then attempted to place the EFL Cup on a par with the Moon landings in terms of its importance to the human race before beating a retreat, stressing he would take no follow-up questions.
The French star returned briefly 10 minutes later upon realising that he'd left his EFL Cup medal on the table.
Please note: This satirical news story is not real. Like, obviously.
More funny stuff • New features you'd love every day on FourFourTwo.com
Quizzes, features and footballing fun
Get the best features, fun and footballing frolics straight to your inbox every week.
Thank you for signing up to Four Four Two. You will receive a verification email shortly.
There was a problem. Please refresh the page and try again.