The curiously snubbed striker who could make Germany complete
Imagine if Germany had a dominant striker. Who got picked.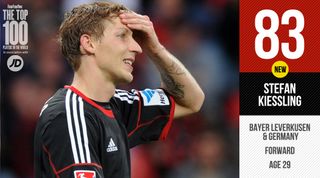 "Kies" is not a name on the lips of nouveaux-riche football clubs in chic metropolises, nor one provoking frenzied faxing or vulgar wallet-waving. You suspect though, that the man in question – Stefan Kiessling – and his bosses, Sami Hyypiä and Rudi Völler, like it that way. 
Because the quietly industrious Kiessling is the locomotive of Bayer Leverkusen, the slightly fusty and unglamorous Werkself [factory team], doing their damnedest to nix talk of a Spanish-style duopoly ruining the Bundesliga.
Kiessling is resolutely out-of-sync with the PR-driven world of the modern game and seems content to unpretentiously play on, while the German media and public try desperately to project their own foibles on to him. He scores goals well, which is his job, and has little truck with the hoopla surrounding life at the sharp end of football. 
At the same time, he really does score goals rather well – something that doesn't go unnoticed. Last season, he was the Bundesliga Torschützenkönig [top scorer], meaning that, like many greats before him, he was award a miniature cannon for his ability to damage the opponents by hitting the target.
Goals seem to be a fact of life for Kiessling. This is his eighth season at Leverkusen, and only twice has he failed to hit double figures, totalling in turn 8, 16, 14, 21, 9, 17, 27. Last season's total included 25 in 34 league games - a record for any Leverkusen striker.
This season, he has already reached double figures in all competitions – and that distribution is key in his evolution. Two came in Leverkusen's 4-0 Champions League rout of Shaktar Donetsk, proving what many doubted: that Kiessling, the archetypal 20-goal domestic marksman, could also score in more rarefied surrounds. Was it simply a flash in the pan? Or a sign that one man in particular has grossly underestimated the rangy centre-forward? 
Joachim Löw has not picked Kiessling for his team since the third-place play-off of the 2010 World Cup. And nor, really, did he need too during the heady qualification campaign for Euro 2012, when Germany won every game with seemingly endless reserves of panache and two impressive strike candidates in Mario Gomez and Miroslav Klose.
But a lot has changed since Germany juddered through that tournament, dazzling only against Greece, before being punished by Italy for complacency and a baffling Löw line-up in the semi-final. Now, Gomez is only just returning to match fitness after missing the start of the season through injury at his new club Fiorentina, while Klose must battle physical niggles on an ever more regular basis: he turns 36 three days before the World Cup in Brazil starts.
Nonethless, Germany's "goals for" column looked startlingly healthy during qualifying for 2014 – a record haul of 36 in fact – so what is the problem? Well, consider the nature of those goals: only one of them was a header.
Löw wants his team to combine neatly, with the ball on the deck, and refuses to practice set-pieces in training, much to the dismay of Löw's assistant Hansi Flick – "On this matter I often disagree with Jogi. I think we have to practice them more and become more dynamic." 
Kiessling's Leverkusen goals
2006/07 8 goals in 44 games
2007/08 16 in 44
2008/09 14 in 40
2009/10 21 in 35
2010/11 9 in 29
2011/12 17 in 43
2012/13 27 in 43
2013/14 12 in 19 (to 29 Nov)
This inattention to detail has a direct effect on scorelines: during Löw's first six years in charge, Germany played 83 games and scored 194 goals, but just six of them came from converting set-pieces, while eight of the 82 conceded were at corner-kicks.
It also seems perverse when, defensively, his backline lacks consistency and when, offensively, both Marco Reus and Mesut Özil deliver a probing dead-ball. There is a wilful lack of directness to Löw's side, something the 29-year-old (and 6 ft 3 in) Kiessling could provide in spades.
Even Oliver Bierhoff, Germany's team manager, complained recently about a lack of cold-bloodedness in front of goal: "Our national team players tend to look for another lay-off in front of goal. A player like Ulf Kirsten would have just smashed it in." Funnily enough, Kirsten is the former Leverkusen striker whose seasonal scoring record Kiessling overtook last term.
Yet Löw has jettisoned the best plan B in the Bundesliga, giving Kiessling the cold shoulder for years with little communication or explanation – and earned a refusal from Kiessling to ever play for him again.
It is perplexing, to say the least – and with Borussia Mönchengladbach's Max Kruse preferred to Kiessling in Germany's final World Cup qualifiers (hell, even Mario Götze and Mesut Özil play up front more often), the Leverkusen star can safely book a beach holiday for himself and his family at an advantageous early-bird price. 
Meanwhile the fans, whom Bierhoff says have become too indulgent of this Germany team applauding any shot as if it were a goal, worked themselves into a state of apoplexy this season when Kiessling scored a goal-that-wasn't against Hoffenheim. 
Kiessling turned a finely poised game Leverkusen's way with a header that somehow squirmed into goal via a tear in the side-netting. As he landed from his leap and looked over his shoulder at the goal, he saw the ball rolling out of it and although perplexed at what had happened raised his hand in a sheepish celebration as his team-mates mobbed him in celebration. 
No one on the pitch understood at first what had happened and Kiessling was good enough to tell the referee that he was confused about what had happened, but had been convinced by seeing the ball roll out of the goal. 
Can't see this video? Watch it on YouTube
Fans tore strips off him on social media with all the righteous indignation of a pitchfork-wielding lynch mob, prompting Leverkusen technical director Rudi Völler to wade in on Kiessling's behalf. "All the know-it-alls sniping at Stefan need to take a look in the mirror and get their own houses in order," he said. "Stefan has never even dived. I don't know any players more decent than him."
Media and fan reaction to Kiessling's Phantomtor [ghost goal] was outrageous. Kiessling's actions were honest and sporting – and yet also demonstrated the qualities that Bierhoff craves for the national team: snap decision-making, a winning mentality and the grit to shrug off the demands of fickle fans.
The grumbling group would almost certainly cheer if Kiessling settled a World Cup match in the same manner for Germany. Alas, he seems destined to be Germany's Darren Bent, when he could be its Toto Schillaci. 
STYLEMake like Kiessling with the Adidas Nitrocharge from JD
Quizzes, features and footballing fun
Get the best features, fun and footballing frolics straight to your inbox every week.
Thank you for signing up to Four Four Two. You will receive a verification email shortly.
There was a problem. Please refresh the page and try again.