David Seaman: One-on-One
"Of course I don't remember it, you bitch. Ha ha!"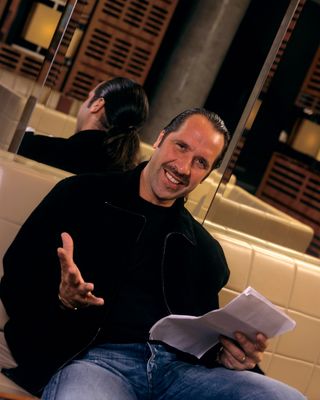 "I don't do many interviews," says David Seaman, breezing through the foyer of Manchester's only five-star hotel, the Lowry, in jeans, trainers and a bomber jacket, trademark ponytail and moustache both in immaculate shape. Such a statement would usually lead you to believe the interviewee is a particularly prickly or evasive character, who doesn't like being asked questions.
But with 'Spunky', this couldn't be further from the truth. In short, he laughs. He laughs at my jokes, at his own jokes, at the FourFourTwo readers' questions, at his answers to the readers' questions, but most of all at himself. It's a quality few footballers demonstrate.
This exhibition of happiness is clearly not for show. It makes you wonder why he doesn't do more interviews…
Have you always been a big lad? How tall were you at school?
Tony Canning, Croydon
A big lad? How does he know? Ha ha! I have always been tall and, being tall, people always said, "Go in goal", right from infant school. And I enjoyed it, so from then on I always wanted to be a goalkeeper.
Some people say goalkeepers only end up between the sticks because they are crap on pitch. Is that why you played in goal?
Colin Dyer, via email
No, I was all right. I played a few games as a striker and scored nine goals in one game, so I can't have been crap, but I loved the goalkeeping.
They say goalkeepers are different – eccentric weirdos, even. Does that apply to you too?
Paul Smith, via email
Ha ha! There's the old saying that goalkeepers are daft, but when it's absolutely blazing hot sunshine, who are the headless chickens running around? The outfield players! We just stand there getting a suntan, and maybe have to make a save now and again. I suppose we are a little bit mad, diving around and stuff. Of course, every player has superstitions, not just keepers. The main one I have is I only take out the gloves I'm wearing for the game. I also like to go onto the pitch second, unless I'm captain, when I'll go first. There's all sorts of little things you do if you win, like if you put your right boot or right glove on first and you win, you might carrying on doing it. But keepers are no more eccentric than outfield players – no chance.
Who were your goalkeeping heroes as a youngster?
Chris Beckford, via email
David Harvey, because I was a Leeds fan. Having said that, my style was nothing like his – except he also had a dodgy haircut. And then Bruce Grobbelaar a bit later on. I know Bruce used to get a lot of stick but some of the stuff he did was fantastic. As a goalkeeper you can tell when something is 'wow' and he showed goalkeepers what could be done. It wasn't always right, but it could be done. It's a shame, but he's now remembered for the wrong reasons.
How gutted were you to be released by Leeds at 19? Have you ever had the opportunity to go back?
Peter Leah, via email
I was devastated. To be told at 19 that you're not good enough by your favourite club was awful. I cried my eyes out when I was told they were letting me go, because as a boy I didn't really know what I was going to become. It was Leeds or nothing. When a club like that tell you, "That's it", it's like, "What am I gonna do?" I didn't know anything else. Before I joined Leeds I did a Saturday job as a baker's delivery boy and I had thoughts about doing that full-time because it was good money, although the hours were s**t.
I've only been back to Leeds as an opposition player. They've never tried to sign me and I wouldn't have been tempted, not when I was at Arsenal. No chance. Arsenal's a massive club and as time goes on, you lose that support you had as a kid. People who support a team so passionately think you should as well, even though you're a footballer. Most children think the team you support is the team you play for. When Arsenal fans asked me who I supported and I told them, they'd say: "What? You play for Arsenal and you support Leeds?" It's weird, but the only time I look for Leeds now is when we're playing them. I don't want them to do well because that might jeopardise the team I'm playing for.
A lot of the public refer to you as 'Spunky'. But what were your nicknames at school and what do your friends call you these days?
Tom Riley, Clapham
When we actually found out what it meant, 'Spunky' was my nickname at school. Carrying on that theme is 'H' for Harry, because of Harry Monk, which is rhyming slang for spunk. People call me 'H' or 'goalie'. It's hard to explain to little kids when they ask, "Why are you called H?" Ha ha ha!
How long have you had the moustache? I know somebody who claims it's a typical Rotherham moustache…
Paul Freeman, via email
I bet he didn't say that when he was in Rotherham! Ha ha! It's funny – when you're young, you like it when you first start growing a bit of facial hair, and those sort of grown-up things. So I grew it. Then when we posed for a Leeds United photo, no apprentice was allowed to have facial hair so it had to come off for that one week. Then I grew it back and it's only been off twice since then – ever. Actually I shaved it off in the summer. Nobody saw it, don't worry. Ha ha ha! The best thing about it was that I was in Portugal and I'd already been there for a week when I shaved it off so the rest of my face was bright red and I had this white strip where the 'tache used to be! And yes, I have got a photo of it, but you're not having it. Ha ha ha!
You say in your book that Ron Saunders, your boss at Birmingham, was the only manager you've had who ever had a proper understanding of goalkeeping. Why is this?
Sam Banim, via email
You need a goalkeeping coach. It's so hard for somebody who hasn't been a goalkeeper to understand what goes through your mind. I noticed it with Arsene, I've noticed it with Kevin, but somehow – I don't know why – Ron Saunders just knew about goalkeeping and positioning. I was totally blown away by how much he knew and how much he taught me. I use the drills he taught me to this day and even now they still work.
Do you remember me presenting you with the True Blue Club player of the year trophy in the D Club at St Andrews in 1985? My hair has improved since then, unlike yours.
Mrs Bluesky, via email
Oh yes, I remember it well [said sarcastically, before the second part of the question is read, and responding through gritted teeth]. Of course I don't remember it, you bitch. Ha ha!
Your move from QPR to Arsenal nearly fell through. How strange did you find the whole situation?
Tom Edwards, Catford
It was weird, because everything was set up on transfer deadline day. There was press there and everything. The fee and contract had been agreed and everything, but it all hinged on John Lukic going to Birmingham or QPR, but he wasn't having any of it. I was there with all my cards on the table, saying I want to sign for Arsenal, then I had to go back to QPR. You get fans calling you Judas and all that. I think most of them have forgiven me now.
How much of your success was down to the famous Arsenal back four?
Lee Strouts, via email
They have made some jokes along those lines, but they only played well because I organised them well! As a back five, including me, we knew each other very well, and we knew where somebody was gonna be at a certain time. That's why it was so good. There was a great understanding. Plus we all spoke English! Ha ha ha!
Ian Wright or Thierry Henry?
Tony Johnson, via email
Both would be a dream. I can't choose one of them! Totally different players, but together – what a strike partnership that would be.
You're known as calm and laid-back on the pitch, but have you ever lost the plot with a team-mate or opponent the way Schmeichel used to?
Nicky Ainscough, via email
I once had a big go at Eddie McGoldrick when he was playing for Arsenal. I'm not a believer in shouting at people, blaming people or throwing your arms around when a goal goes in. He'd done it to me a few times and I felt he was doing it to get himself out of the shit. So I had a, er, little word in the dressing-room at half-time. Ha ha!
Gazza's a hyperactive nutter while you're much more laid back, it seems. How come you're such great mates?
Matt Ling, via email
More laid-back? Just a bit. Ha ha ha! But when Gazza is fishing he totally changes. He's passionate about fishing – he's good at it as well – and that's where the competition would come into it. We'd want to beat each other all the time and we're both good at it, so it was good fun. It even surprises me how passionate he is about his fishing. It calms him down as well. Off the field he's really fun to be with and great entertainment, but when he's fishing he's quiet and really concentrates. He doesn't mess about because he knows if he does he won't catch anything. At first, he tried to tamper with my equipment, but I know him now so he gets nowhere near it.
How much stick did Gazza give you about the free-kick he scored in the 1991 FA Cup semi-final?
Stuart Johnson, via email
Let's just say that he hasn't stopped since. He's always at it, but I say that's the only one he's scored against me.
Hanging around waiting to catch something – is fishing the inevitable hobby for goalkeepers?
Rob Cooper, Manchester
If you look at it like that, I suppose it could be, yeah. I used to play a hell of a lot of golf. I still play a bit now and I play off eight, so I'm not bad. But for me, fishing works better, because I'd play golf and come off the course more frustrated than I was before my round. You want to play well and when you don't, you come off the course cursing. With fishing, it doesn't matter if I catch ?anything, because I'm relaxed anyway. You can totally get away from it.
Who have been your room-mates over the years and what were their strangest habits?
Michael Noad, via email
Nowadays you have your own room, which is a lot better. Ha ha! I roomed with Martin Allen when we were at QPR. He didn't really have a strange habit, but there is a strange story when Trevor Francis tried to stop him going from the team hotel to watch the birth of his first child. I took a call at about three o'clock in the morning from his wife saying she's gone into labour. Martin's gone, "What do I do?" And I said: "Get your arse back down to London!" He went to see the manager who said he couldn't go, but I told him to just go. He made it, but then Trevor fined him two weeks' wages – and he didn't come out of that too well.
When you were at your peaks, who was better: you or Peter Schmeichel?
Mark Hanrahan, Swindon
Ooh! I can't answer that. It's not for me to answer. We were both different and were successful at different clubs. I was probably at my peak during Euro 96 – it was a great competition for me – but having said that, since then I've won two Doubles.
How come you and Bob 'Willow' Wilson are such great mates?
Dean Boyle, via email
That comes through having Bob as coach for 15 years. He was there when I was at QPR and he became my full-time coach at Arsenal. Bob was my best man at my wedding, and he's a great guy and a good friend. But Bob's a bit more fiery than I am and it's not even as if we have the same styles of goalkeeping. Bob was always diving at people's feet. I said to him: "Why are you doing that, Bob?" It was strange, but he's a good friend.
English goalkeepers used to be the envy of the world – now all of the Premiership's best goalkeepers are foreign. What do you put that down to?
Dudley Murdock, London
The prices clubs put on English goalkeepers are too high. A few years ago, for example, you'd have a to pay a few million for a young British goalkeeper, but you could go out and buy an established foreign goalkeeper for half that price, and that's what started it. They were a lot cheaper and there wasn't a risk because they were experienced. It's a shame, because the young keepers were then not getting a chance. English keepers haven't got any worse; the rest of the world has caught up.
Which young English goalkeeper impresses you most and why?
Andy Smith, via email
People say there aren't many goalkeepers coming through, but David James has got his chance now, and behind David there's Ian Walker, Richard Wright, Chris Kirkland, Paul Robinson, and Matt Murray's coming through with the Under-21s. These guys are so close together that there isn't one outstanding candidate, so it's all about whoever gets their chance taking it. And more and more, I think it will come down to whoever is in the best form at the time. Before, there was a queuing system. Once Shilts went, Woodsy – Chris Woods – went in. Then I went in and now David James has gone in.
The ponytail. Whose idea: yours or the missus'?
Brendan Shaw, Leeds
Erm, mine. I like long hair. I wanted to have long hair but it always got to that stage where it was long but getting in my eyes, but too short for a ponytail. But I managed to time the growth so that it was too long at the end of the season, then I had a break and came back the following season with a ponytail. What makes me laugh is, so many people say, "Get your f**kin' hair cut" and I'm like, "Just have a look in the mirror, mate." Ha ha! I don't know – maybe it's the fear of not having any hair one day. I'm 40 and I'm very happy with what I've got.
Do opposition players ever try to pull your ponytail during a game to put you off or rile you?
Stephen Littler, Manchester
No, not really. When I'm playing against friends of mine – England team-mates or whatever – they might give it a little tug when they're passing. But I am 6ft 4in, so not everybody can reach it.
You won the 'Best-dressed sportsman' award in the 1998 Elle Magazine Style Awards. How?
Dan Watson, Newcastle
Somebody was looking. Ha ha! I dress well. It's not an award you deliberately go out to win; you just dress as you would normally, whatever you feel comfortable in. I've been to a few film premieres and people obviously noticed me. I've had some snappily dressed team-mates, like David Beckham and Wrighty, but, you know... unlucky! Ha ha! Anyway, Becks has about 100 awards – I have one.
What exactly did Arsene Wenger say to you about your position at Arsenal at the end of last season?
Ben Poxon, via email
He said he wanted me to be goalkeeping coach and No.2 goalkeeper at best. He said I definitely wouldn't be No.1, so the decision to leave was made for me, really.
Why up sticks and move all the way to Manchester at this stage in your career?
Isaac Hunt, via email
Because I wanted to carry on playing for a year, maybe two, and I wasn't offered that at Arsenal. It was a hard decision because I'd been at Arsenal for so long, but when I got offered the job at Manchester City, it was an easy decision. It's not an upheaval. I've still got my place in London and I'll always move back down to London.
Bob Wilson says Arsene Wenger should have given Stuart Taylor a go as No.1 instead of signing Jens Lehmann. Do you agree?
Matthew Thompson, via email
I think Stuart needs to be tried. He's got a hell of a lot of potential and people forget he's only 22. He's 6ft 5ins and has everything going for him. But in a way it might be good that he's not thrust straight into the No.1 shirt, because it's a hell of a job. Maybe it's a blessing in disguise that Jens has come in. He's what, 34? So he won't be there for a long, long time and Stuart's still learning. If he gets thrown in and makes a mess of a few games it could destroy him. I know it's hard for him because he feels he's ready. But it's not about your being ready ability-wise, it's about being ready mentally, because this game can deal you a lot of blows. He's not far away.
As keepers get older, what's the first thing to go?
Mandy Allan, Richmond
I'd say reactions get a little bit slower, but it's not a massive, noticeable difference. You've also got to start watching your body and if it's hurting, call it a day, because you've got a hell of a life to live after football. You don't want to be hobbling around because you carried on too long. Touch wood, I'm fine, I've got no niggling injuries. I've been lucky.
Was that save against Sheffield United last season your best ever? Can you remember a better one?
Clive Black, Solihull
I'd say that was the best. It was my 1,000th competitive game as well and a big game. Also, I was 39 when I made that save, and to all the people who were knocking me, it was nice to say, "Have a look at that!"
Nayim, Ronaldinho, Sakiri: which was the biggest gaffe from a technical point of view?
The Grinch, Reading
I would say the corner from Sakiri. It was a hell of a ball in, but it was still a corner. I know Paul Scholes ducked, but I think it surprised him, ha ha! [As if addressing Scholesy:] "Why are you on the line?" Technically, you'd be disappointed to concede a corner, but it can happen. The others were just flukes, one-offs. Sometimes you look up to the sky and think: 'Why me?'
What's the best/worst use of your name you've seen in print?
Giovanni Cerrina-Feroni, Milan
What makes me laugh is when TV commentators say, "Oh, and Seaman's coming out again!" Ha ha ha! I always have a little chuckle when they say that. I saw some good headlines when I left Arsenal; things like 'Wenger releases Seaman up north', 'Seaman set to fill Schmeichel's shorts', 'Arsenal find Seaman release hard to swallow'. There are plenty. I did a speech for a charity golf competition I run in Portugal every year and I reeled off a load of them. It's funny, but it could be worse. I could be named after my dad's brother, Richard! Ha ha ha!
You cried when you couldn't play against Romania in Euro 2000 and again when Brazil knocked England out of the 2002 World Cup? Are you generally an emotional person and is this any way for a 6ft 4in Yorkshireman to behave?
Alex Revell, Warminster
It shows how much I care. I'm not ashamed of showing my feelings.
You were picked as Scotland's Player of the Year in 2002 – how do you feel at being chosen for an honour which has previously been won by such legends as Maradona, Van Basten, Pearce, Waddle, Brolin, Koeman, Southgate, Batty, Ince, Beckham and Phil Neville?
David MacLennan, Aberdeen
Was that because I saved a penalty in Euro 96 or because I played when we beat them in the Euro 2000 play-off? It's quite amazing that they can't find a Scottish player, isn't it? Ha ha! Get a life. Ha ha!
Celebrity Who Wants To Be A Millionaire – what were you thinking?
Stacey Noonan, London
We did all right, Judith and me. I did enough. We only got the £32,000, but we got there with two lifelines left and Judith didn't want to use any because she thought she knew the answer. She was gutted afterwards, really disappointed.
The ponytail, Who Wants To Be A Millionaire?, They Think It's All Over and now a Goalkeeping Nightmares video. You seem to have no worries about opening yourself up to ridicule...
David Futcher, via email
You can't be serious all the time, can you? That's the way I am. I like having a laugh when I'm doing something. If you can't have a laugh... there's no point worrying about a bit of piss-taking. What have I got to worry about?
Dave, clear something up for me: have you officially retired from international football?
Laura Brock, Bristol
No. The day I officially retire from international football will be the day I call it a day altogether. I'm enjoying the time off you get when you're not an international, but I don't feel I need to retire until I've finished playing. It's not gonna really benefit me. People give it, "I don't like playing for England." You're having a laugh! There's nothing better than having three lions on your chest. It's an old saying, but when it happens to you – I tell you, mate – there's no better feeling. Am I still hoping for a recall? They've got my numbers. Ha ha!
What are you going to do when you retire? You don't seem like the management type?
Keith Boakes, Maidstone
Management doesn't appeal to me at all. I will definitely be a goalkeeping coach because I feel I've got to give something back. I've been given so much coaching by Bob Wilson and done quite a bit in the game myself so hopefully I can pass it on to somebody else, otherwise I'd be a bit selfish.
I'm doing They Think It's All Over and I'll carry on doing those bits and bobs, but punditry doesn't really appeal to me – I'd rather do a fishing show or something. [FFT: There will probably be a contract under your nose once they've read this...] Oh don't worry, some bait has already been thrown out. Ha ha ha!
If you were to appear on Celebrity Stars In Their Eyes, who would you be?
Martyn Freeman, Bexleyheath
I've been asked to appear and I said no. I can't sing and I'm not even gonna try. If I had to go on? I've no idea. I like INXS, so I'll say Michael Hutchence. I've got the long hair, but I might have to have a bit of a wave put in it. Ha ha ha!
Ever dropped one of your kids?
Victor Byrom, via email
That's poor. Yeah, and I half-volleyed her over the road! Ha ha ha!
Interview: Louis Massarella. Portrait: Jill Jennings. From the January 2004 issue of FourFourTwo.
Quizzes, features and footballing fun
Get the best features, fun and footballing frolics straight to your inbox every week.
Thank you for signing up to Four Four Two. You will receive a verification email shortly.
There was a problem. Please refresh the page and try again.