Everton applicants keep disappearing after Unsworth 'shows them around', club report
David Unsworth has been a little too hospitable to Everton's managerial candidates, Back of the Net can reveal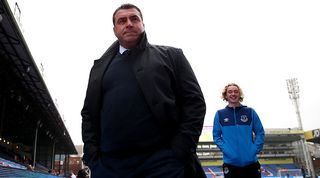 Sources inside Everton Football Club have admitted their bafflement that interview candidates for the vacant manager's position seem to dramatically lose interest in the job after going on a guided tour with David Unsworth.
A month after Everton dismissed Ronald Koeman, the hot seat remains unfilled and a number of seemingly interested parties have suddenly and emphatically ruled themselves out.
After Louis van Gaal abruptly left the country and changed his name shortly after being introduced to Unsworth, Everton's directors identified a direct correlation between being taken for a 'little walk around' by the caretaker manager and losing any desire to manage Everton.
"Sam Allardyce spoke very eloquently about his vision for the club and what an honour it would be to accept the role," an insider told FourFourTwo.
"It looked like a done deal, so we had David Unsworth take him for a quick tour. We never heard from him again after that. In fact, nobody has.
"David assured us that Sam had been called away urgently, but for some reason he did an air quotes gesture when he said 'called away'. And, come to think of it, he was coated in a really significant amount of dried blood."
Silva lining
Watford boss Marco Silva is current favourite for the position, and Everton officials have confirmed that Unsworth seems willing to welcome the Portuguese tactician with open arms.
"We were quite surprised at how effusive David has been about Marco because it crossed our minds that possibly he might like the job for himself," our source continued.
"But he's at home right now preparing a little gift hamper for Marco with some of his favourite foods, like sardine pate, Azeitao cheese, cyanide, Galega olives and a bottle of Vinho Verde.
"David keeps saying how this will be the last job that Marco ever needs to get, which is an amazing statement of his belief in him. Then he tends to chuckle maniacally for quite some time, mumble 'fools' and speculate about whether Marco would enjoy meeting Sam Allardyce."
Unsworth was unavailable for comment unless FourFourTwo was willing to send a journalist to meet him alone behind the equipment shed at Finch Farm at the stroke of midnight.
Please note: This satirical news story is not real. Like, obviously.
Quizzes, features and footballing fun
Get the best features, fun and footballing frolics straight to your inbox every week.
Thank you for signing up to Four Four Two. You will receive a verification email shortly.
There was a problem. Please refresh the page and try again.