Fulham need to start getting real and improve – or Slavisa Jokanovic will suffer the consequences
The Cottagers' defence record is atrocious this season, writes Daniel Storey, and undermining everything that was good about them in the Championship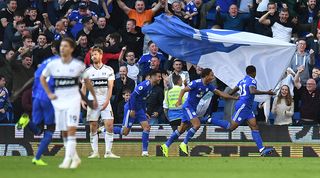 There were very few managers who began this season with more goodwill in the bank than Slavisa Jokanovic. The last time the Serbian began preparing for a Premier League campaign, in 2015, his plans were shelved after only six weeks. If reports suggested that Jokanovic had demanded an unrealistic annual salary from Watford, his achievements in charge probably merited the pay rise.
Instead, Jokanovic left England and found redemption in Tel Aviv. During his six months at Maccabi, the club reached the group stage of the Champions League for the first time in 11 years, eliminating Basel in the process.
But when Fulham – down on their luck and struggling in the Championship – called, Jokanovic jumped at the chance to return to England. He had unfinished business.
Reality bites
In some respects, Jokanovic is just another victim of his own success. Having staved off the lingering threat of relegation to League One, he led Fulham to the play-offs in his first full season. They lost to Reading in the semi-finals in 2017, then won at Wembley a year later. Jokanovic became the first non-British manager to achieve two promotions to the Premier League.
Most impressive was the style of Fulham's success. Relying upon a squad of players with minimal top-flight experience and sprinkled with exciting young talent, Jokanovic utilised an alluring, attacking brand of football. Tom Cairney, Marcus Bettinelli, Kevin McDonald and Ryan Fredericks were just four players performing at a higher level than they had ever done before. This time, there was no danger of Jokanovic leaving before August.
But neither is there any guarantee that Fulham's manager will be employed beyond the end of October. If Fulham's cautious ambition for this season was Premier League consolidation, Jokanovic is so far failing in that task. Fulham haven't won in the league since August. Their Achilles' heel is exposed with a flashing neon sign pointing towards the flaw.
For all of Fulham's excellence in the Championship last season, their defence was the weak point. Only Derby in the division's top eight conceded more times, and only champions Wolves scored more goals. The solution was obvious: Fulham needed to focus investment on their defence.
Imperfect priorities
It would be unfair to accuse Fulham of ignoring the problem entirely. When you sign 12 first-team players in one transfer window, very few areas of the team get ignored.
But the west Londoners did spend the majority of their transfer fees, and allocated the majority of new salaries, on the attacking half of the pitch. Andre Schurrle, Luciano Vietto, Aleksandar Mitrovic and Jean-Michel Seri were the four highest-profile arrivals.
The neutral may welcome a promoted team that tries to do more than grimly cling on to the Premier League's cliff edge. There is a subtle but important difference between trying to be better than those around you, and trying to be a little less worse. The bottom half of the Premier League has become a bloated mess over the last few seasons. Fulham represented a different model.
But there is a reason why clubs opt for safety first: optimism is a short step from naivety. Fulham's defensive record is appalling: they have conceded 25 goals in their first nine league games, which is already six more than any other team. Extrapolate that to a whole season, and Fulham will concede 105 goals. That would break the record for a 38-game Premier League season by a margin of 16 goals. If football clubs are usually advised to avoid panicking, these are panic stations.
Drilling down into the figures won't give Fulham supporters any more cheer. Only Burnley and Brighton have allowed more shots this season, and no team has faced more shots on target. The simple conclusion is this: keep defending as they are, and Fulham will be relegated.
Gotta Slav faith
Jokanovic is not solely responsible for the problem, but he carries more guilt than most. Having wrestled control of transfers from the club in his first full season, it was he who had final say on transfer targets.
The Serb has also regularly chopped and changed his defence in search of a solution that remains out of reach. The accusation from worried supporters is that Jokanovic's only reaction to a strategic issue is to throw even more players forward. Attackers are given licence to stay forward, but it leaves the defence exposed.
The first signs of disillusionment are appearing, with some reports suggesting that Jokanovic has two games to save his job. Fulham have moved to reject those rumours – as is par for the course – but it's clear that such defensive calamity cannot persist.
"My job is to keep working and fighting to find the solution," Jokanovic said after Fulham conceded four times against a Cardiff side that doubled their goals total from the first eight games. "Last year people were against us, but we found a way to improve ourselves and be more competitive. We showed some positive things, but the negative things are killing us."
Killing Fulham, and killing the goodwill that Jokanovic had in the bank. If promotion from the Championship afforded the Cottagers boss a chance to create his own fairytale following Watford frustration, the Premier League does not give up happy endings easily.
It's time for a dose of the real world: Fulham must improve or Jokanovic will soon be sacked.
Quizzes, features and footballing fun
Get the best features, fun and footballing frolics straight to your inbox every week.
Thank you for signing up to Four Four Two. You will receive a verification email shortly.
There was a problem. Please refresh the page and try again.